No overtime payment for you from office? Here is why that is
Shouldn't corporate jobs also merit extra pay a la manufacturing?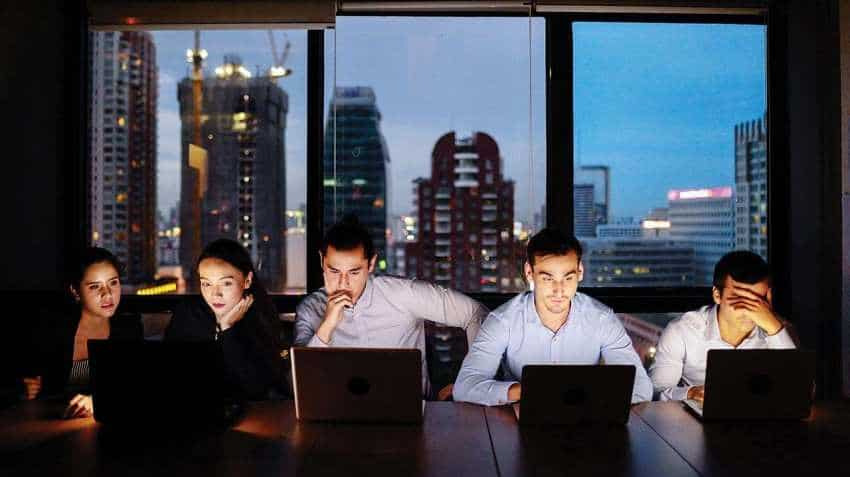 As per Section 59 of the Factories Act 1948, employees are not to work beyond 9 hours a day. Image source: DNA
Updated: Fri, Sep 14, 2018
09:37 am
ZeeBiz WebDesk
IT professional Nisha Bondal often leaves office late, finishing off PowerPoint presentations, attending to concalls, and contributing to brainstorming sessions.
Her 9-to-6 job spills easily into an hour or two longer on any given day. But her pay and allowances remain constant. She's noticed this isn't the case with her brother who works with an automobile major. Like the sister, the brother too works beyond duty hours on PowerPoint presentations or attending meetings. But unlike her, he gets paid for those hours.
That Indians work overtime, often averaging 52 hours a week, beyond the 40 hours per week that employees in developed economies work, is a given. But isn't it time HR managers consider overtime pay?
As per Section 59 of the Factories Act 1948, employees are not to work beyond 9 hours a day. The time worked in excess should be counted as overtime and should attract overtime wages. But what about corporate employees who are known to work beyond hours, sometimes even on weekends or on holidays?
"Most organisations do not have additional pay for overtime for corporate employees. The manufacturing environment is a bit different as people work in shifts and we can draw a comparison between manufacturing jobs and other shift jobs such as BPOs. For example, a person working as per USA time will report to office at 9:00 pm for a shift that ends at 7:00 am and if they are required to come 2-3 hours earlier, the person would be entitled to an overtime,'' says Pranshu Upadhyay, director, Michael Page India. But honestly, BPO jobs too do not pay for overtime. Regarding shifts, Bondal says she too has to work in shifts, similar to her brother, but the payment remains stagnant.
Despite employees feeling the pinch of overtime (and no extra pay), companies and HR experts have a completely different take. ''We haven't seen corporate environments where people are paid overtime," says Upadhyay. He adds most work contracts clearly lay out the employee may be expected to work beyond official duty hours and sometimes on a weekend too. "That is the task of the job and not to be paid additionally."
Experts reason that corporate jobs cannot be compared with those in manufacturing and factories. Says Mayank Patel, director, permanent placement and professional staffing, The Adecco Group India, "Blue collared employees who are authorised to be paid overtime get 1.5 to 2x of their basic salary and this is stipulated by the legal compliance of a State's local government. Their work is measured by the number of hours they are actually working, as opposed to white collared employees whose work is measured by outcome."
Experts say it is not possible to calibrate the work of white collared employees, unlike factory employees who perform repetitive tasks that can be calibrated by say the number of car parts produced in a certain period of time. For corporate employees, if at all extra pay is introduced, there is a possibility of an employee staying back on a deliberate basis.
Kris Lakshmikanth, founder chairman, The Head Hunters India, says there is no accurate definition that classifies "work" in the millennial and digital age where employees work remotely, from home, and at flexi hours. "Does taking office calls post-work hours or checking emails at home qualify as work? We're not sure. It is therefore not possible to classify what "overtime'' is in a corporate set-up. And if the extra pay is introduced, it could prove costly for companies."
According to Patel, an employee's pace and efficiency of work could fall and the company becomes indebted to pay for the extra, non-productive hours.
However, if a corporate employee works on a declared holiday, then he or she deserves to be paid overtime, say experts. "The reason is that the employee decided to give higher importance to work on a day when he/she could have taken it off. This effort needs to be rewarded,'' says Patel.
Source: DNA Money