Nifty seems all set to correct in the short term
The long-term chart of Nifty shows there is still enough room for growth in the index before any major fall comes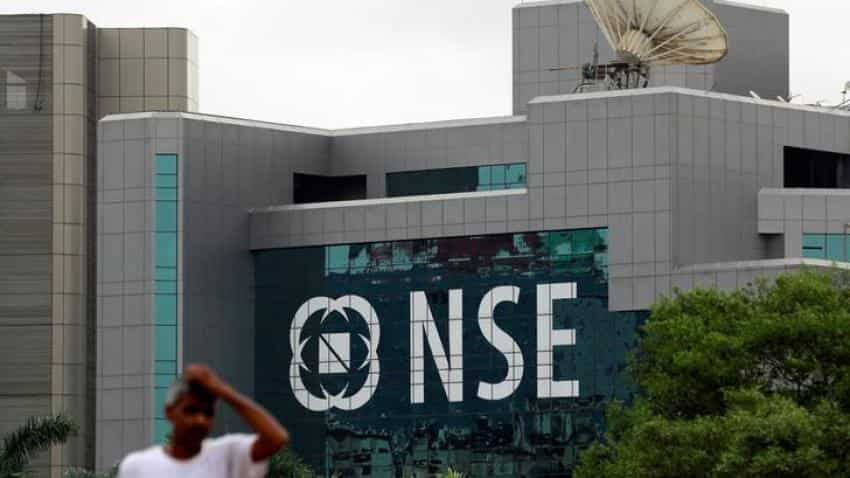 After short-term correction Nifty may once again resume the uptrend. Image source: Reuters
By Sanjeev Das
The benchmark Nifty index seems to be ready for a correction at the onset of the new year. It opened flat and after facing tough resistance around 10530 several times, fell by more than  100 points from the day's high and closed at 10435.
Here is a short-term view of the index.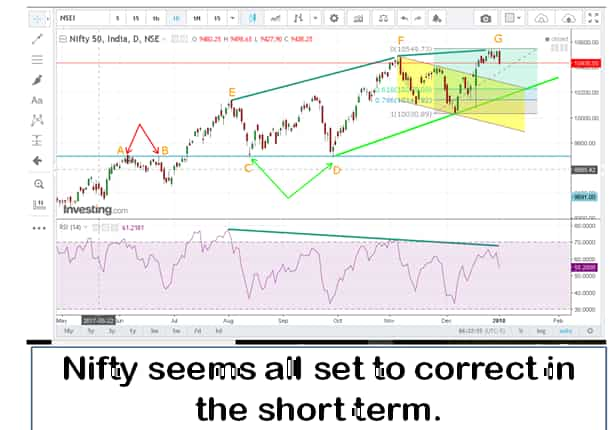 It may be seen in the chart above that after a bull run Nifty hit a resistance around 9700 levels twice in the month of June 2017. These are  labelled as points A and B.
Later this level was breached in the month of July and Nifty went on to make a high at 10137. Since this resistance was breached convincingly, there was a high probability of this level turning into a support zone in the future. This was evident when the index fell twice a little below 9700 level.
This happened once in August and then in September. These points are labelled as C and D. Both the times this proved to be an excellent support level as lot of buying happened and the index moved up sharply.
So this level around 9700 may be considered to be a strong support zone for Nifty .
Now, let us take a look at the more recent price action and the momentum.  Nifty has made a higher high in December. The high in November was 10490 and in December it was 10552. These have been marked as F and G. However , if we look at the RSI, it has been making lower highs consistently, in the recent past. It may be said that price action has been diverging from the momentum and a correction may be seen any time.
There  is an upward sloping trend line also which may prove to be a support if  the correction happens. Meanwhile, it may be seen that Nifty also moved within a down ward sloping parallel channel for some time before breaking out of this. Usually the upper band of such a channel proves to be a support in the future. That is what may also happen this time as we can see that the upper band of this channel and the upward sloping trend line are both converging somewhere in the region of 10,230.
This may also be supported by Fibonacci retracement ratio of 0.618. However, in case Nifty doesn't find support at this level it may fall even further. That is why one needs to observe the price action carefully and then take a decision if that happens.
After this short-term correction Nifty may once again resume the uptrend as the upward moving trend line suggests. The long-term chart of Nifty shows there is still enough room for growth in the index before any major fall comes. Also, the mutual funds have been investing a lot in the equity  market since the last several months. This suggests that their outlook is bullish in the long term .
Summary:
Price action diverging from the momentum.
So, correction seems quite probable.
If that happens, then 10230 is the level to watch out for as there is an upward sloping trend line and it is coinciding with Fibonacci level of 0.618.
A break below this level may mean further fall.
In the longer term, Nifty seems to be bullish.
(The author is a Consultant Trainer and Technical Analyst, BSE Institute Ltd, Delhi)
Updated: Tue, Jan 02, 2018
12:45 pm
ZeeBiz WebDesk