NHAI takes this innovative route to fund Rs 46,000-crore road projects
The concept of roping in equity partners is being explored at a time when NHAI got over-subscription of its maiden bundle of 9 highway projects under toll-operate-transfer (TOT) model that will bring Rs 10,500 crore cash to its kitty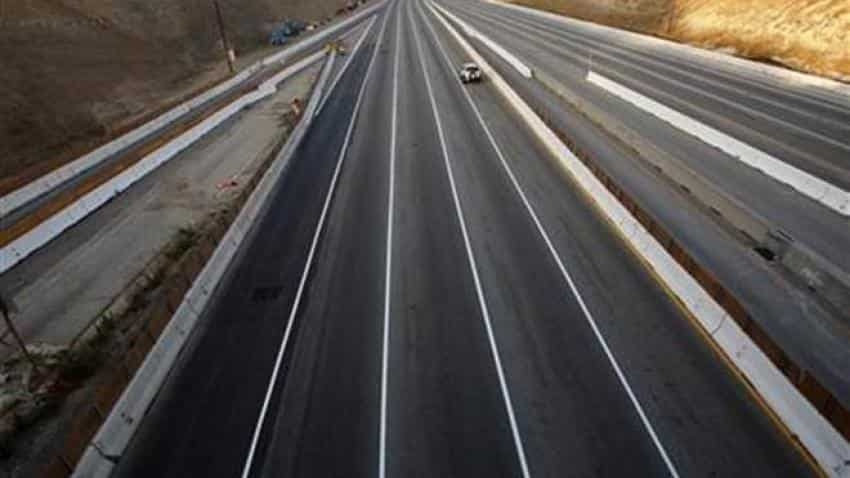 The move could be significant as the government has undertaken new initiatives for building new express highways and elevated roads at an estimated cost of Rs 46,416 crore to ease traffic in major cities. Image source: Reuters
Looking to tap innovative financing modes for projects, NHAI plans to rope in foreign pension funds and other entities such as equity investors to fund mega-highway projects for reducing overall costs, a senior official said. The projects that may go for equity participation could be about Rs 46,000 crore worth new initiatives of expressways like the Rs 7,500-crore Dwarka Expressway, the official told PTI.
The concept of roping in equity partners is being explored at a time when National Highways Authority of India (NHAI) got over-subscription of its maiden bundle of 9 highway projects under toll-operate-transfer (TOT) model that will bring Rs 10,500 crore cash to NHAI's kitty.
"We want NIIF (National Investment and Infrastructure Fund) kind of people to invest in equity. The principle of equity is when you are taking risk. Returns are higher... You need people other than developers, who are in pension fund, NIIF etc," the official who did not wished to be named said.
The idea is to make individual projects into profit centres as equity participation will be project-specific and the equity partner will think like a developer, he said.
"We have very good projects on offer. Dwarka Expressway, Eastern Peripheral (Expressway), Chennai-Bangalore, Bangalore-Mysore, all these expressway dispensation is feasible to generate equity. These will be removed from our balance sheet. Our balance sheet will become smarter. Then we can borrow more," the official said.
The move could be significant as the government has undertaken new initiatives for building new express highways and elevated roads at an estimated cost of Rs 46,416 crore to ease traffic in major cities. The initiatives include Rs 10,500 crore Eastern Peripheral Expressway and Rs 5,000 crore Delhi-Meerut Expressway, which are under execution.
Besides, other projects include the proposed Rs 7,500-crore Dwarka Expressway, Rs 3,000-crore Urban Extension Road and Rs 5,000-crore Satellite Ring Road along with Hosur Ring Road. Finance Minister Arun Jaitley, while tabling the Budget this year, said the NHAI will consider organising road assets into SPV (special purpose vehicle). Last month, the government's bid for monetisation of highway projects started on a strong note as Australia's Macquarie clinched the maiden bundle of projects on offer for Rs 9,681.5 crore on February 28, while the total cash flow will be more than Rs 10,500 crore.
Road Transport and Highways Minister Nitin Gadkari last week said that monetisation of 105 identified stretches, as per the current trend, could fetch about Rs 1.5 lakh crore. He said the government is devising some strategy to rope in some small investors, besides big foreign and domestic investors. Rohit Singh, Member (Finance), NHAI has told PTI that the second bundle of about 10 projects was being finalised for auction under TOT, and this time the government is expecting even a better response.
He said the government was targeting USD 1 billion of funds from the second tranche of auction, which could go even higher given the current trend. NHAI Chairman Deepak Kumar said the projects to be monetised under the second tranche were being assessed.
The first bundle for monetisation, released by NHAI in October 2017, covers 9 stretches ? five highways running across Andhra Pradesh and four in Gujarat. The government had assessed the asset condition through drone videos and network survey vehicles.
The cabinet in 2016 had authorised NHAI to monetise public-funded National Highway (NH) projects. 75 operational NH projects completed under public funding had been identified for potential monetisation using the TOT model. As per the Economic Survey, India will need about USD 4.5 trillion in the next 25 years for infrastructure development, of which it will be able to garner only about USD 3.9 trillion.
Updated: Sun, Mar 11, 2018
10:50 am
PTI