NEXA Music is a platform for budding musicians to compose original lyrics: AR Rahman
AR Rahman, the global music icon, and Randhir Singh Kalsi, Senior Executive Director, Maruti Suzuki India Ltd, during an interview with Zee Business, spoke about the idea behind NEXA Music and how it will act as a platform for the creation of original international music of global standard.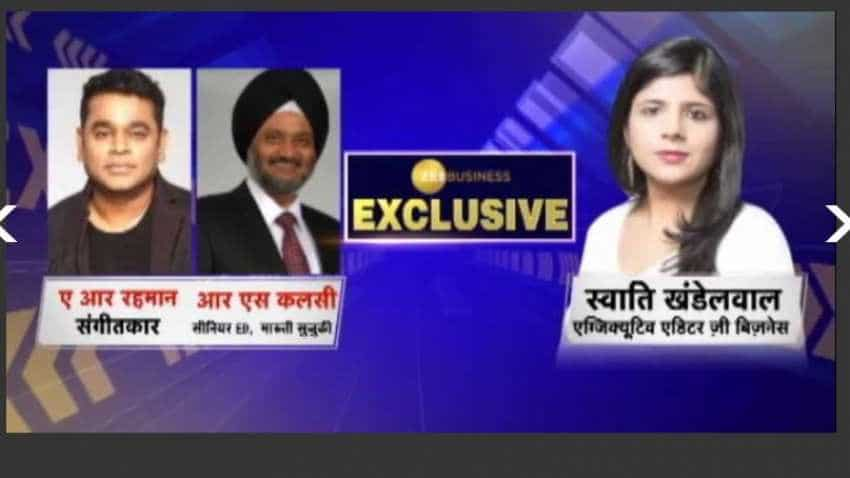 AR Rahman said, "I will be sharing things that I have learnt so far in my life." Image source: Zee Business
AR Rahman, the global music icon, and Randhir Singh Kalsi, Senior Executive Director, Maruti Suzuki India Ltd, during an interview with Swati Khandelwal, Zee Business, spoke about the idea behind NEXA Music and how it will act as a platform for the creation of original international music of global standard. Edited Excerpts: 
Q: Let us know about the synergy between an automobile company and music that led to this tie-up? 
AR Rahman: First, I would like to talk about the intention that led to the decision. We want to give a name to Indi-English music, which has been undergrounded for ages. I have seen talents coming from different pockets of South India, North India and East India. I feel very bad for those people who don't have any support and had 10,000 views or so on their beautiful songs which were placed on YouTube. Thus, I felt that these people with a voice should be empowered and nurtured if they want to.  
Q: Why Maruti thought of venturing into music? And, when you thought AR Rahman on the bench?
RS Kalsi: Nexa is all about giving global experience to NEXA customer, not only in terms of car buying but also in the lifestyle experiences. This is a reason that we have ventured into the fashion segment, earlier, allowing them to experience it. Similarly, music is an integral part of life and we thought of setting a global benchmark in music and live an impact on our customers and our search of having a global icon on the platform came to an end with AR Rahman.
Now, Maruti along with Rahman will nurture the talent of our country. We are providing a platform and moving towards English zone as there is a shift in the taste. Our research suggests that there is an increase in English music listeners as the numbers of English music listeners has moved up to 25-26 per cent from 7 per cent of 2015. We have the vision to create a global mark in association with AR Rahman. 
Q: Let us know about the role that AR Rahman will play at the platform?
AR Rahman: I will be sharing things that I have learnt so far in my life. I will try to set up a standard by being open and finding right co-mentors and support system. Suppose there is something beautiful in an artist and they are 20 per cent original and 80 per cent influenced than we will try to push that 20 per cent to be the 100 per cent and kindle the fire within them. Also, in this effort, we don't need detail
Details are not required in this effort where you turn around when you listen to something well and ask what that was? And for that at times, the artist doesn't have energy or resources to do. They also need a community to exchange ideas and bounce back and say that this part is very good and why did you try to copy this part. We will try to be in the process and help them with whatsoever we can. Sometimes, they turn up to be better then all of us and I am looking forward to such surprises. 
Q: You have your own music talent hunt show on YouTube. So, what prompted you to move to TV?
AR Rahman: The reason that I am always busy with my work but at times I think that you need to come and be one among the people. And, TV is one of the platforms where you people can see you, even though the internet and other ways are there, but TV is still the mainstream and a way of exposure. It is my way of sharing my love with people being present, where they can see me, and I can see them. 
Q: You have said somewhere that you don't like to say no to a contestant. What is your way of bringing out these budding talented people, who are out there but are not being nurtured in a proper way?
AR Rahman: Our company Qyuki is involved in it and we have Clinton. Apart from this, I also want to get my friends from abroad, like the US, the UK and Canada, to probably give validation, if we have a talent and we can produce something. I just thought of it and it came 10minutes back when I was discussing with Sameer, and if we can do that. We are open to ideas to make this a success story. It is the first step and there are miles to go before we sleep. 
Q: Maruti has ventured into lifestyle theme with an aim to penetrate in the international market. Let us know about the long-term plan of this initiative that has been started in form of NEXA Music? 
RS Kalsi: This is a long-term association as it is not something like a reality show that will end in some three months or so and then live the winners on their own. We will have a long-term association with the winners. We have a model at NEXA Music, where 24 artists will be shortlisted in a phased manner and create their music videos. Later, the best four contestants will be shortlisted and mentored and nurtured by Mr Rehman and his team. We have big plans.  
Q: Do it comes with some age-criteria?
RS Kalsi: No age-criteria but contestants should be at least 18 in age. But, will be ready to break the norms if we find something good from someone who is a kid or a teen in the age of 14 or 15. 
Q: Every music lover thinks of being AR Rahman. What they should do to be someone like AR Rahman?
AR Rahman: You need to be an addict as there are so many distractions in this world. For me, the milestone was set by my father, who was a great musician and a great human being. When I went to the studios at the age of 13, I only had good stories like your father was great and this was something that inspired me. And, I thought I am born to a great person, who was hardworking and helping, and what I can do to make him proud. My mother made the choice that you should strict to music, what your father did, and you don't have to study as it is for other people. For me, I was on the opposite side and said if I don't study I will not get respect in the society and many other things. But, I didn't care about I went to start earning then becoming a musician, music composer. I am getting more love than anybody else. 
Q: And, you are spreading love through your work. 
AR Rahman: I think that it music does and I just a servant of music. I think stick to something and stand by it. In my case, there is no accreditation to this profession as there is no OK you are a musician than my daughter will not marry you. It was that kind of thing as we live in a society where everyone wants a job, but this is going to be the most important job. Creativity is the most important thing for the future as artificial intelligence (AI) is coming and will take away normal jobs. But creative jobs are going to expand. You can never be a creative person as each person evolves themselves from their own experiences, spirituality, belief and many more things. But, there is a very important time and the right time to do this. 
Q: Provide some pointers for our viewers that they should follow and chase to become even one per cent of what you are? 
AR Rahman: I think, there is a double squad while coming into a profession like music. It looks very attractive because you are mixing with every vibe that is near you like narcotics, alcohol and other stuff and people get seduced by this they give on that stuff. Fame is the biggest addiction. But, when you are aloof and detach yourself, which the Gita, Quran and many religious and spiritual philosophies say. Detachment helps you to focus and not get into all these illusions (माया) (chuckles). Then you can just focus on what is the truth as we all know that ultimate truth is that we all are going to die. So, it is a transit station for us. 
Get Latest Business News, Stock Market Updates and Videos; Check your tax outgo through Income Tax Calculator and save money through our Personal Finance coverage. Check Business Breaking News Live on Zee Business Twitter and Facebook. Subscribe on YouTube.
Updated: Thu, Jan 17, 2019
02:53 pm
Mumbai, ZeeBiz WebDesk