New Year 2018: Markets open flat; banking shares rally on BSE Sensex
Banking sector shares cheered on Monday as it received fresh capital infusion from the government.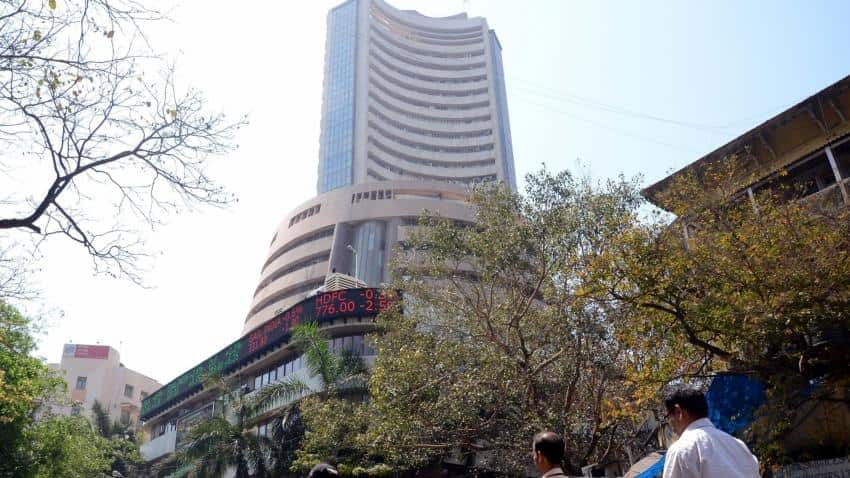 Representational image of Bombay Stock Exchange in Mumbai. Image Source: IANS
Key Highlights:

Shares of the banking sector were up on BSE Sensex post capital infusion from the government.
Rupee opened stronger against the dollar after reaching four month high on Friday.
BOI climbed nearly 3% in early trading session on BSE Sensex.
Investors on Dalal Street treaded cautiously as Indian equity markets opened on the first Monday of the new year 2018.
Sensex opened 0.03% or 8.69 points higher at 34,065.52 points while the larger 50-scrip index opened 0.06% or 5.80 points lower at 10,524.90 points.
In the pre-market trading session BSE Sensex and Nifty were trading flat at 34,059.99 points and 10,530.70 points respectively.
While ending the year on a good note, the NSE Nifty 50 Index rose 0.5% to 10,530.70 points on Friday, capping its best annual gain in three years.
The month of January is always a 'mixed month' of returns, as per a report by Bloomberg. It added that the gauge has dropped six times in the month in the last ten years.
Indian National Rupee opened stronger against the US dollar at Rs 63.92. It had touched its four month peak of Rs 63.87 on Friday.
Banking institutions witnessed a rise in share prices post the announcement of fresh capital infusion from the government last week.
Shares of Bank of India were up 2.24% or 3.80 points at Rs 173.50 per share on BSE Sensex. BOI received fresh capital infusion from the government to the tune of Rs 2,257 crore.
Bank of Maharashtra also climbed in early trade session on BSE Sensex up 2.19% or 0.50 points at Rs 23.35 apiece. The bank had received Rs 650 crore in the form of fresh capital infusion from the government.
Allahabad bank was up 0.61% or 0.45 points on BSE Sensex at Rs 73.85 per share after receiving capital infusion of Rs 2,000 crore.
Airtel's shares were up 0.60% or 3.20 points to Rs 532.60 apiece on BSE Sensex in the early market session. The operator was said to have entered an agreement with Amazon for a content deal, a report by Economic Times said.
Updated: Mon, Jan 01, 2018
09:28 am
Mumbai, ZeeBiz WebDesk