New Investors should stay away from Bhangaar Caps in Market: Vijay Kedia, MD, Kedia Securities
Vijay Kedia, MD, Kedia Securities, talks about the stock markets, economic conditions, his expectations from the government and the stocks that may do well in 20202 among others during a candid chat with Anil Singhvi, Managing Editor, Zee Business.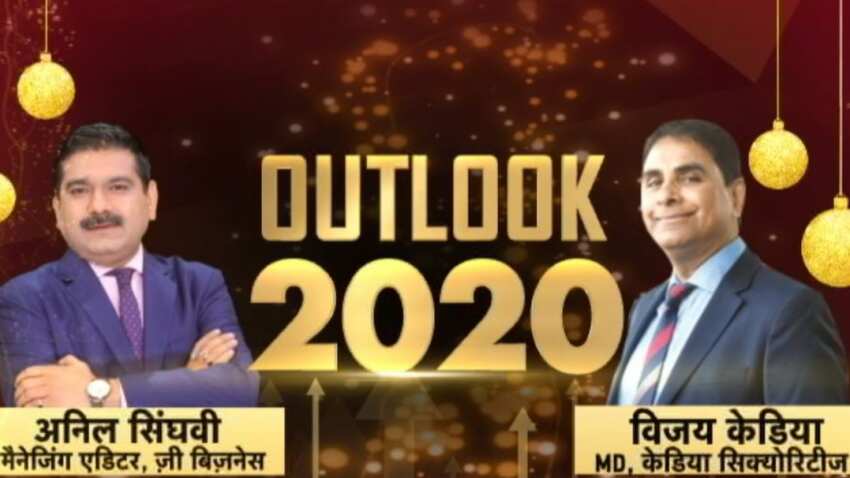 Global economy hasn't affected us a lot as we are not too much dependent on it. If we have a look on the import-export data then we are at a deficit
Written By:
Jitesh Kumar Jha
Updated: Mon, Dec 30, 2019
04:50 pm
Mumbai, ZeeBiz WebDesk
Vijay Kedia, MD, Kedia Securities, talks about the stock markets, economic conditions, his expectations from the government and the stocks that may do well in 20202 among others during a candid chat with Anil Singhvi, Managing Editor, Zee Business. 
Edited Excerpts: 
Q: What a person should do at a time when the stock markets are at the lifetime highs but their shares haven't grown in the same proportion?
A: Whenever I think about the share market it reminds me about the story of five blinds and an elephant - that I read in my childhood - in which each of those was trying to analyse the looks of the elephant by touching different parts of its body. One of them who holds its tail was thinking that elephant is similar to a snake, while the other with legs thought it as a pole/pillar, the other with trunk feels it is like a rope and so on. There is a saying in Hindi that reads 'जाकी रही भावना जैसी, प्रभु मूरत देखी तिन तैसी' which translates to 'things will be similar to your imaginations' fits the best on the share market. So, it depends on the place where you are standing. If you do not have a large cap and index shares then let others light the lamps at their homes as it will give a shine to yours as well. And, if your shares haven't increased, then you should introspect where you went wrong that your shares didn't perform or fell. So, it is a matter of the individual. If you ask me then I am happy by seeing the lamps of others' homes with the hope that my time will also come. 
Q: There is a dilemma that the economic conditions don't seem that strong that the markets can reach the lifetime highs but it is happening as the market is on the lifetime highs. Why is this contradiction?
A: It is a good question. I think about it every day and it always remains in my mind and I think I have got an answer to it may be to satisfy myself. Similarly, one friend of mine asked the same question to me in the recent past to which I replied, hypothetically, have a look on a flat in Mumbai's Malabar Hills costs more than one lakh per square feet and at the same time if you look at the price in Kalyan, which is around Rs5,000 per square feet. Then a person may say having a view on the price of Malabar Hills that India is prospering as the price of property here is too high, which is wrong. Similarly, if his comments are based on prices of Kalyan, which is just Rs5,000 then it is also a wrong one to some extent. But the majority price revolves around the same rate. Thus, this is just a perception of every person. But, everyone is aware of the economic situation of the country. 
I have said this in an interview earlier that I have travelled to some 6-7 cities (two-tier, three-tier and four-tier) in the last two months and met several people. And, during my communication with people - I have friends in different fields and businesses - I came to know the economic condition is not so bad. To be true that everyone thinks about the share market index, which is too high around 40,000-42,000. Any fall of the index below these levels will make people believe that there is a crisis like situation in India. The 6-7 shares that are performing at present is giving hope to people. The situation is bad at present. 
Q: Generally, we believe that the market is visionary. So will the market fall from because the economy is not in good shape or the market is trying to say that the economy will get better in time to come? 
A: Those who are working under/in the government, whether they are economists or economic advisor or ministers, they all are saying that the measures taken by the government will improve the economic conditions of the country. But, those who have left the government, whether he is Arvind Subramanian, the former Chief Economic Adviser to the Government of India; or Raghuram Rajan, former RBI Governor; or Rathin Roy, member of the Economic Advisory Council to the Prime Minister, all the intellectual property of India are warning us during their interviews that we are heading towards a crisis-like situation. A few days back I read Subramanian that we are moving towards a crisis that is worse than the crisis of 1991. So, I am completely confused and you can consider me as a scared Bull. Thus, I do not think that the market will move above these levels, index wise, in 2020.  
Q: To what extent this slowdown is a self-created one and to what level it has been an imported one. Because even the global economy is not in a good shape may it be America or Europe or China but their markets are also making highs. Are we following global foot-steps to a great extent?
A: Global economy hasn't affected us a lot as we are not too much dependent on it. If we have a look on the import-export data then we are at a deficit. Thus, we depend on them but not so much. We are a domestic driven economy and there is a slowdown in consumer demand and it has happened due to the sentiment and job losses. Thus, this is our problem and we are stuck in the same. So, we can find an excuse that even global is also bad. But global always remains in a bad shape. There are many countries in the world of which 20 are facing protests, 10 are going through recession then name the economy on which we are dependent. China's economy was still dependent on the world's economy but we never relied so much on the global economy if some industries are not included to the list.
Q: Thus, you want to say that the upside will remain limited in 2020 but what is your take on slowdown?
A: When it comes to slow down/recession, then I am invested in mid cap and small cap, which has already ruined and have either halved or have reached the one-fourth level, till now. I have some shares that are valuing above the cost price while some are below it. So, I don't see much slowdown in them. I think, we commit a mistake in case of the mid caps, that houses around 5,000 to 5,500 mid cap stocks. I have been saying on every platform that we have large caps, small caps and mid caps as well as Bhangaar Caps on the platform. So, those 4,500-5,000 Bhangaar Caps will never rise in its life. And, the problem is that the new investor, a school pass-out or someone using his father's money in the market, are investing in these stocks only because they feel that their investment of Rs5 per share will double. But, this is a misconception and they should be educated and your channel is doing the same through your programme, Gurukul. I feel these 4,500-5,000 stocks should not be listed on the share market because I don't think that there are some 500 stocks that can be trusted and one can invest in them. Anyway, if you try to take out the valuation of these 4,500-5,000 stocks than I don't think that it will be between Rs500-1,000 crore. Thus, they act as dirty fish of the market.
Q: This spoils the mood of people as they start believing that everyone is the same?
A: This happens as he, who is new to the share market, talks about the same at least when he feels that he has lost his money here. He thinks that the share market is a den of gambling and this has been happening since I started my journey here. Through your channel, I would like to request/urge SEBI to ban people below a certain age or education to trade in the share market as it happens in the case of permission to drink or drive. In an article, written earlier, I have said that share market is like a drug or even worse than that.
Q: But Warren Buffet, who started at the age of 13, says he was late in the market but with a license?
A: You can start studying at such a tender age and that was a different era when people were getting married at the tender age of 11.
Q: Do you think that there are certain stocks in mid cap and small caps that makes you think that they should be bought?
A: Two things are there and they are share prices may go down and there is no doubt about it and you have a view of 5-10 years and you feel that this company and its product will not disrupt for the next 5-10 years then you can buy them. But even then you will have to think that this share may break by 10-25% if some defection hits the market. I have a one-liner that only two people, the God and the Liar, knows about the top and bottom of the market. So, if you have a 10-year-long view and feel that this company can sustain for these many years. Then, the same question props, which shares should be taken from those 400-500 shares. I don't believe that the shares that have dropped from Rs500 levels to Rs50 will once again regain the same value of Rs500 in near future, maybe not even in the next 20 years. As the euphoria of 2016, 2017 and 18, which was history, has ended and the chapter has been closed as will not come back. The list of such stocks is very long. 
Q: It means you will have to find new stocks?
A: New stocks as well as the old ones also if you feel that they are falling just because of the ongoing sentiment in the market but its balance sheet has been intact and its growth, which stood at around 20% earlier has come down to 10% as it can't grow by 20% in the existing atmosphere, then you can bet on such stocks. 
Q: Can you suggest the themes and sectors where one can pay attention in 2020?
A: India has been a consumer-centric country since the beginning. And in the last 30-50 years, we have seen that is you take shares related to consumers then you will not be disappointed. They are going to do well for the next 30-50 years. But, you will have to understand its valuation, which is too high and I can't work in those but it doesn't mean that other stocks and sectors will not perform. At times, such stocks turn up to be such that they turn fancy for FIIs where 50-80% shares are held by the FIIs and promoters. It creates a condition in which the small investors like us are disqualified at the doors. This means, they can't go into them mentally but the share will do good and any fall in them or adjustment takes place or does not grow for 2 years then they may get cheap and then its time when we should take care of it. I am scared a bit from the year 2020 and feel that the year should pass away in any manner and the government becomes conscious and accept that they have made a mistake or maybe it was a borrowed one and some correction takes place and it takes some drastic step. In the case of BPCL, they were saying that it will be completed by March 2020 but a minister in near past was saying that it will not happen till March. Similarly, they took three years to sell Essar Steel which made us happy that finally, the money has reached to us. Coming to your point, it seems that several sectors will do well and tourism stocks will do well. When it comes to tourism then we are standing nowhere as if you go to other countries then you can sense the true meaning of tourism and the kind of people who reach there. 
However, India houses almost everything and I have said earlier in a tweet that India has a Switzerland, Spain, London, Hill Station, Sea and beaches, but we don't have an infrastructure. One of my friends informed me that during their visit to Khajuraho they were not able to find a single restaurant, where they can have hygienic food. Thus, it was an issue of infrastructure and I see a big boom in the infrastructure because this government have the intention to develop the infrastructure and it as already said that Rs 100 lakh crore will be invested on infrastructure in next 5 years. 
Watch Zee Business live TV below:
Q: Your expectation from the finance minister on February 1, 2020, that can end your fear from the year, yet to come?
A: The finance minister's agenda is being highlighted daily in a newspaper that there can be a tax cut. However, I have read an economist that even there is a tax cut then those sitting in the higher slab will be upgrading themselves from Apple 6 to Apple 11 and will start travelling in business class instead of the economy but such cuts will not benefit the economy. I don't understand this but feel that sentiments may benefit the economy. But, I feel the government should pay attention to the remedies suggested by the economists - who are warning repeatedly - and look forward to reviving the investment climate. If you want to know what can relieve me then the government should do something big to improve the investment climate at a time when there are talks related to job cuts. And, it is said that around 1.50 crore join the league of job seekers every year and we don't have jobs. Those who had been getting out of it. It should work, at the earliest, for the betterment of investment climate. It should also world to encourage demand and consumption for which people have been warning. So, the government should have some will and I don't know that it has it or not. 
Get Latest Business News, Stock Market Updates and Videos; Check your tax outgo through Income Tax Calculator and save money through our Personal Finance coverage. Check Business Breaking News Live on Zee Business Twitter and Facebook. Subscribe on YouTube.