Modi's office urges use of Indian products after rails controversy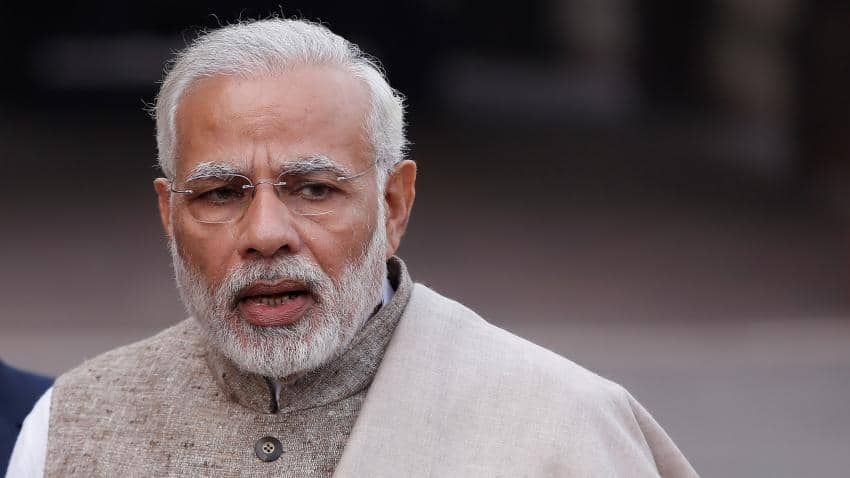 India's PM Modi speaks to the media inside the parliament house premises on the first day of the winter session in New Delhi
Prime Minister Narendra Modi`s office has asked all government departments to prioritise the use of local products in state projects, after domestic companies objected to a global tender by the railways ministry seeking tonnes of steel rails.
The steel and rail ministries have been at loggerheads over the state-run network`s decision to buy rails from overseas, despite assurances of supply from local companies Steel Authority of India Ltd (SAIL) and Jindal Steel and Power.
The steel ministry says the tender goes against the "Make in India" manufacturing push championed by Modi. More than three years in office, Modi is under pressure to promote local industry to create jobs for millions of Indians before the next general election in 2019.
"It is very disturbing that the broad message has not been appreciated by various departments," Nripendra Misra, principal secretary to Modi, said in a letter to the heads of various departments.
"It should be the responsibility at the highest level in each department to ensure that the tender conditions are strictly in sync with the public procurement order and each tender must be examined from the point of view of the interest of Indian manufacturers."
The letter was uploaded on the steel ministry`s website on Friday. Aruna Sharma, the top civil servant in the steel ministry, heads a government committee on the use of locally made iron and steel in government projects. 
The committee met on Thursday and gave Indian Railways "one time exception" to buy 487,000 tonnes of rails under the global tender. The railways had earlier sought to buy 717,000 tonnes under the tender.
State-run SAIL, currently the main supplier of rails to Indian Railways, has struggled to supply the steel as the world`s fourth largest rail network tries to upgrade and expand.
Updated: Fri, Dec 22, 2017
09:15 pm
New Delhi, Reuters