'Modinomics' is not Modi's economic policies but it talks about integral humanism: Sanju Verma
In her book Truth & Dare The Modi Dynamic, Sanju Verma, Chief Spokesperson & Co-Convener, BJP talks about 'Modinomics', good governance and Ayushman Bharat being the largest socially inclusive healthcare scheme.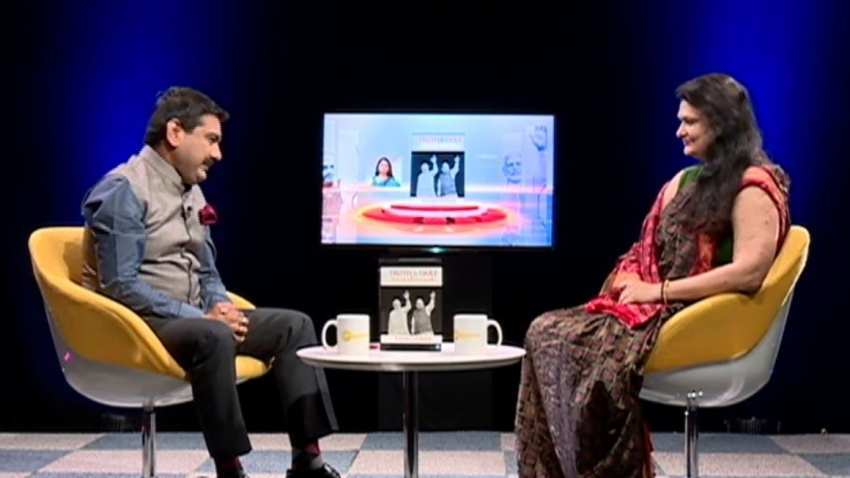 There should be a constructive opposition in the country that appreciates things that is good for the country, but it is absent in India due to the hatred that they carry against Prime Minister Narendra Modi, says Sanju Verma.
Updated: Tue, Apr 09, 2019
10:26 am
New Delhi, ZeeBiz WebDesk
"There should be a constructive opposition in the country that appreciates things that is good for the country, but it is absent in India due to the hatred that they carry against Prime Minister Narendra Modi", says Sanju Verma, Chief Spokesperson & Co-Convener, BJP, during an interview with Anil Singhvi, Managing Editor, Zee Business. She also spoke about her book Truth & Dare The Modi Dynamic, 'Modinomics', good governance and Ayushman Bharat being the largest socially inclusive healthcare scheme. Excerpts: 
Q: First, I would like to congratulate you on your new book Truth & Dare: The Modi Dynamic? What inspired you to write the book? 
A: I feel, there should be a constructive opposition in the country, but in last few months, I have seen that the anti-Modi hatred of the opposition is not allowing them to see the positives that are happening in the country like India has turned up to be the sixth-largest economy after overtaking France and soon will turn up to be the fifth largest economy by overtaking on the United Kingdom. But, the anti-Modi narrative of activists or luteinised Pseudo-Liberals or a large section of the opposition has turned them to be anti-nationals, anti-India, anti-development and anti-progress. 
I feel it doesn't matters who is in power and who is sitting in the opposition, but one should appreciate the developments instead of just opposing because they need to oppose. In short, they are opposing for Opposition's sake. 
Writing a book was not under my purview but usually I write articles and columns for different newspapers and participate in debate shows at different news channels and this made me think that there should be a formal document or a book that narrates the works done by the Modi-government, which is termed as 'Modinomics' by many including you and me. The book says that Modinomics is not about Modi's economic policies, but it is about many things like good governance, bringing development to the doorstep of last man standing, which was termed as integral humanism by Deendayal Upadhyaya.
Q: What inspired you to join politics, at least, when you belong to a different sector?
A: Everybody can earn money and succeed in his/her career if he/she is a hardworking person, but how many of these professionals can leave everything and join politics to do something for the public. In my case, it was 2014, when the President of Mumbai unit of the Bharatiya Janata Party (BJP), Ashish Shelar, asked me to join the party. He said that they need educated people who have a different view of the world and a good understanding of economics. 
I would like to say that BJP is one party that gives importance to your talent and calibre. I joined the party in 2014 and later in 2015, they appointed me as the party spokesperson, then as the co-convenor of the intellectual cell and then in 2016 as the chief spokesperson. So, I feel, professionals like me, with sound knowledge of economics and want a true and clean politics should join politics. 
Q: Update us on your work experience with Prime Minister Narendra Modi and how you have jotted down that experience in this book?
A: The book has been segmented into two parts. The first part talks about Modinomics, where I have made true-efforts to explain everything about it. It will help people - after 10, 20 or 30 years - to understand the kind of works that was done by Prime Minister Narendra Modi in his first term. It will also help them to know about the paradigm shift of the governannce governance, either demonetisation was a successful step or not as well as GST, India's biggest reform in the indirect taxation system of the post-independence history of India. I think one must have a book that can work as a data or reference point for the same. I can say that several articles and books have been written on Narendra Modi but the book, Truth & Dare The Modi Dynamic, presents true facts about these. 
I had won the hat of an economist, a spokesperson, a politician but most importantly an honest citizen, who respects merit. And I think that meritorious people and professionals are valued at BJP, especially the women. 
In the second part, I have traced the meteoric rise of BJP under Amit Shah and I think this is the first book that talks about Amit Shah. I feel, he is just not a strongman and for that purpose, you will have to look into his personal journey and the way in which he has performed against all the odds. Usually, we say 'where there's a will there's a way' but when it comes to politics where somebody has walked the talks than that person is none other than Amit Shah. He has proved that if you are passionate and want to work than the world can't stop you from achieving what you want. So, the headline of the first chapter of the political section says a lot about itself. It is the invincible Amit Shah vs the rest. So, I think people must be informed about his journey and it is inspirational. 
Q: Every party and leader have different ways to develop. Tell us something that happened in the last 5years which never happened in last 55years?
A: Many things are things and I think that figures can't go wrong but our opinion and interpretation of the data may go wrong. We may ignore the statistics just due to the ideological differences, but the number says a lot. For instance, 13 crore new gas connections were given in the last five years of which 40-50 per cent (more than 6 crores) connections were given under the Ujjwala Yojana. However, only 12 crore gas connections were given in last 55-60 years. 
Secondly, I would like to talk about the financial year 2017-18 when about 10,000-km of national highway was constructed in India, at the rate of around 27-km/day. Interestingly, there is not a single year where the 10,000-km road was constructed in 70-72 years, the post-independence, in India. Then, what is the reason that Modi-government was able to do it but was not possible for any of the previous governments? 
In addition, only 88 Janaushadhi stores were opened in India before Modi-government came to power but the number has multiplied and gone up to about 4,500 stores in his tenure. So, if you need to go for the knew-implant or there is a need for stents or you need surgical equipment for a bypass surgery than you will get these at them at around 60-90 per cent lower rate than the general market. When it comes to Ayushmaan Bharat, then more than 14,000 hospitals are empanelled under the scheme. You and your audience will be happy as well as surprised to know that more than 3-crore e-cards have been issued between September 2018, when the scheme was rolled out, and March 2019 and more than 14-lakh people have received free medical treatment under Ayushman Bharat Yojana. Modi-government has brought about 50-crore people under a socially inclusive healthcare scheme. 
I was going through Global Findex report that in its report has said that about 55-60 crore new bank accounts were opened across the world of which more than 51 per cent were opened in India that to under the aegis of Narendra Modi. 
Q: This is the first book that talks about Pulwama attack and the air strike. Update us on that part of the book?
A: This is the first book that talks about Pulwama attack in detail. The book was ready for print when the incident happened, and I asked the publishers to hold the print. Pulwama terror attack was a very unfortunate occurrence by a terror state in which lost more than 44 of our CRPF personnel. It was a painful incident. But, something emerged from it for those who question Modi-government's Pakistan policy, anti-terror policy, Kashmir policy and foreign policy. The government's response after the Pulwama attack was quite different from November 26, 2008 response. There was a huge difference between the two. So, nationalism is beyond development, nationalism is beyond good governance, nationalism is beyond progress, nationalism is beyond GDP numbers, nationalism is beyond job-related debates. Thus, people say that BJP has taken over the narrative of nationalism, but I would like to say that we haven't taken over it. But we ask our citizens that they must be ashamed of saying Jai Hind, Bharat Mata Ki Jai, and singing Jan Gana Mana. I would also like to ask what will be your response to those who attack at your house, will you garland them or not? I think you will reply in the same manner and this happened after the Pulwama attack. He informed that we were a soft-power where it was necessary but can reply harshly at places of need. Thus, it has highlighted that we are a strong government instead of a helpless government, we have a belief in democracy instead of single-family democracy, we have faith in good politics instead of crown-kingship. 
Q: Do you think that you may get an opportunity in the government if Modi-government is re-elected to power?
A: Narendra Modi and Amit Shah are visionary leaders and they are aware of everyone's weakness and strengths. They like placing the right person in the right place. I have faith that you must put your best foot forward and honesty is the best policy. I am aggressive but at the same time I not a demanding person by nature. I feel that the best will come to me if I am well qualified for that. 
Q: Going by your professional career I found you have changed your jobs a lot. So, do you have any idea of changing the political parties at a regular interval? 
A: No, politics is not a profession, it is my passion. I have earned a lot of money as well as the name, while being a professional but have joined politics to make sure that I will not have to look back towards life at any stage of life. I want to connect with people and do something so that they one day after 20-30 years from here they do remember me for my good acts. And, if are asking about my plans to change the party than we have seen that there are several people who have started switching their sides during the election, but I have to stay with BJP and work with Narendra Modi and learn a lot from under the able leadership of Amit Shah. 
In fact, Congress or Trinamool Congress will never take me in their fold at least after reading this book because I have mentioned almost every scam of the Gandhi-family from anti-Sikh riots, National Herald scam, the Liberation Tigers of Tamil Eelam (LTTE) disaster/Sri Lankan policy of Rajiv Gandhi, Maintenance of Internal Security Act (MISA) of Indira Gandhi. The book also talks about Article 35A, in which I am talking about Mission 2019 and beyond and you would have gone through Arun Jaitley's view on it. I think, Arun Jaitley is one of the suavest and agile minds in the BJP and I have mentioned it in my book. Article 35A is was given by Abdullah's and was inserted by Presidential order and that too as an appendix to the Constitution and people say that it can't be abrogated as who will abrogate it in the absence of the Constituent Assembly of Jammu and Kashmir. But, there is no need for a constituent assembly or the constitution to abrogate it as it made a backdoor entry through a Presidential order. So, the final prerogative is with the government.
Get Latest Business News, Stock Market Updates and Videos; Check your tax outgo through Income Tax Calculator and save money through our Personal Finance coverage. Check Business Breaking News Live on Zee Business Twitter and Facebook. Subscribe on YouTube.