Modi invites Israeli defence companies for co-production
The two countries also inked 9 pacts to boost cooperation in key areas such as cyber security and gas and oil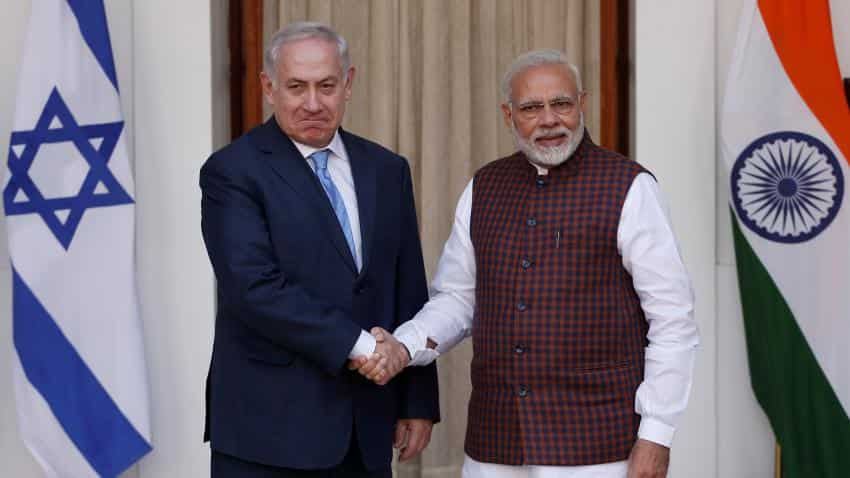 Narendra Modi and his Israeli counterpart Netanyahu advocated strong measures against terrorists. Image source: PTI
Prime Minister Narendra Modi today invited Israeli defence companies to India for co- production, as he held comprehensive talks on strategic issues with his Israeli counterpart Benjamin Netanyahu, who called him a "revolutionary leader".
The two countries also inked nine pacts to boost cooperation in key areas such as cyber security and gas and oil after extensive delegation-level talks between their prime ministers.
During the talks, the issue of India voting against Israel at the UN on the Jerusalem issue also figured with Indian officials maintaining that both sides put forth their views. However, the officials asserted that the two leaders agreed that the ties "are not determined by a single issue".
India had last month joined 127 other countries to vote in the UN in favour of a resolution opposing the recent decision of the US to recognise Jerusalem as Israel's capital.
Terming their talks as "wide-ranging and intensive", Modi, at a joint press event with Netanyahu, said they reviewed the progress in the bilateral relations and agreed that "the possibilities and the opportunities" that beckon the two countries need to be seized.
"We will strengthen the existing pillars of cooperation in areas that touch the lives of our peoples. These are agriculture, science and technology, and security...In defence, I have invited Israeli companies to take advantage of the liberalised FDI regime to make more in India with our companies," Modi said.
According to a joint statement, the leaders noted the "grave" threat that terrorism poses to peace and security including from non-state actors, and reiterated that there can be no justification for acts of terror on any grounds.
They advocated strong measures against terrorists, terror outfits, those who sponsor, encourage or finance terrorism or provide sanctuary to terrorists and terror groups, the statement said.
At the press event, Netanyahu said, "Indians and Israelis know too well the pain of terrorist attacks. We remember the horrific savagery in Mumbai. We grit our teeth, we fight back, we never give in."
The two leaders also noted that the next meeting of the Joint Working Groups on Homeland and Public Security will be held in February 2018, the statement said.
They reiterated the importance of building comprehensive cooperation in counter-terrorism, including cyber-space, the statement said.
On whether the multi-million Israeli missile Spike deal figured in the talks, Vijay Gokhale, Secretary (Economic Relations), did not give a direct answer and said defence and security cooperation was discussed. He did not get into specific details.
On defence cooperation, the statement said the two prime ministers consider it important to set the direction for developing more business models and partnerships for joint ventures and joint manufacturing, including transfer of technology as well as joint research and development in defence and security fields.
The two leaders asked their respective defence ministries to hold discussions this year with active involvement of the public and private sectors, in order to create the basis for viable, sustainable and long term cooperation in the defence industry, the statement said.
The bonhomie between the two leaders was on full display with Modi starting his press statement welcoming Netanyahu in Hebrew and the visiting leader describing the Indian prime minister as a "revolutionary leader".
"You are a revolutionary leader and you are revolutionising India. You are catapulting this magnificent state into the future. And you have revolutionised the relations between Israel and India," Netanyahu, popularly known as 'Bibi', said.
Dubbing Netanyahu's visit as a "long-anticipated moment in the journey of friendship" between India and Israel, Modi said the visit was also a fitting climax to the commemoration of 25 years of bilateral diplomatic relations and marked a special beginning to the new year calendar.
Asserting that their discussions were marked by the desire to do more, Modi said, "Prime Minister, I have a reputation of being impatient in getting results. If I may let out an open secret, I know that so are you."
Referring to his visit to Israel last year, Modi said they had promised each other and their people to build a strategic partnership as also progress of diverse and cutting-edge cooperation, and of joint endeavours and shared successes.
He said last year in Tel Aviv, Netanyahu had expressed the intent to cut down bureaucratic red tape with a machete and forge ahead with speed.
"I am happy to tell you that in India, we are well on our way to doing just that. We have imparted our shared impatience to the implementation of our earlier decisions," he said, asserting that the results were already visible on the ground.
The two leaders also exchanged views on scaling up the centres of excellence that have been a mainstay of agricultural cooperation by bringing in advanced Israeli practices and technology.
Modi said the two countries are also venturing into the less explored areas of cooperation, such as oil and gas, cyber security, films, and start-ups.
Asserting that they are committed to facilitating the flow of people and ideas between their geographies, Modi said, "We are working with Israel to make it easier for our people to work and visit each other's countries, including for longer work durations. To bring people closer on both sides, an Indian Cultural Centre will soon open in Israel."
He also said that they have decided to start an annual exchange of bilateral visits by 100 young people from science-related educational streams.
Modi said that he was looking forward to accompany Netanyahu to his home state, Gujarat.
Updated: Mon, Jan 15, 2018
07:24 pm
PTI