Modi at 3: 10 decisions that impacted Indian economy over the past one year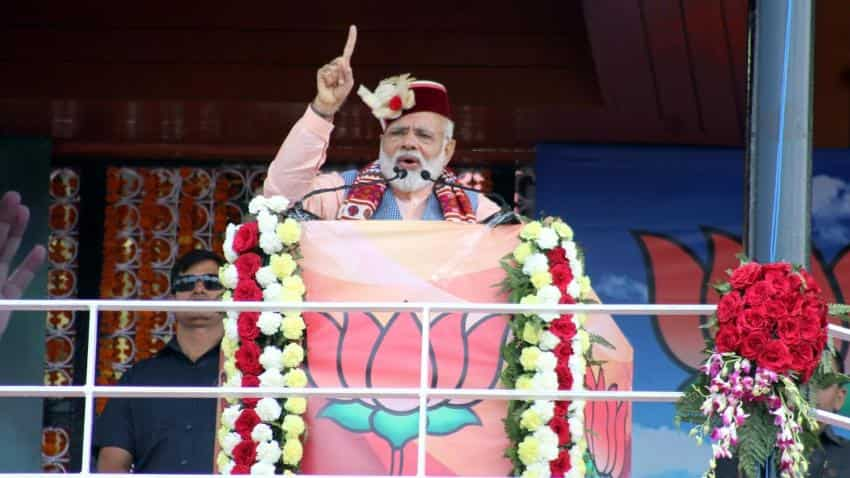 Prime Minister Narendra Modi addresses a rally at Ridge in Shimla on April 27, 2017. Photo: IANS
Updated: Wed, May 24, 2017
09:47 am
Mumbai, ZeeBiz WebDesk
Like previous two years, in the last year too Prime Minister Narendra Modi managed to grabbed headlines.
Three years ago, our country had witnessed "Modi wave" when Narendra Modi became the Prime Minister of India after a "historic win".
After these three years, the wave turned into "tsunami" when Modi-government witnessed another historic win in Uttar Pradesh assembly elections in March this year. 
ALSO READ: 3 years of Modi Government: Citizens give thumbs up
This win could be credited to his initiatives, schemes and big changes which he had announced over the years. 
People have been waiting for "achche din" from past three years. Some people have found Modi's decisions as bold as his personality like surgical strike and some people feel his decisions will harm country's economy.
1. Demonetisation:
After the year saw lots of ups and downs, 2016 saw a big 'jerk' on November 8, when in a surprise move, Modi announced the ban of Rs 500 and Rs 1000 notes and introduced new Rs 500 and Rs 2000 notes with immediate effect. The announcement left the whole country 'cashless'.
The government had given time till December 30 to deposit old currency in banks. 
As per the government, the decision was taken to curb black money floating in the country. After the decision, the banks were flooded with cash as people lined up outside the banks to deposit old notes. The ATMs started drying up creating 'cash crunch' situation in the country.
The whole 'demonetisation movement' had hit business confidence and dented demand for loans, hurting banks that were already battling the weakest loan growth in nearly two decades, a Reuters report had said.
However, the things took a U-turn when banks started slashing home loans rate. This led to a pick in demand for home loans. 
Considering this demonetisation period as an opportunity, Modi government started promoting 'Digital India'. 
Modi started talking of a cashless society that involves higher usage of e-wallets like Paytm, RuPay cards and MobiKwik Lite and higher credit or debit card swipes since the time he took charge. 
ALSO READ: Demonetisation: Modi's move put India's GDP at stake
When the economists and analysts predicted a downfall in the GDP of the country in the current fiscal, the numbers which were released in January, proved all of them wrong. The experts were expecting India's growth to be below 6.8%.
Ministry of Statistics & Programme Implementation in February released data said that India's GDP growth for October-December 2016 stood at 7.0% at constant prices GDP growth in second quarter stood at 7.4%, 7.2% in the first quarter. 
Moreover, the economy came out of "demonetisation phase" at faster pace as expected. 
2. Goods and Service Tax (GST):
On August 24, the much awaited Goods and Service Tax (GST) Bill was passed by the Rajya Sabha with a unanimous vote in favour of the bill. After being the opposition to the Bill for many years, Modi-led Government had finally managed to convinced opposition, terming it as 'one nation one tax' rule. 
GST, a single tax on the supply of goods and services, right from the manufacturer to the consumer will be a destination based tax. To decide the tax rate, the government had formed GST Council on September 12. Since the formation of GST Council, till now, various meetings have been held chaired by Finance Minister Arun Jaitley. 
ALSO READ: GST rates finalised: A complete guide on products getting cheaper or expensive from July 1
Earlier, the government was looking for its rollout by April 2017. However, the government later changed the date to July 1, 2017.
It was only yesterday, when GST Council decided rates of 1,211 items.
3. Bharat Interface for Money (BHIM)
In order to give a push to digital payments, Modi on December 31, 2016 had launched a new mobile application called BHIM. 
BHIM is interoperable with other Unified Payment Interface (UPI) applications, and bank accounts. BHIM is developed by the National Payment Corporation of India (NPCI), as per the application's summary given at Playstore.
The App is  a simplified payment platform designed  to make Unified Payment Interface (UPI) and USSD payment modes simpler and usable across feature phones and smart phones, the report added. 
"The day is not far, when people will conduct their business through this app...It is a simple app and you can download it on your smartphones or feature phones. You don't even require internet connection for this," Modi had said during the launch. 
The number of people downloaded this app is over two crore as till on April. 
4. Indian Railways Passenger Travel Insurance Scheme:
Modi government launched the scheme in the last railway budget 2016-17. 
Started from August 31, a travel insurance cover of up to Rs 10 lakh can be availed while booking a train ticket online by paying less than one rupee. 
According to Railway Ministry's plan the passenger will be asked to pay Rs 20, but now the travelers likely to pay just Re 1 while booking the tickets. The avail the travel insurance will be optional. 
Under the scheme, a passenger will get an insurance cover of Rs 10 lakh in case of permanent disability or death, Rs 7.5 lakh for partial disability or injuries and Rs 5 lakh for hospitalisation.
5. Jan Dhan Yojana: 
PM Modi launched the Jan Dhan Yojana scheme, which enabled every citizen of the country to open bank account. He had announced this scheme on his first Independence Scheme in 2014.
The aim of this scheme was to ensure access to financial services, namely Banking Savings & Deposit Accounts, Remittance, Credit, Insurance, Pension in an affordable manner.
Account can be opened in any bank branch or Business Correspondent (Bank Mitr) outlet. Accounts opened under PMJDY are being opened with Zero balance. However, if the account-holder wishes to get cheque book, he/she will have to fulfill minimum balance criteria.
Run under Finance Ministry, on the its first day, 1.5 crore bank accounts were opened. But, it got a push only after demonetisation announcement. 
Till February 1, 2017, there were over 27 crore bank accounts which were opened and almost Rs 643 billion were deposited under this scheme.  
6. Real Estate Regulation and Development Act (RERA Act): 
With an aim to address grievances of buyers and to bring transparency in India's real estate sector, the government implemented RERA Act starting from May 1 this year.
The upper house of Indian Parliament, Rajya Sabha had passed the Real Estate Regulation and Development Act (RERA Act) in March 2016, which is primarily aimed at bringing in transparency to the sector and is being touted as a pro-consumer law. 
It will thereon become mandatory for all real estate projects, commercial and residential, to register with RERA for transparent execution.
As per the Act, if the real estate developer fails to register a property it will attract a penalty which may be up to 10% of the project cost, and a repeat offence could land the developer in jail. 
The real estate developer will have to place 70% of the money collected from a buyer in a separate account to meet the construction cost of the project.This will put a check on the general practice by a majority of developers to divert the buyer's money to start a new project, instead of finishing the one for which money was collected. This will ensure that construction is completed on time.
7. Pradhan Mantri Ujjwala Yojana: 
The scheme was launched by PM Modi on May 1, 2016 n Ballia, Uttar Pradesh.
Under this scheme, 5 Cr LPG connections will be provided to BPL families with a support of Rs.1600 per connection in the next 3 years. Ensuring women's empowerment, especially in rural India, the connections will be issued in the name of women of the households. 
Rs 8000 Crore has been allocated towards the implementation of the scheme. Identification of the BPL families has been done through Socio Economic Caste Census Data. 
Till now, 2,24,03,271 BPL LPG connections has been released covering 694 districts. 
The scheme is likely to result in an additional employment of around 1 Lakh and provide business opportunity of at least 10,000 crore by 2019. Moreover, launch of this scheme provided a great boost to the 'Make in India' campaign as all the manufacturers of cylinders, gas stoves, regulators, and gas hose are domestic. 
8. Startup India Action Plan: 
The plan was launched by Modi on January 16, 2016 in New Delhi with the intention to build a strong eco-system for nurturing innovation and Startups in the country.
The Government through this initiative aims to empower Startups to grow through innovation and design and to accelerate spreading of the Startup movement. 
As per the official "status report" of the scheme, out of all the applications received, 932 had the requisite documents and have been recognised as Startups by DIPP. Rest of the applicants will be provided guidance and support by the Startup India Hub to submit the relevant documents. 23 Startups have been approved for availing tax benefits by IMB, as of 1st week of May, 2017.
The Finance Act, 2016 has made provision for Startups to get income tax exemption for 3 years in a block of 5 years, if they are incorporated between 1st April 2016 and 31st March 2019. In the Union Budget 2017-18, the Government has increased this period of profit-linked deductions available to the eligible startups to 7 years. 
9. Pradhan Mantri Mudra Loan Book Yojana: 
The aim of this scheme is to provide financial assistance by providing loans at reasonable interest rates. Depending on the size of business loans are being offered accordingly. 
Under this scheme, loans upto 10 lakh are being provided. Mudra, which stands for Micro Units Development and Refinance Agency Ltd, aims at fulfiling the funding needs of non corporate small businesses. 
As per the financing options available under the scheme, the interest rates and loan limits vary to accommodate for the growth stage of the concerned enterprise availing the loan. As of November 2015, the applicable rates and limits are as follows:
Shishu – Loans up to a maximum of Rs 50000 with rate of interest being 1% per month or 12% per annum. Repayment period up to 5 years
Kishore – Loans exceeding Rs 50000 up to Rs 5 lakhs. The rate of interest will be dependent on the bank, in accordance with the schemes guidelines, keeping the credit history of the applicant in view. Repayment period based on the discretion of the bank
Tarun – Loans exceeding Rs 5 lakhs up to Rs 10 lakhs. The rate of interest will be dependent on the bank, in accordance with the schemes guidelines, keeping the credit history of the applicant in view. Repayment period based on the discretion of the bank.
ALSO READ: Modi at 3: Top 10 stocks that gave 300% returns since May 2014
A total of 27 Public Sector Banks, 17 Private Sector Banks, 31 Regional Rural Banks, 4 Co-operative banks, 36 Microfinance Institutions and 25 Non-Banking Financial Institutions have currently been selected to allow disbursement of this loan. 60% of the loans under this scheme are set to be offered through the 'Shishu' option and the rest 40% will be through the 'Kishore' and 'Tarun' schemes, as explained by BankBazaar.com
10. UDAAN Yojana: 
As per this scheme maximum of Rs 2500 airfare was fixed for flight travel of 1 hours. 
The UDAN Scheme is a key component of the National Civil Aviation Policy (NCAP) which was released by the Ministry of Civil Aviation on 15th June, 2016. 
As per the Ministry, the airfare for a one hour journey of appx. 500 km on a fixed wing aircraft or for a 30 minute journey on a helicopter was be capped at Rs 2,500, with proportionate pricing for routes of different stage lengths and flight duration. 
The scheme was launched in October 2016 to make air travel more affordable to the common man.
On March 30 the government unveiled a total of 128 routes that connected regional areas to metros and other cities. The initial proposals covered 65 airports, of which 52 were unserved and 13 were underserved airports.
On April 27, 2017, Modi flagged off the maiden flight under the Regional Connectivity Scheme.
PM Modi had also flagged off a flight on the Kadapa to Hyderabad and Nanded to Hyderabad under UDAAN.
Get Latest Business News, Stock Market Updates and Videos; Check your tax outgo through Income Tax Calculator and save money through our Personal Finance coverage. Check Business Breaking News Live on Zee Business Twitter and Facebook. Subscribe on YouTube.