LIVE: Omicron variant, COVID-19 news updates - Of 183 Omicron cases analysed so far, 91% were fully vaccinated with 3 booster shots, says Govt.
 Yogi Adityanath government has decided to reimpose night curfew in Uttar Pradesh from Saturday.  According to an official statement, the curfew will be in place from 11 p.m. to 5 a.m.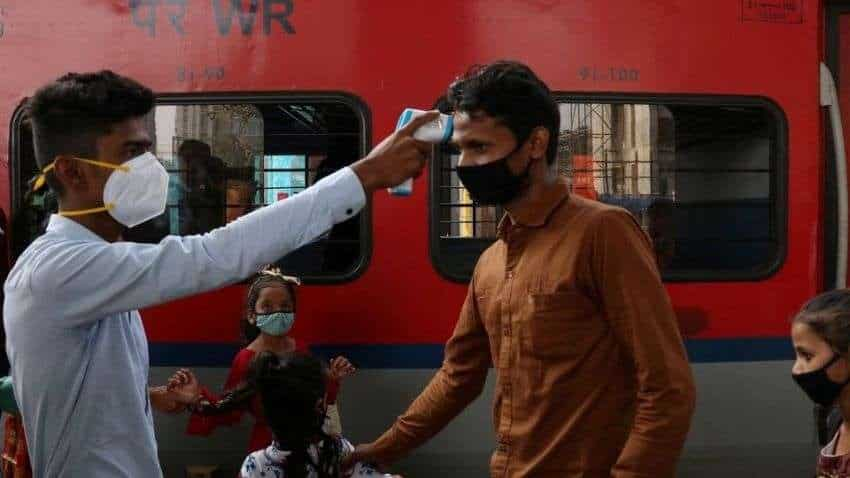 Doctors provide multi-vitamins, paracetamol treatment to 40 new variant patients at Delhi hospital. Source: Reuters
Prime Minister Narendra Modi held a review meeting on the COVID-19 situation in the country on Thursday evening amid rising concerns over the spread of the Omicron variant of the coronavirus. India has recorded 6650 cases as per the Ministry of Health and Family Welfare in the last 24 hours. The total number of Omicron cases in India rises to 236, of which 104 have recovered as per the information from the Ministry of Health and Family Welfare.
See Zee Business Live TV Streaming Below:
India will have Omicron's third wave but it will be milder than the second wave, as per an ANI report, Vidyasagar who is the head of the National COVID-19 Supermodel Committee. He noted that the third wave is likely to arrive early next year.
Omicron, a new variant of SARS-CoV-2, has caught the attention of the government as the World Health Organisation (WHO) has termed it as a variant of concern. According to Manindra Agarwal, IIT scientist involved in the mathematical projection of trajectory of COVID-19, the third wave of coronavirus could hit the peak by February with cases likely to be reaching up to 1-1.5 lakh a day due to Omicron. However, it will be milder than the second wave, he told to PTI.
"With the new variant, our current forecast is that the country could see the third wave by February but it will be milder than the second wave. So far, we have seen that the severity of Omicron is not like the one seen in the Delta variant," PTI said in a report quoting Agarwal.
Here are the updates from India:
4.55 PM:  Of 183 Omicron cases analysed so far, 91% were fully vaccinated with three having booster shots, 70% were asymptomatic, 61% were males: Govt
Of 183 Omicron cases analysed so far, 91% were fully vaccinated with three having booster shots, 70% were asymptomatic, 61% were males: Govt

— Press Trust of India (@PTI_News) December 24, 2021
Of 358 cases of Omicron variant detected in India so far, 183 were analysed and 121 of them had foreign travel history: Govt
4.21 PM: The Centre has initiated a study of 3,000 individuals who received their both doses of Covid vaccines to determine the need for booster dose amid the looming scare of Omicron, as per an IANS report. 
The study will be conducted by the Translational Health Science and Technology Institute (THSTI) under the Department of Biotechnology. The participants who have already received their both doses of Covid vaccines will be given booster doses to determine the impact on their immunity level. The study is expected to cover all three vaccines used in India -- Covishield, Covaxin and Sputnik V.
According to a source, the study will include people above 40 years of age, below 40 years of age, people infected with Covid-19 prior to vaccination, and people with co-morbid conditions. The hospitals involved in the study will be submitting the report on blood samples along with the analysis on the requirement of booster doses in India, said the source.
Amid the everyday rise of Omicron cases in India, the need for booster dose has been voiced by many institutions. Union Health Minister Mansukh Mandaviya had earlier said that the decision on booster dose in India will be taken based on scientific data and analysis. The National Technical Advisory Group on Immunisation (NTAGI) is expected to meet in the first week of January to take a call on the same.
3.55 PM:  With the detection of four Omicron cases, the Odisha government has imposed restrictions on Christmas and New Year celebrations, as per an IANS report. 
Odisha Chief Secretary S.C. Mahapatra on Friday issued an order, which will remain in force from December 25, 2021 to January 2, 2022.
As per the order, Christmas celebrations will be limited to the churches with participation of a maximum of 50 persons. All have to strictly follow Covid protocols. They will have to follow all the other conditions imposed by the local authorities.
Parties like Zero Night celebration, Welcome to New Year in hotels, clubs, restaurants, parks, convention halls, kalyan mandaps, etc., have been completely banned across the state, the government said in the order.
"No celebration other than marriage (but not receptions and ancillary functions) is allowed across the State. No community feast is also allowed. No social gathering, rallies, orchestras, dances and other cultural programmes shall be permitted," read the order. The government has allowed funeral rites with following due Covid-19 protocols.
There will be strict vigilance on crowding and gathering during the above occasions, the order said.
Earlier, in its guidelines for December, the state government had imposed some restrictions on religious festivals and functions. However, more restrictions have been imposed as in the past few days the state has reported four Omicron cases, officials said.
District collectors, Cuttack-Bhubaneswar police commissioner and municipal commissioners have been asked to scrupulously implement these guidelines and take all possible measures to enforce the guidelines.
They have been authorised to impose any additional restrictions as may be felt necessary in the interest of containment of spread of Covid-19 and to ensure Covid appropriate behaviour is followed by all concerned.
If any person violates the above guidelines, he/she will be taken to task as per the existing provisions in laws, warned the government.
2.15 PM: The union territory of Puducherry clocked 20 new COVID-19 cases during the last 24 hours as the overall tally to 1,29, 394, a senior official of the Department of Health said on Friday, as per a PTI report. 
The union territory did not record any fresh fatality for the fifth straight day, Director of Health G Sriramulu said in a release here.
The fresh cases were identified at the end of the examination of 2,466 samples were spread over Puducherry (11), Karaikal (8) and Mahe (one).
Yanam region, an enclave of Puducherry in Andhra Pradesh, did not report any fresh case, the Director said.
The number of active cases stood at 154 which included 33 patients in hospitals and the remaining 121 in home isolation.
Sriramulu said no fresh fatality was reported from any of the four regions of Puducherry, Karaikal, Mahe and Yanam and the death toll remained at 1,880.
As many as 12 patients recovered and were discharged during the last 24 hours ending 10 AM Friday as the overall recoveries went up to 1,27,360.
The Department of Health has so far tested 20,35,124 samples and has found 17,24,377 out of them to be negative, he said.
The test positivity rate stood at 0.81 per cent while the fatality and recovery rates were 1.45 per cent and 98.43 per cent respectively.
Sriramulu said the department has so far administered 13,67,914 doses which comprised 8,24,671 first dose and 5,43,243 second dose. 
12.35 PM: Multi-vitamins and paracetamol were the only treatment provided to Omicron patients at Delhi's Lok Nayak hospital so far, doctors said on Friday, as per a PTI report. 
The LNJP Hospital, which is the Delhi government's largest healthcare facility, has reported 40 cases of the new coronavirus variant of concern till now. Nineteen of these patients have already been discharged.
A senior doctor at the hospital said around 90 per cent of the patients are "asymptotic" and the rest showed mild symptoms like "sore throat, low-grade fever and body ache".
"The treatment included only multi-vitamins and paracetamol tablets. We didn't feel the need to give them any other medicine," he said.
The doctor said most of the patients are those who tested COVID-19 positive at the airport upon arrival from foreign countries. Most of them are fully vaccinated and "three-four have even taken booster shots", he added.
The patients included an MP of an African country, a member of a royal family from a north Indian state, and family members of bureaucrats, a source said.
According to data from the Union Health Ministry, Delhi has logged 67 Omicron cases so far, of which 23 have been discharged.
Besides the LNJP Hospital, Sir Ganga Ram City Hospital, Max Hospital Saket, Fortis Hospital in Vasant Kunj and Batra Hospital in Tughlakabad have also set up facilities for treating and isolating suspected cases of Omicron following orders from the city government.
Genome sequencing of samples of all COVID-19-infected people in Delhi is being conducted since Wednesday (December 22) to ascertain if the new Omicron variant has spread in the community.
The Delhi government-run labs at the Lok Nayak hospital and the Institute of Liver and Biliary Sciences can sequence 100 samples each day. Two Centre-run labs in Delhi can sequence 200-300 samples a day, according to city Health Minister Satyendar Jain.
Anticipating a surge in Covid cases due to the fast-spreading Omicron variant, Delhi Chief Minister Arvind Kejriwal on Thursday said his government has made preparations to handle one lakh patients and conduct three lakh tests daily, and to ensure availability of enough manpower, medicines and oxygen.
Kejriwal stressed that the latest variant of the coronavirus spreads rapidly and claimed that it causes "very mild" infection, fewer hospitalisations and deaths.
Therefore, the government has been focusing on strengthening its home-isolation module, and directions have been issued to hire agencies for treating patients at their homes, he said. 
11.12 AM: The Yogi Adityanath government has decided to reimpose night curfew in Uttar Pradesh from Saturday, as per an IANS report. 
According to an official statement, the curfew will be in place from 11 p.m. to 5 a.m.
An upper limit of 200 guests will be in force for weddings and the district administration will have to be duly informed.
The decision has been taken in view of the increase in number of Covid-19 cases in the state.
News agency ANI tweeted, "UP Govt: Night curfew to be put in place from December 25 from 11 pm-5am . Not more than 200 people allowed in weddings." 
UP Govt: Night curfew to be put in place from December 25 from 11 pm-5am . Not more than 200 people allowed in weddings pic.twitter.com/bHs8Ih7urW

— ANI UP/Uttarakhand (@ANINewsUP) December 24, 2021
9.35 AM: India's active caseload currently stands at 77,516. Furthermore, 7,051 recoveries in the last 24 hours increases Total Recoveries to  3,42,15,977.
9.30 AM: 140.31 crore vaccine doses have been administered so far under Nationwide Vaccination Drive
9.24 AM: The Maharashtra government has decided to impose fresh restrictions in the state to avoid crowding in view of the rising cases of COVID-19, and it will issue guidelines regarding these curbs, an official said on Friday, as per a PTI report.
The Chief Minister's Office (CMO) said in a statement late night on Thursday that the guidelines will be issued on Friday.
Chief Minister Uddhav Thackeray held talks with the members of the state COVID-19 task force. They discussed the ways to avoid crowding during the Christmas and New Year celebrations, weddings and parties at hotels and restaurants, it said.
The statement said the meeting also discussed the restrictions imposed in other states and the spike in COVID-19 in USA and Europe.
The daily coronavirus case count in Maharashtra has been rising over the past few days.
The state on Thursday reported 1,179 new coronavirus cases, a day after it saw 1,201 new infections.
On Monday, the state had added 544 cases, while the next day it had logged 825 cases.
On Thursday, Maharashtra reported 23 cases of the Omicron variant of coronavirus, highest in a single day so far, which took the state's tally of such cases to 88.
The World Health Organization (WHO) has classified a new variant of SARS-CoV-2. It has been named as Omicron. The Technical Advisory Group on SARS-CoV-2 Virus Evolution (TAG-VE) is an independent group of experts that periodically monitors and evaluates the evolution of SARS-CoV-2 and assesses if specific mutations and combinations of mutations alter the behaviour of the virus, WHO has informed.
The B.1.1.529 variant was first reported to WHO from South Africa on 24th November 2021. The epidemiological situation in South Africa has been characterized by three distinct peaks in reported cases, the latest of which was predominantly the Delta variant.
It must be noted that India's COVID-19 tally had crossed the 20-lakh mark on August 7, 2020, 30 lakhs on August 23, 40 lakhs on September 5 and 50 lakhs on September 16. It went past 60 lakhs on September 28, 70 lakhs on October 11, crossed 80 lakhs on October 29, 90 lakhs on November 20 and surpassed the one-crore mark on December 19. India crossed the grim milestone of two crore on May 4 and three crores on June 2.
Get Latest Business News, Stock Market Updates and Videos; Check your tax outgo through Income Tax Calculator and save money through our Personal Finance coverage. Check Business Breaking News Live on Zee Business Twitter and Facebook. Subscribe on YouTube.
Updated: Fri, Dec 24, 2021
04:57 pm
New Delhi , ZeeBiz WebDesk