Listeners should not look for insults everywhere, retorts Raghuram Rajan
Rajan said that while speakers should be more careful with words, listeners should not look for insults everywhere, and should place words in context so as to understand the intent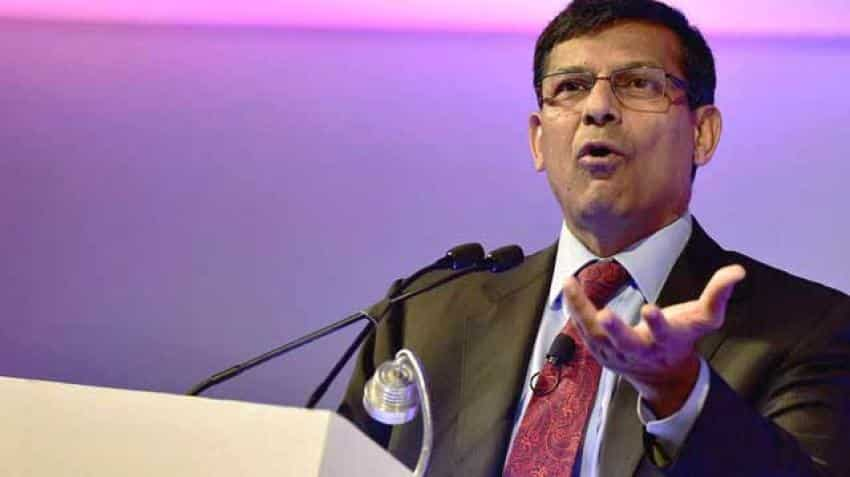 RBI's Raghuram Rajan responds to criticism for his 'one-eyed king' remark. Photo: PTI
Updated: Wed, Apr 20, 2016
08:00 pm
Pune, PTI
Under attack from certain quarters over his 'one-eyed is king' remark for the Indian economy, RBI Governor Raghuram Rajan on Wednesday called for raising the level of 'public dialogue', saying people should not look for "insults" everywhere.
"I think we all have to work to improve public dialogue. Speakers have to be more careful with words and not be gratuitously offensive. At the same time, listeners should not look for insults everywhere, and should place words in context so as to understand the intent," he said.
He was referring to the criticism of his recent remarks in the US wherein he had said that India being referred to as the 'bright spot in an otherwise gloomy world economy' was like "in the land of the blind, the one-eyed man is the king".
Rajan's comments were flayed by Finance Minister Arun Jaitley and Commerce Minister Nirmala Sitharaman, among others. While Jaitley said any other country would be celebrating a 7.5% growth rate that was fastest in the world, Sitharaman stated Rajan should have used better words.
Addressing the graduating students of RBI-run National Institute for Bank Management here, Rajan, however, invoked Mahatma Gandhi, saying his famous quote -- 'an eye for an eye will only make the whole world go blind' -- was also not meant to demean a handicap.
"One might take umbrage since it suggests blindness is an inferior state to that of being able to see, and the saying could be seen as discriminatory. Yet Gandhiji's focus was on the absurdity of a policy of revenge, not on blindness, and his intent was not to disparage the blind," Rajan said.
"If we spend all our time watching our words and using inoffensive language or hedging everything with caveats, we will be dull and will not be able to communicate because no one will listen," he added.
"If we are to have a reasonable public dialogue, everyone should read words in their context, not stripped of it," he said, even as he called it a "forlorn hope".
Known for his frank views, the academic-turned-central banker said there is a need for "respect and tolerance" for effective communication and debate, rather than "angry exchanges that we see on some TV shows".
He further said, "More generally, every word or phrase a public figure speaks is intensely wrung for meaning. When words are hung to dry out of context, as in a newspaper headline, it then becomes fair game for anyone who wants to fill in meaning to create mischief." 
Terming the stopping of communication or debate as the "greatest danger", Rajan said the distorted stereotypes will continue unchallenged and there will be an increase in divisiveness if we ignore this need.
"In a country like ours, conceived and flourishing in diversity, that will truly be a disaster," he added.
Rajan clarified that his intent while using the 'andhon mein kaana raja' proverb was to signal that the country's outperformance was accentuated because of the weak world growth and it also stressed on the fact that we are hungry for more growth.
He added that the proverb has a long multinational history and was used first by Dutch philosopher, Erasmus, in Latin when he wrote 'In regione caecorum rex est luscus'.
While apologising to the blind people, Rajan questioned, "How much of our language is tinged with meaning that is liable to misinterpretation? How forgiving should we be of a bad choice of words when the intent is clearly different?"
The Blind People's Association of Ahmedabad had reportedly written to Rajan seeking an apology for his comments.
Get Latest Business News, Stock Market Updates and Videos; Check your tax outgo through Income Tax Calculator and save money through our Personal Finance coverage. Check Business Breaking News Live on Zee Business Twitter and Facebook. Subscribe on YouTube.