Karnataka Elections 2018: BJP fails to get full majority, petrol, diesel prices, rupee set to feel the pain
Notably, state-owned oil companies like HPCL, BPCL and IOCL stopped revising petrol and diesel prices since April 24 as political parties launched their campaigns in the Karnataka election.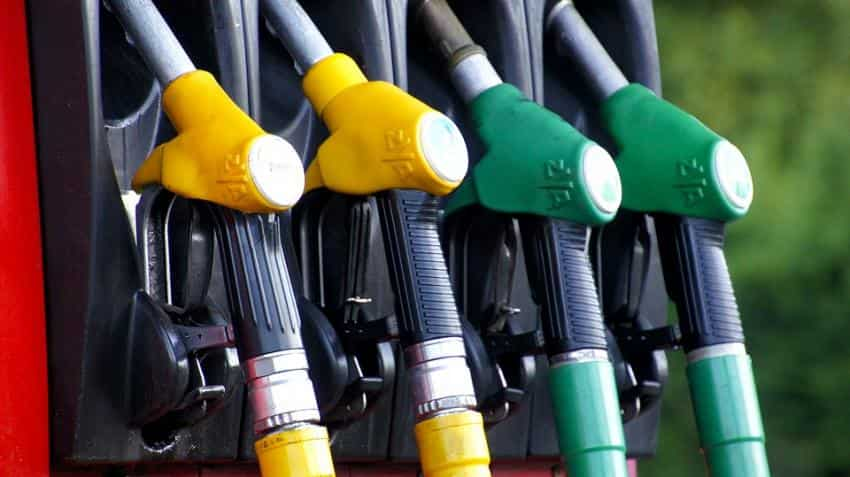 Representational Image: Photo: Pixabay
Updated: Tue, May 15, 2018
05:19 pm
Mumbai, ZeeBiz WebDesk
Its a victory for Bharatiya Janata Party (BJP) in Karnataka Elections, but there is a catch! The saffron party has emerged as largest party, but one that is short of majority, giving a window of opportunity for the Congress and JDS to get together and form the government. And now, the effect on the markets - looks like bad days for consumers on fuel prices like petrol and diesel are not yet over, as any relaxation in nearterm is not expected. This means Indian citizens will continue to pay record high rates for petrol and diesel prices in various state capitals of India. It needs to be noted that, state-owned Oil Companies like HPCL, BPCL and IOCL put their daily revision in petrol and diesel prices on hold since April 24 as political parties prepared themselves for Karnataka Election which was scheduled for May 12. This freeze on prizes was lifted soon after voting day as many had predicted. 
Karnataka Elections results came in today which indicated a triumph for the Bharatiya Janata Party (BJP) as they are now leading in 106 seats, and Congress in 75 even as JDS is leading in 39.  
Even as counting continued on May 14, OMCs hiked petrol prices in range of 17 paisa to 18 paisa per litre in various cities, especially in Mumbai, where you may soon begin to pay Rs 83 per litre for 1 litre of petrol. Diesel prices were increased by much higher rate between 5 paisa to 23 paisa, where New Delhi rates even jumped over Rs 66 per litre mark. 
Now that today's result is announced, still there is no relaxation, as petrol price was further increased by 14 paisa to 16 paisa per litre, and that of diesel prices were up by 22 paisa to 23 paisa. 
Rising crude oil, coupled with Indian government ruling out excise duty cuts and various states' being reluctant in reducing the VAT on fuel prices, has left limited room for OMC to make any relaxation in the price of the product, especially diesel, which is currently at a record high. 
Also recently government asked OMCs to absorb Re 1 per litre hike in fuel prices which will affect their operating margins going ahead. 
While BJP's win would have come as a positive factor, now the above situation will have a negative impact on petrol and diesel prices.
This new trouble is a problem not just for fuel prices, but also for the Indian currency, which has been in free fall, and even hit a 16-month low. 
Since last week, the rupee has depreciated against US dollar index, and today, the Indian rupee finished at 68.016 per dollar above 0.326 or 0.48%. The over 68-mark which was last seen in January 2017 month. Analysts at Kotak Securities have predicted the Indian rupee's potential to reach 69 mark against dollar. 
India depends on crude oil imports  in heavy amounts. Now crude oil has reached over four-year high by clocking nearly $80 per barrel mark.
 
So, the situation now is that both the rupee and crude oil prices are at their peaks, which means from companies, investors to consumers will adversely be affected in manifold ways.
As India relies heavily on oil import by nearly 80%, it becomes expensive for government to purchase crude oil from foreign countries resulting in higher import bills. This leaves no alternative but inflating the prices of all directly linked commodities thereby also petrol and diesel prices. 
Let's suppose, one barrel brent crude was priced at $66.57-mark on January 02, 2018, and that time Indian Rupee was at Rs 63.680 against $1, which means when OMCs purchased crude oil from foreign countries, they had to pay  Rs 4,240 for one barrel. 
Now, situation has changed, on Tuesday, brent crude is priced at $79.10 and Indian rupee is available at Rs 68.205 against $1. This means now when Indian OMCs will purchase crude oil from other countries they will have to pay nearly Rs 5,400 for one barrel of crude. From the above it can be said there is a difference of nearly Rs 1000. 
Therefore, fuel prices which are linked with commodities will face brunt of these two indicators. 
Mayank Maheshwari, Equity Analyst at Morgan Stanley said, "The state elections of Karnataka were completed over the weekend. Petrol prices were raised by Rs 0.17/lit and diesel prices by Rs0.23/lit in Delhi."
Maheshwari added, "India fuel prices are currently benchmarked to US$71-72/bbl of Brent crude and would need to rise by ~Rs4.5-4.75/lit (~6% rise) to reflect the current crude price, changes in USD/INR and recover the margins lost in past nearly three weeks on fuel price hike (despite rise in global fuel prices)."
For OMCs Maheshwari added, " We maintain OW on the oil retailers as we see them discounting almost zero margins on retail fuel sales, despite being able to raise pump prices and maintain healthy margins,even with the rise in oil prices since past six months."
Analysts at JM Financial said, "We find that with every USD 5/bbl rise in the crude price, diesel (petrol) prices increase by c. INR 2.65 (2.7) /litre (higher by 4%/3.6%) assuming 100% pass-through. Even as the govt. has refused to cut excise rates on fuel currently, our sensitivity analysis shows that a restricted pass-through to consumers and cuts in fuel excise duties could worsen the Centre's fiscal by upto 60bps of GDP if 100% of the burden is borne by the Centre in FY19."
Get Latest Business News, Stock Market Updates and Videos; Check your tax outgo through Income Tax Calculator and save money through our Personal Finance coverage. Check Business Breaking News Live on Zee Business Twitter and Facebook. Subscribe on YouTube.