Jawaharlal Nehru Port Trust (JNPT) can see double-digit growth now: Neeraj Bansal
Jawaharlal Nehru Port Trust (JNPT) saw a 7.4% rise in container handling in the last fiscal and with the first phase of the fourth terminal becoming fully operational, volumes are likely to see a double-digit growth.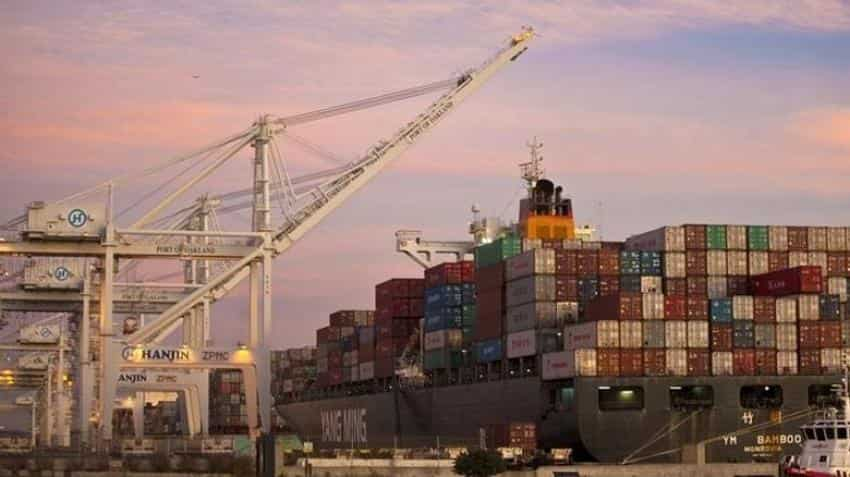 Jawaharlal Nehru Port Trust (JNPT) saw a 7.4% rise in container handling in the last fiscal. Image source: Reuters
Jawaharlal Nehru Port Trust (JNPT) saw a 7.4% rise in container handling in the last fiscal and with the first phase of the fourth terminal becoming fully operational, volumes are likely to see a double-digit growth. JNPT chairman-in-charge Neeraj Bansal, in an interview with Ateeq Shaikh, speaks about the various initiatives being taken by the port and the expansion plans. 
JNPT has appointed four logistics firms to transport containers on five routes. What was the need to come up with this?
The cost and time taken for Exim (export-import) trade are very high. World Bank in its report showed that India's ranks 146 out of 190 for trading across the border, that's an area of concern. If the logistics costs are high, it robs the advantage of exporting. Similarly, if I am importing, the raw material becomes expensive. If you look at logistics costs, it is almost 12% (of Exim trade) for India vis-à-vis 9% for developed nations. One problem area was the container freight station (CFS) model where it took longer time for the cargo to reach the factory as it was kept at freight stations for six to seven days. Now by having transporters, this time would get shortened, resulting in economic benefits.
Can the decrease in time also be attributed to direct port delivery (DPD)?
Yes, five to six days get saved due to DPD. If cargo is coming five days in advance at the factory, one will maintain lesser inventory. It's a huge saving for the importer. Our workings show that there is an average of Rs 10,000 savings per container (box) because of DPD. If you look at JNPT, it is designed for CFS-based model. Now, if I want to do DPD to a large number of clients, probably the system won't support it. The only positive was that I was giving delivery of these 25 lakh containers to these CFSs. So can there be a switch through which I can provide these containers to the importers? But the moment importers' base goes beyond a point - like earlier we used to deal with 20-25 importers, this number has gone beyond 1,600 and in the coming years it can go to beyond 2,500-3,000 - serving 3,000 clients via DPD model will be very difficult. That's why we need a switch to maintain efficiency and operate the port to the optimum level and provide DPD to maximum clients. That's why the need for having DPD transport has come up, under which we are picking up one transporter for one particular route. The initial idea was we should get a switch, but subsequently, we realised that it can be a pure game changer. We appoint a transporter for each route, but apprehensions come up that will it lead to monopoly. For that, we have fixed the rates that are market rates for these routes.
Are the rates linked to inflation? Will there be an annual increase?
Yes, they are linked to inflation by factoring in vehicle maintenance, fuel prices, etc. Another idea was that we shouldn't superimpose a new model which will disturb the balance. So we tried that local players should pitch in for the system and also realign. If you add another 2,000 trucks from outside, then probably a few will become jobless in this process and will get moved out of the system and it will create a chaotic situation. We put tender conditions to allow joint ventures and aggregators so that local players realign. Ownership is about 25% of trucks required to run on a particular route and the rest they can aggregate. This model can further be improvised by dividing this entire stretch into smaller routes so that trucks' and drivers' availability becomes certain. For example, for 1,000 kilometre from JNPT to Nagpur, we can create loops of 300-350 km each. This will further improve operational efficiency. We can keep on improvising in the existing tender too. The tenders that had come up on some routes had rates which were 18% lesser. For one route, it has come 10% less than existing market rates. Besides, there's lot of load on the road. The biggest challenge is how we can reduce load on the roads. From 4.8 million twenty-foot equivalent units (TEU), JNPT's capacity has become 7.2 million TEUs after PSA International's first phase of the fourth terminal became operational and it will go to 10 million TEUs once the second phase is completed. So in the next five to six years, the number of trucks will get doubled. I believe this model provides us with that balance as with a lesser number of trucks and same infrastructure, we can cater to increased workload.
In the last one year, this system faced opposition with a petition being filed. Do you anticipate any hindrance in the operations?
We took a lead in getting the system. We believe if I create more value for the trade, the trade will have more loyalty towards the ports. Whenever you come out with any kind of solutions there are some apprehensions. Our endeavour will be to allay these fears. We are not duplicating assets, but realigning the same resources. Idling of trucks and containers is a big issue. So an empty container has to be returned to the shipping line. When an operator delivers imported cargo in a container, the truck has to wait for two days, which is wastage of time and resources. This model takes care of that as they do not have to wait for two days, and in return, will pick up container delivered two days ago. Shipping lines are unable to streamline as multiple transporters are working everywhere. With the new system, in return, they will pick up the export box, helping even the shipping line. Empty container movement is a big nuisance and waste of money; we can significantly cut down on that.
With fourth terminal operational, what kind of growth will JNPT see?
The real cargo increase will happen this year with Bharat Mumbai Container Terminal (BMCT) fully functional. Now, the volumes will come up. Earlier, JNPT was having less supply and more demand, now we have over-supply. Realignment of cargo on the West coast has to happen. We are sure that if we are bringing in such economic benefits, more cargo can come to JNPT. I think a double-digit growth of over 10% should easily happen. In Gujarat, the growth is 10-15%. The same kind of growth can happen at JNPT.
Watch this Zee Business video here:
There was a petition at Bombay High Court on arbitration between JNPT and PSA, concerning an earlier contract for the fourth terminal.
There was an arbitration award against the port. The High Court has set aside that award. Our case becomes alive again. Now PSA International has moved the Supreme Court challenging High Court's verdict and we are waiting for the hearing. High Court's order is very detailed and we are confident about that. The arbitrator had said that as the concession agreement was not signed, the arbitration clause cannot be invoked as there is no signing of the agreement or contract between the two parties. High Court has said that signing of concession agreement was merely a formality as one participates in tendering process, bids are filed, successful bidders emerge, etc. The moment concession agreement is to be signed, and if one refuses to do it, the arbitration clause can be rightly invoked. This means that my claims become valid again and quantification has to be done for that. Our claim is of Rs 450 crore and interest component.
For free trade and warehousing zone (FTWZ), has PSA International, too, shown interest like DP World?
A number of players are showing interest. There are prominent names is all I can say. For that, we have to float a tender. The bids should happen in the next two to three months. FTWZ should happen on around 45-50 hectares of land. We are looking at freezing FTWZ area as per our port's requirement. We have already auctioned six plots that are purely for the manufacturing sector. Honourable minister's idea is that all local player requests should be entertained. So, we are coming up with a new tender for our domestic players. The third tendering will be for  FTWZ.
Updated: Mon, Apr 30, 2018
11:30 am
ZeeBiz WebDesk