IRCTC gets boost after revamp, 67.4% of reserved train tickets booked through its website
Indian Railways has been very particular about the way tickets are booked, therefore, has removed various rules to make reserved ticket booking efficient through IRCTC.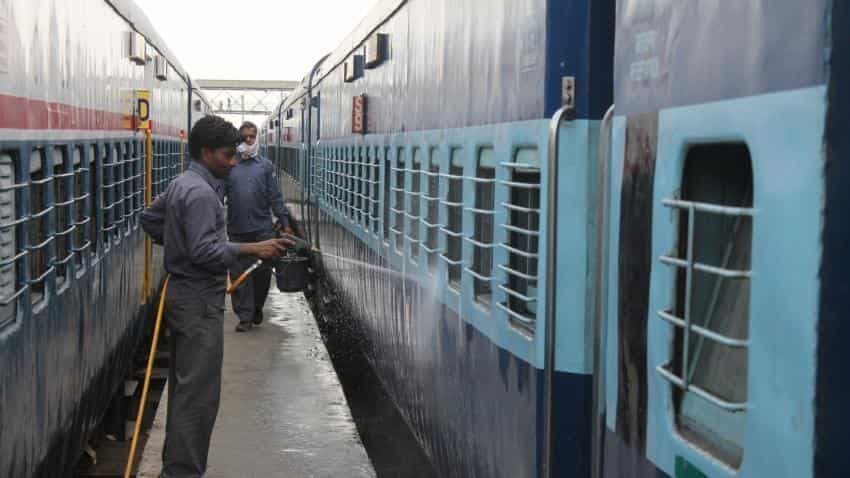 Representational Image: Photo: IANS
The newly enhanced Indian Railway Catering and Tourism Corporation (IRCTC) e-Ticketing website is grabbing attention. It was only on June 9 that Indian Railways decided to revamp the e-ticketing website with various features to make train ticket bookings easier. Today, IRCTC through its twitter handle stated that about 67.4% of total reserved train tickets are booked through its website. Indian Railways has been very particular about the way tickets are booked, therefore, has removed various norms to make reserved ticket booking efficient. 
Here's a list of rules that you should remember for booking ticket at IRCTC. 
The Railway administration reserves seats, berths, compartments, or carriage in accordance with the rules and conditions published in the Coaching Tariff. A passenger seeking reservation of berth or seats should purchase tickets from the Railway Reservation Offices/Authorised Travel Agency only. 
Advance reservations are made generally up to 120 days in advance for all classes and all trains. The period of advance reservation (ARP) is exclusive of the day of departure of the train. 
An individual can book only up to six passengers on one requisition form provided all passengers are for the same destination and for the same train.
 
Do You Know, 67.4% of Total Reserved #Train #Tickets are being Booked online at #IRCTC e-ticketing Website.https://t.co/s3mX8V8YUd pic.twitter.com/Vy6Hn479qX

— IRCTC (@IRCTCofficial) June 19, 2018
As per railway board, attested photocopy of ration card with photograph and nationalized bank passbook with photographs shall also be accepted as a prescribed proof of identity only in case of reserved tickets booked through computerized passenger reservation system (PRS) counters, for undertaking journey in sleeper (SL) and second reserved sitting (2S) classes.
The above provision is not applicable for all classes of e-tickets & tatkal tickets and tickets issued through PRS counter for travelling in air-conditioned classes and first class. Travelling with these categories of tickets shall continue to be governed by existing instructions.
Only one requisition form is accepted from a person at one time. However, if onward/return journey are involved, 2 or 3 forms can be accepted for the same passengers. 
Accommodation will not be reserved without purchase of necessary journey ticket. No reservation of accommodation will be made on provisional basis.
When berths are reserved for passengers, the intention is to provide sleeping accommodation between 9 PM and 6 AM. During 6 AM to 9 PM, the passengers concerned, if required make room for other passengers in compartment up to its carrying capacity. 
Passengers are requested to quote PNR number which is printed on each tickets on the top left hand side for any enquiry or complaint relating to reservations. 
Reservation ticket issued by the computerised system against pre-bought ticket must be accompanied by the journey tickets on train. Similarly journey cum reservation tickets bearing zero amount are not valid for journey unless accompanied by the valid authority to travel authorising issue of such tickets. 
Departure time printed on the ticket is indicative for the guidance of the passengers. Passengers must ascertain correct timings from the Railway station on the day of journey. Such tickets are printed up to 120 days in advance. Any changes in timing after the issue of ticket cannot be advised. 
Under Section 142 of the Railways ACT, journey tickets including any half of a return ticket and season ticket are not transferable. 
Payment through credit cards for issue of reserved tickets is accepted at nominated counters of PRS locations of Northern Railway at IRCA Building, Lucknow and Allahabad only . 
All Master Cards and Visa Cards are accepted.
The reservation fee and supplementary charge on superfast train are as under :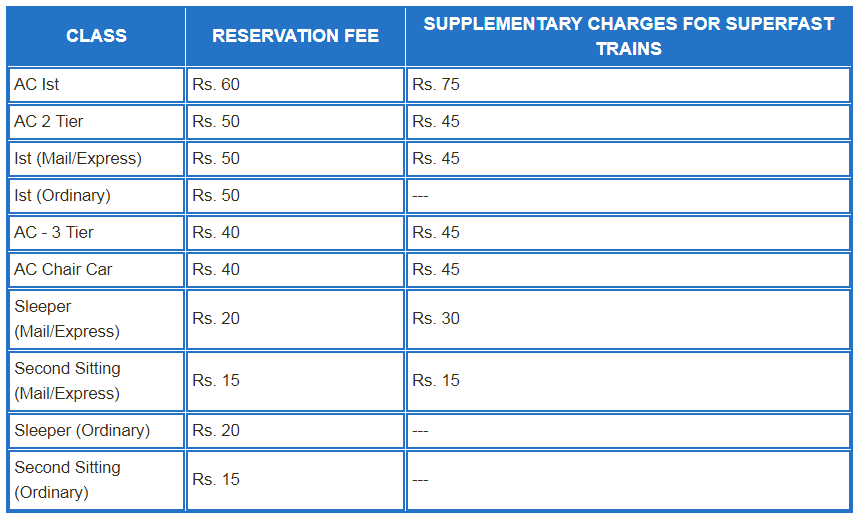 If a passenger, for whom a berth or seat has been reserved, does not turn up to 10 minutes before the scheduled departure of the train, the Railway Administration may cancel the accommodation reserved for him and allot it to the passenger on the RAC list/Waiting list accordingly on priority.
 
Updated: Tue, Jun 19, 2018
05:58 pm
Mumbai, ZeeBiz WebDesk