India's March IIP grows 2.7%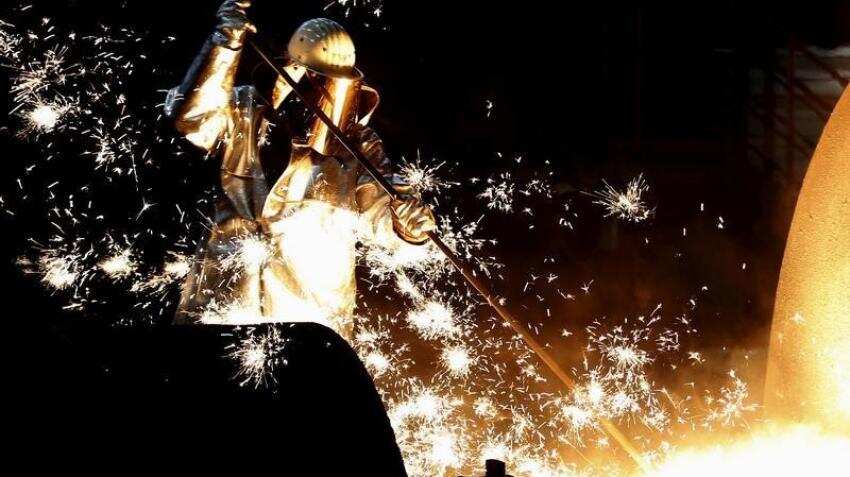 A worker in a steel factory in India. Representational image. India's factory output or Index of Industrial Production (IIP) grew 2.7% in the month of March 2017. Pic: Reuters
Updated: Fri, May 12, 2017
05:41 pm
Mumbai, ZeeBiz WebDesk
India's factory output or Index of Industrial Production (IIP) grew 2.7% in the month of March 2017 as against a drop of 1.2% in February 2017. 
Manufacturing output grew 1.2% on an year on year basis and electricity production grew 6.2% while mining rose 9.7% as against March of last year. 
source: tradingeconomics.com
The Central Statistics Office (CSO) on Friday said that it has revised  the base year of the all-India Index of Industrial Production (IIP) from 2004-05 to 2011-12. "The new base year has been selected keeping in view the base year of other macroeconomic indicators namely Gross Domestic Product (GDP), Consumer Price Index (CPI). Several changes have been made in the new series of the IIP in order that new IIP is able to reflect the changes in the industrial sector in a more representative and robust manner," it said. 
The salient features of the new series with base 2011-12 are as under:
IIP in the new series will continue to consist of three sectors viz. Mining, Manufacturing and Electricity, as in the existing series.

 The National Industrial Classification 2008 will be followed in the new series for the purpose of classification of products as per industries.

 The Use-Based Classification has been revised to reflect the industrial segments and production more accurately as well as to map the products more accurately as per their use in the industries. The new use based classification includes Primary Goods, Intermediate Goods, Infrastruture/Construction Goods, Capital Goods, Consumer Durable Goods and Consumer Non Durable Goods

The coverage of the new series of IIP is limited to the Organized Sector only.

For enabling dynamic revision of the methodology of IIP including the item list and the panel of factories during the currency of a base year, a Technical Review Committee, chaired by Secretary, Ministry of Statistics &PI, will be constituted.

Due to the increasing significance of the electricity generation from renewable sources, it has been decided to include the same in the electricity generation figures for compilation of IIP in the new series.

The new series show higher growth rates in most months in the period April 2012 to March 2017, as compared to the existing series which is attributable to (i) shifting of base to a more recent period; (ii) increase in number of factories in panel for reporting data and exclusion of closed ones and (iii) inclusion of new items and exclusion of old ones.