India's fiscal deficit stands at 113.7%, overshoots budgeted estimate target
Fiscal deficit occurs when a government's total expenditure exceeds the revenue that it generates, excluding money from borrowings.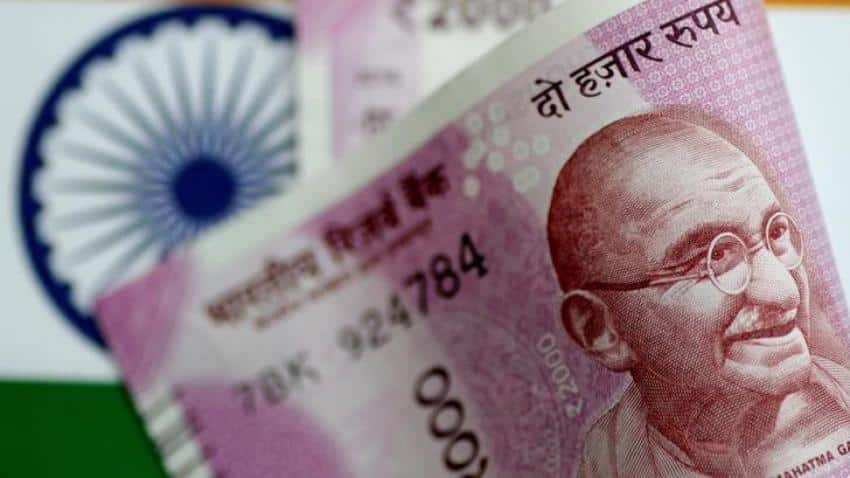 Illustration photo of an India Rupee note. Photo: Reuters
India's fiscal deficit continued to overshoot the budgeted estimate (BE) target, as it reached to Rs 6,76,559 crore between April 2017 and January 2018. The fiscal deficit has, thus, surpassed BE by 113.7% from the government's estimate of Rs 5,94,849 crore for the current fiscal FY18. 
 
Last financial year, for the same period, the country's fiscal deficit was at 105.6% of BE. 
 
In the month of January 2018, fiscal deficit stood at Rs 55,610 crore - lower from Rs 62,942 crore in the similar month of previous year. However, the current data is higher compared to Rs 8,844 crore in December 2017. December month's data would be the lowest fiscal deficit numbers for the entire fiscal.
 
Fiscal deficit occurs when a government's total expenditure exceeds the revenue that it generates, excluding money from borrowings. While fiscal deficit target surpasses the government's estimates, the target set for revenue receipts is yet to be achieved for FY18.
 
Revenue receipt stood at Rs 82,065 crore in January 2018 - totalling up to Rs 10,95,687 crore so far in FY18. Target for this indicator has only been achieved by 72.8% compared to the estimate of Rs 15,05,428 crore.
 
On the other hand, total expenditure stood at Rs 1,40,990 crore in January - totalling up to Rs 18,39,945 crore till date in FY18. Thus, the government has managed to touch 83% of its BE, which has been set at Rs 22,17,750 crore.
 
Looking at the fiscal slippage, the Finance Minister during his Budget 2018 speech stated revised Fiscal Deficit estimates for 2017-18, Rs 5.95 lakh crore at 3.5% of GDP. The government expects to bring this target down to 3.3% in the next fiscal (FY19).
 
For FY18, the ministry revised the estimate to Rs 15,05,428 crore-- lower compared to previous budgeted estimate of Rs 15,15,771 crore. While total expenditure estimate was revised to Rs 22,17,750 crore, higher from Rs 21,46,735 crore of previous budgeted estimate.
 
In January, Morgan Stanley predicted that India's fiscal deficit to increase 3.5% of GDP in 2018-19, considering the upcoming state elections in 2018, and general election in May 2019, and weak private investment, concerns have emerged over the government's fiscal position.
 
RBI fears that due to fiscal slippage, India's Consumer Price Index (CPI) will be hampered further. 
 
MPC member Ravindra H Dholakia said, "The fiscal space to accommodate future higher oil price shocks seems to be absent given the slippage in the Union budget for 2018-19." 
 
As per RBI,  the direct impact on CPI would be fiscal slippage which has broader macro-financial implications, notably on economy-wide costs of borrowing. 
 
 
Updated: Wed, Feb 28, 2018
05:21 pm
Mumbai, ZeeBiz WebDesk