India's Ease of Doing Business rank should improve: Kaushik Basu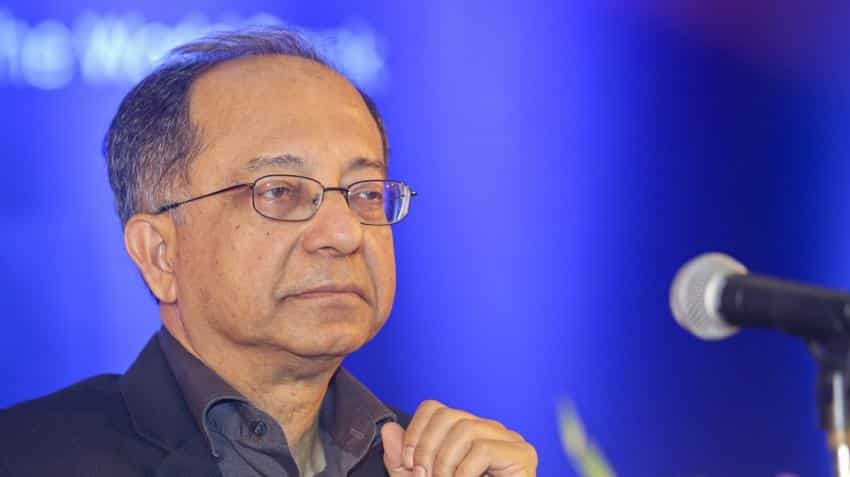 Former World Bank Chief Economist and Senior Vice President Kaushik Basu addresses during a programme in Dhaka, Bangladesh on December 13, 2015. Image Source: IANS/bdnews24
Hoping India will improve its ranking on World Bank's Ease of Doing Business Index, eminent economist Kaushik Basu has said the government also needs to be more active in promoting cohesiveness and diversity in the society, as economic reforms with political and social inclusiveness can help the country regain 9.5% growth rate.
Basu, who demitted office as Vice President and Chief Economist at World Bank on Friday after a four-year tenure and has been the architect of the Doing Business report, said India already stands out with over 7% growth rate in a difficult phase of global economy but needs to pay greater attention on inclusiveness.
Pointing out that for a nation growing so well, India has far too many people below the poverty line, Basu said Indians must be proud of the country's diversity in terms of religion, caste and race and rued that "some Indians are ashamed instead of being proud of these qualities".
Noting that India has a long history of caste and discrimination, Basu said the country's founding fathers made a big effort to change this and make India into a secular society.
"There has to be greater effort to build on this cohesiveness. India's diversity in terms of religion, caste and race is something we should be proud of. Also India stands out among emerging economies for being a nation where freedom of speech is valued.
"I point to these because some Indians are ashamed instead of being proud of these qualities. These political and social characteristics are important for sustained economic growth. I personally believe that inclusiveness is a moral precept. It is desirable as an end in itself. But even if you do not share this belief, you must work to promote inclusiveness for the sake of high long-run gross domestic product (GDP) growth," he added.
Advocating a greater push for inclusiveness, Basu said the government must invest more on health and education and design better delivery so that these benefits reach everybody.
"In the long run, better nutrition, better education, better health can make a disproportionate difference to a nation's development. But for that very reason these interventions get too often overlooked."
He refused to comment specifically on this year's Doing Business report, saying the work on it was still going on, but hoped India would continue to improve its ranking.
"... We saw India greatly improve over the last two years, from rank 142 to 130. This was partly because of reforms and partly because of improved methodology."
I hope India continues to improve its ranking. But it has to be recognised that India's cumbersome bureaucracy is a colonial baggage and making it trim and efficient will not be an easy task. Also, remember that Doing Business measures a nation along 10 main indicators.
"In reality, many other things matter for an economy to do well that Doing Business does not measure. We must not lose sight of those while striving to do better in terms of this ranking," Basu said.
"Where this government needs to be more active is in promoting inclusiveness and diversity. Stable, long-run growth depends more on this than most people realise. People work harder if they feel a part of society; if they can trust one another. We can see examples of this from Singapore to the US," he said.
Basu, who has decided to return to academia and said he would not take up any role in the Government of India, also hoped that the goods and services tax (GST) would be a game-changer.
"We have to remember India grew at an astonishing rate of around 9.5% from 2005 to 2008. The aim must be to position India so as to regain that growth as soon as the global situation improves. Economic reforms with political and social inclusiveness can help India do this," he said.
Recalling his earlier role as Chief Economic Advisor to the Government of India, which he performed during the previous UPA regime, Basu said he used to argue at that time and he continues to argue even today "that while regulation is a part and parcel of any modern economy, if India can make the regulatory system more efficient, the economy can benefit greatly, attracting capital and encouraging small and medium sized enterprise."
Asked about his assessment of the performance of the present Prime Minister Narendra Modi's government, Basu said, "In terms of economic performance, this government has done well. It has begun cutting down bureaucratic transaction costs; GST alone will give India a big boost."
"In fact, what is very heartening is to see how stable India is in terms of economic policy, since broadly what this government is doing is what the previous government did or what it was trying to do. This stability is a great plus for foreign direct investment (FDI) coming into India," he said.
Asked to compare the present government with the previous UPA regime, he said, "As I said, the broad economic reforms and changes are ones that were being attempted earlier. I remember myself sitting in numerous meetings trying to get the GST passed."
"As I had said even when I was in government, the reforms, while on the books, had slowed down in terms of implementation. It is, therefore, good to see some of them being put into action."
"What I worked on a lot and still needs work is cutting down on the leakage that takes places in providing benefits to the poor. We must not cut down the benefits, in fact, they need to be increased but wherever possible the benefits should take the form of direct transfer to the poor, instead of involving the government bureaucracy to deliver everything to the doorstep.
On India's position in this difficult global scenario, Basu said, "From 2015, we put India in number one place in terms of GDP growth, among all major economies of the world. This has not happened before. India is growing at roughly 7.5% per annum. In today's global climate, this is good performance."
"The drivers of this are India's very good monetary and fiscal policies. These have been very well conducted. GST deserves a big tribute, as does the new bankruptcy law," he said, while adding that there were global factors too.
"India ... Is making good use of new technology that is linking up the global labour market. Secondly, the low oil price has helped India greatly. My belief is that, short of major political instability in the Middle East, the low prices will persist for three or four more years. This is a window of opportunity for India," he added.
Asked further about the benefits from GST, Basu said there are two sides to this new taxation regime.
"One is tax collection affecting the total amount being collected, cutting down double taxation, and so on. People have agonised that once you bring in GST prices may rise. In truth prices may rise or fall. But this will be a one-time effect and is really the less important part of GST.
"What is more important is that GST will make India more efficient market. We have a World Bank study which shows that when a truck in India goes from one city to another city carrying freight, 60% of the time it remains stationary, mainly at check posts, paying taxes; and of course there is the attendant corruption."
"Once we have GST, it is possible to have a rule that for taxation purposes, a truck cannot be stopped on the route. All dealings will have to be at the start or the destination. This is going to speed up the movement of freight, cut corruption, and make India a more effective common market," he added.
Talking about the major concerns in the global economy, he said among advanced economies, the US is in reasonable good shape, with unemployment below 5%, and among emerging economies, India stands out for its steady growth of over 7%.
Talking about other global changes, he said new technology is making labour market much more globalised as one can have hundreds of thousands of workers in Bengaluru or Chennai or Nairobi and work for consumers in New York or San Francisco or Berlin.
"This creates huge new opportunities and also new tensions. Emerging economies that have basic infrastructure, such as electricity, water and broadband connectivity, and political stability, can benefit from this enormously, as India has for example. But this is giving rise to protectionism, ironically, in the rich countries that used to teach openness. Protectionism would be foolish policy but countries have been known to use foolish policies," he said.
Get Latest Business News, Stock Market Updates and Videos; Check your tax outgo through Income Tax Calculator and save money through our Personal Finance coverage. Check Business Breaking News Live on Zee Business Twitter and Facebook. Subscribe on YouTube.
Updated: Sun, Oct 02, 2016
06:01 pm
Washington, PTI