Indian techies targeted in US: Anti H-1B posters plastered across San Francisco metro stations
The Progressives for Immigration Reform which has bought advertisements worth USD 80,000 for the San Francisco's Bay Area Rapid Transit (BART) stations and trains, argues that their purpose is to create awareness about the misuse and abuse of the US H-1B visa. The campaign started on March 15, and would last till April 1 and receiving "amazingly positive" response from the users of BART, Kevin Lynn, director of the Washington Dc-based Progressive for Information Reform told PTI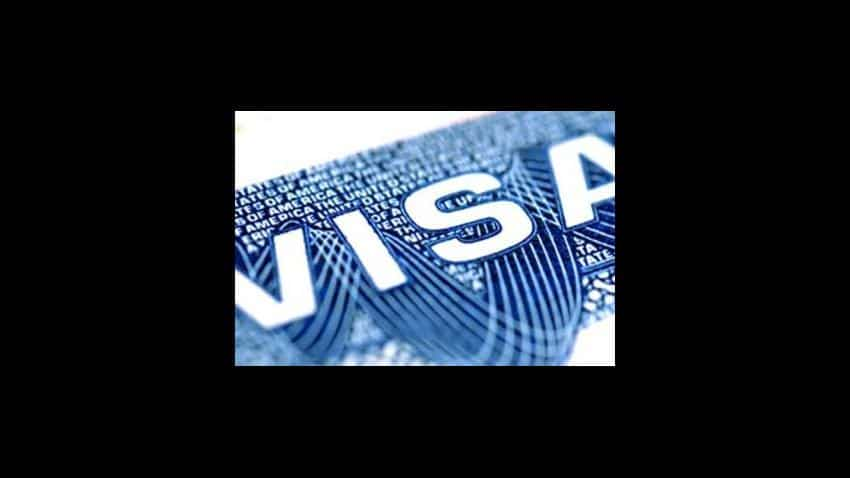 The anti-H-1B ads currently running on BART trains throughout the San Francisco Bay Area, said Samir Kalra, San Francisco Bay-based managing director of the Hindu American Foundation. Image source: Reuters
Anti-US H1B posters have come up in local metro stations and commuter trains in San Francisco and California, ahead of the work visa, which is popular among Indian techies, filing season beginning in April. The Progressives for Immigration Reform which has bought advertisements worth USD 80,000 for the San Francisco's Bay Area Rapid Transit (BART) stations and trains, argues that their purpose is to create awareness about the misuse and abuse of the US H-1B visa. "This is to get exposure to the H-1B programme. And with that attention, with that visibility, begin conversations on the abuses of the programmes what it was intended to be and what it has become," Kevin Lynn, director of the Washington Dc-based Progressive for Information Reform told PTI. The campaign started on March 15, and would last till April 1, he said, adding that he has been receiving "amazingly positive" response from the users of BART. "Your companies think you are expensive, undeserving & expendable," the advertisement said.
"Congress, fix H-1B law so companies must seek & hire US workers!" it said. These advertisements have been placed primarily at San Francisco's Civic Center Station and Oakland's 19th Street Stations with smaller numbers in other stations and in trains, BART said. Lynn insisted that this is not about against H-1B visa, but to create awareness about the abuses of the programme and then fix those. "The responses receiving are amazingly positive," he said, adding that there was some negative responses, wherein people mistakenly thought that this was anti-immigrant. "That all pretty much ended by Friday as news started to come out and people began to realise that this is a programme that is bringing attention to the abuses of the programme," he said. "In fact, I would say the positive responses are half and half between people who are who are foreign and people who are US citizens. Because there are two groups being abused here and exploited. One are foreign nationals who are working for companies that they have no protection, no labour laws in America are protecting the H1B worker. If company decides to fire them, they go back to whatever country they came from," Lynn said.
"At the same time, companies are using H-1B workers to displace or not even think of seeking to hire an American worker who's qualified to do the job," he asserted. He said the solution is that, a company should be made to seek and hire American workers first. "Two, when we work through a programme like this, should not be for people with ordinary skills, but only the exceptionally talented. That was the intention in 1990s. It was called the genius visa," Lynn said. Most of the H-1B visa holders hold a bachelor's degree from a foreign university and 26 per cent of those have only an associate's degree, he said. "So, we're not seeing the very talented people coming to the country, but we're seeing people brought over to displace American workers," he alleged. The intention of the programme initially was to bring the best and the brightest, he said.
Lynn said this publicity is "already expanding" into other cities. The nature of campaign differs from city to city.
"There are reasons that a campaign like this will work well in San Francisco and maybe not well in Boston. We would use other (campaign). The purpose of this campaign is to bring attention and then to organise tech workers to create a movement that will generate a political solution to this," Lynn said. However, despite Lynn's insistence that this is not an anti-H-1B campaign, Indian-American groups have slammed Progressives for Immigration Reform and described these posters on BART stations in San Francisco as deeply problematic.
"The anti-H-1B ads currently running on BART trains throughout the San Francisco Bay Area are deeply problematic and oversimplify the H-1B issue," Samir Kalra, San Francisco Bay Area based managing director of the Hindu American Foundation said. "While there have certainly been instances of abuse of the H-1B visa programme by large staffing companies that should be addressed, H-1B workers and immigrants have been a great benefit to our country. They've helped spur innovation and have made tremendous contributions to our economy and broader society," he said. "More importantly, these ads further contribute to the growing anti-immigrant sentiment and unnecessarily demonize H-1B workers, many of whom face obstacles in obtaining visas and are forced to wait decades to receive green cards and build a secure life in this country," Kalra said.
BART has insisted that the display of these ads does not mean its endorsement. "This campaign complies with free speech laws that allow advertisers to express a point of view without regard to the viewpoint. BART must post these ads to comply with the law. Court rulings reinforce the fact that we can't deny the ads," a BART statement said. "BART does not endorse these ads. In fact, our Board of Directors passed a Safe Transit Policy in 2017 to send a clear message to the public and our riders that BART is a safe and welcoming system for all people," it said.  
 
Updated: Tue, Mar 20, 2018
01:40 pm
PTI