Indian rupee plunges to lifetime low of 69.10 vs US dollar; 5 reasons why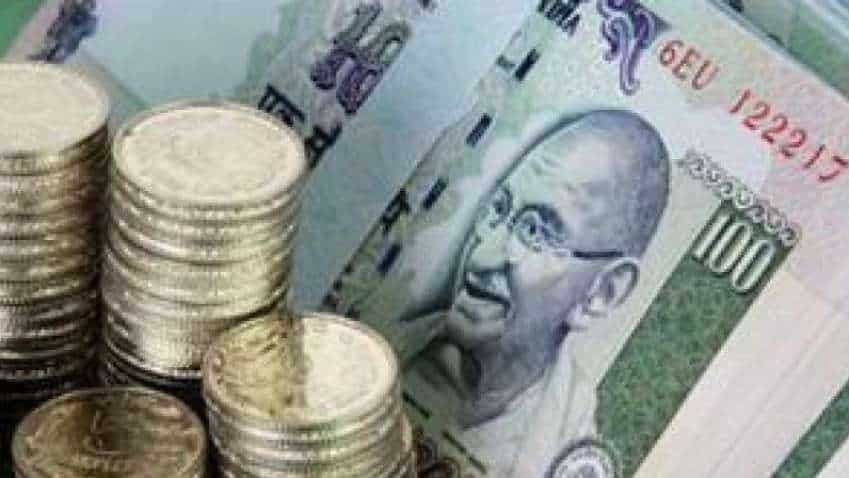 As long as rupee maintains 68.50, rupee's bull trend will remain intact. Image source: PTI
The Indian rupee sank to a lifetime low of 69.10 against the US dollar by plunging 49 paise on Thursday as a combination of factors from rising crude oil prices, stronger dollar to widening current account deficit put pressure on the rupee. At the interbank foreign exchange market, the rupee opened at 68.87 a dollar against 68.61 previously and sank to 69.10 in morning deals, falling 49 paise. 
"Dollar-Rupee pair finally achieved, what it could not for past five years. This was the fourth attempt and it succeeded," said Kotak Securities on rupee breaching the 69 mark.
The brokerage believes as long as rupee maintains 68.50, rupee's bull trend will remain intact, but a close below 68.50 may take it to 70 mark against dollar.
"Technically, USD-INR is still in a bull trend as long as 68.50 is intact on Spot. If the pair close below 68.50, we can assume that another top is in place and then we will play for lower levels. As long as above 68.50, buy on decline. Above 69.00, we can see the pair aim for 70.00 on spot," said Kotak Securities. 
Here are 5 reasons why Indian rupee is under pressure against US dollar: 
1) Trade war between US and China: Mid-term polls in US during November 2018 are fast approaching, and with this, US president Donald Trump has raised his rhetoric on trade war, which is an election issue in America. "China is caught right in the middle of the trade fiasco, which is causing capital flight in China. As a result, Chinese yuan is spiraling lower and that is bad news for rupee too, as weaker yuan, in parity terms drags down INR too," said Kotak Securities in its forex insight note. 
2) Higher oil prices: Global oil prices have climbed after the US asked its allies to end all imports of Iranian oil by November. Concerns over supply disruptions in Libya and Canada also pushed prices higher. Brent crude futures were trading above $77 per barrel on Thursday.
Higher oil prices do not bode well for Indian currency as oil refiners' rupee demand increase significantly. India imports 80 per cent of its oil demand. 
3) Strong US economy: The US economy is coming out of woods with the US Federal Reserve gradually settling in a high inflation rate era. The central bank raised interest rates by 25 basis points in its last monetary policy meeting earlier in the month. The US Fed is expected to continue with hiking rates and lower reserves in the system. That is a bad news for emerging market currencies, including Rupee.
4) Political risk in a pre-election year: An election year in the country always throws jitters in the stock and currency market. This is not going to go away soon, as elections are still a year out. Besides, financial conditions are tigthening in the economy as RBI has begun the rate hike cycle, which is bad for domestic equity and bonds as it discourages FII inflows and makes rupee weak.
WATCH ZEE BUSINESS VIDEO HERE
5) Non-deliverable forwards: Non-deliverable forwards of rupee are traded after the domestic forex market closes at 5 pm. NDF rupee contracts are traded in places like New York, Singapore and Dubai where traders and firms take positions in rupee-dollar to hedge their exposures, as well as make profits trading on different prices, also known as arbitrage.  
KN Dey, managing partner at forex advisory firm United Financial although acknowledged the fundamentals are against the rupee's strength, but said fundamentals are not so bad that is pushes the currency beyond crucial 70 mark.  "The recent fall in the rupee is purely on account of its weakness in NDF market because oil prices or the dollar index have not shown any dramatic move that they put heavy selling pressure on the rupee," he said. 
Rupee's NDF contracts had hit 69.20 against dollar overnight.  
Updated: Thu, Jun 28, 2018
11:37 am
ZeeBiz WebDesk