India may seek over Rs 49,000 crore in extra spending to spur growth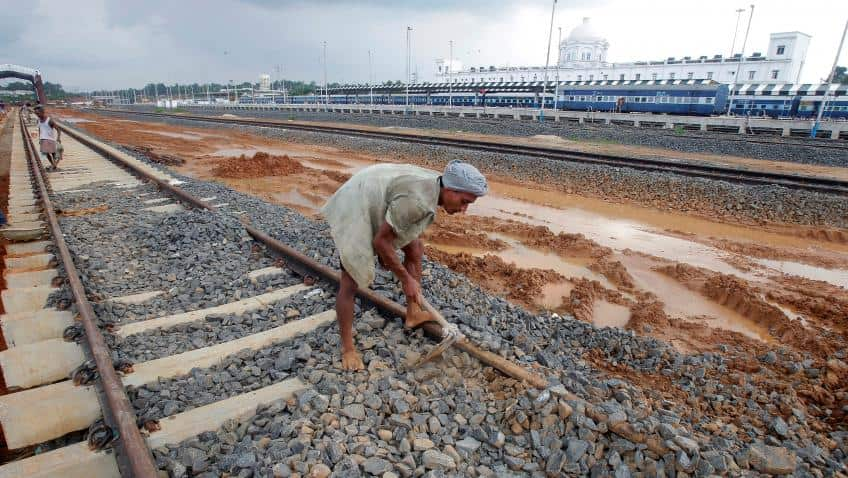 A labourer works at the installation site of a new railway track on the outskirts of Agartala. Image Source: Reuters
India may seek parliamentary approval to spend about $7.5 billion (nearly Rs 49,895.63 crore) more on roads, railways and other public programmes over the next five months, two government sources said, as Prime Minister Narendra Modi looks to spur growth and create jobs.
The new spending, details of which are still being worked out, would come at a time when private investment has plunged, leading to a slowdown.
It would also coincide with the runup to a crucial state election early next year in Uttar Pradesh (UP), India's most populous state that is home to more than 200 million people.
At $7.5 billion (nearly Rs 49,895.63 crore) , the additional spending would represent about 2.5% of the total budgeted so far for the current fiscal year. 
The Uttar Pradesh (UP) poll is shaping up to be one of the most important tests for Modi's ruling Bharatiya Janata Party (BJP), with ramifications both for the smooth functioning of government and his chances of winning a second term in 2019 national elections.
While some of his government's development initiatives, such as electricity, bank accounts and cooking gas, have started reaching people in the country's vast rural hinterland, the administration has struggled to create enough jobs to meet their aspirations.
Modi has promised to create 250 million jobs over the next decade, but Asia's third-largest economy is not growing fast enough to absorb the roughly 1 million young people who enter the job market every month.
Unemployment rose to 5% in 2015/16, from 3.8% in 2011/12, government data showed.
With private sector investment still failing to take off amid tepid demand and tight credit, Modi is left with little choice but to lean on public spending to fill the gap.
Analysts said additional spending on roads, railways and rural programmes, such as an employment guarantee scheme, could provide jobs to thousands of people.
"Our biggest challenge is to create jobs," a senior finance ministry official said.
The second source, a senior government official, said the extra spending was needed to fund existing programmes and not oriented toward boosting growth. But he added that without the additional investment, the economy would struggle.
Finance Minister Arun Jaitley is likely to seek parliament's blessing for extra spending next month, the officials said. 
The new spending would come after lawmakers approved Rs 20,900 crore in additional investments in August.
Together, the total extra spending over the budgeted Rs 19,78,000 crore expenditure could boost growth by about 0.4% points, the finance ministry official said. 
India's economy expanded 7.1% in the April-June quarter compared with 7.9% in the previous quarter.
Fiscal Challenge
Jaitley has told officials in his ministry that they need to fund the additional spending without breaching his fiscal deficit target of 3.5% of grosss domestic product (GDP), according to the finance ministry official.
Last year, Jaitley had to impose a small spending cut of Rs 4,200 crore, despite revenue receipts overshooting initial estimates by nearly 5%, to meet the deficit target of 3.9% of GDP. 
The two officials said balancing the books could be tricky now as well. India's fiscal deficit during the five months to August was 76.4% of the budgeted target for the fiscal year ending in March 2017, government data showed.
Earlier this month, the government was dealt a setback when an auction of telecom airwaves fell short of internal expectations, leaving a hole of around Rs 15,000 crore, one of the officials said.
Another source of funds, a Rs 56,500 crore disinvestment target, is also yet to take off. Government data shows it has so far raised only Rs 3,180 crore.
Further, a hike in the wages of nearly 10 million employees and pensioners has added to the stress on government finances. 
A recent report by the World Bank warned a shortfall in revenues from stake sales and the spectrum auction could hit public finances. 
"If these are not met, there is a risk that growth-enhancing capital and social spending may be cut to meet fiscal targets, or that fiscal targets may be missed," said the report. 
But Jaitley's budget team is betting on up to Rs 12,00,00 crore in savings in fuel subsidies, a pickup in tax receipts and a windfall gain of about Rs 145 billion from a tax amnesty.
The picture would be clearer by the end of November, as more information becomes available about the disinvestment process and tax collections, the finance ministry official said. 
Get Latest Business News, Stock Market Updates and Videos; Check your tax outgo through Income Tax Calculator and save money through our Personal Finance coverage. Check Business Breaking News Live on Zee Business Twitter and Facebook. Subscribe on YouTube.
Updated: Fri, Oct 14, 2016
09:21 am
New Delhi , Reuters