Independence Day 2018: GST has had a positive impact on growth: Adi Godrej, Chairman, Godrej Group
Adi Godrej, Chairman, Godrej Group, in an interview with Anurag Shah of Zee Business, said that Godrej group keeps an eye on all opportunities of inorganic growth in India as well in foreign land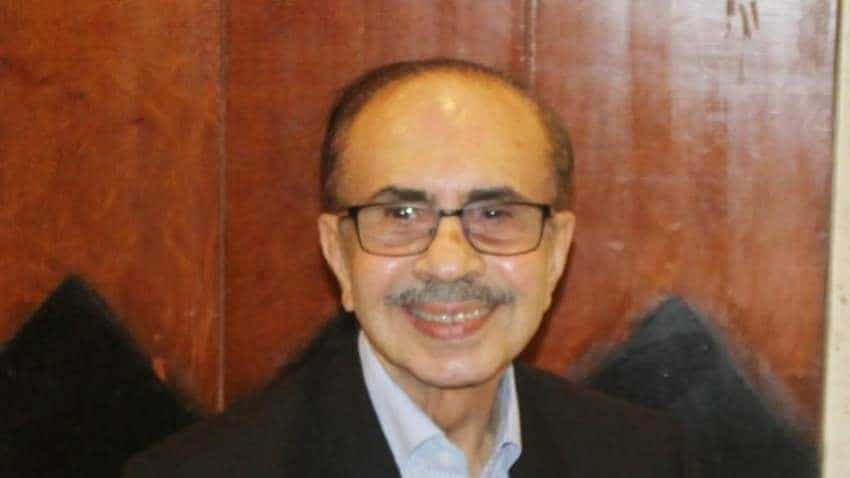 "GST has had a good impact on the growth as it is pushing the GDP growth. Secondly, they have reduced the GST rates on several consumer products and we have directly passed-on the benefits of the reduction to the consumers, " Image: IANS File
Updated: Wed, Aug 15, 2018
08:43 am
ZeeBiz WebDesk
Adi Godrej, Chairman, Godrej Group, in an interview with Anurag Shah of Zee Business, said that Godrej group keeps an eye on all opportunities of inorganic growth in India as well in foreign land and act at places where we can see a strategic opportunity of growth. Edited Excerpts: 
Q: This is the first time in several quarters where the Godrej Industries has reported a dip in its margin as well as its EBITDA margin. Can you let us know about the reason that led to the fall?
A: Change in the accounting change process in Godrej Properties, which is a subsidy of the Godrej Industries Ltd, is a reason for the fall. In fact, all real estate companies have brought accounting changes from April 1, 2018. 
Q: Godrej Properties results of the quarter shows the pressure that was faced by the company. It also highlights the pressure that is being faced by the Real Estate sector. Should we consider that the real estate sector will take more time to recover from the pressure that was created on it through certain reforms?
A: The results of which you are talking about has happened due to the account change. Our real estate business is doing well and is growing. There are new projects on the market and they are getting customers to buy the properties. 
Q: If we talk about Godrej Consumers than we have seen that demand is returning. Can you tell us about the pocket from where it is returning, .i.e., from the urban pocket or rural pocket. 
A: There is an all-round growth. GST has had a good impact on the growth as it is pushing the GDP growth. Secondly, they have reduced the GST rates on several consumer products and we have directly passed-on the benefits of the reduction to the consumers, which has helped in increasing the consumption. There is a growth in demand in the rural areas and this growth is backed by the increase in income of people in the zone. In fact, the government is also working hard for rural people. India is a land with maximum possibilities of growth in consumption, which can come through penetration. Secondly, consumption will also increase with the increase in income.
Q: The government has introduced several changes in the structure of GST since its implementation. Do you think there is a need for rationalisation in GST? Or do you think that the GST rates can be decreased to one or two as demanded by several opposition parties?
A: No, I don't think that it can be run through one or two rates and there is a need of at least three rate structures. GST has ended complications and is having a positive impact on the economy of the country. 
Q: You have always been vocal for GST and have said that its implementation will increase the country's GDP by 2 per cent. Now, it has been 1 year since its implementation. Can you provide a timeline by when we will be able to see the 2 per cent growth of GDP?
A: It is visible but it is a difficult task to provide an estimate on it. For the purpose, you can have a look at the GDP growth of the January-March quarter, which stood at 7.5%  and was high than its previous quarters. I feel this growth is here to stay and will continue to grow in every quarter. 
Q: You want to say that the GST is the major contributor to this uptick in the growth?
A: GST has contributed in a considerable manner. 
Q: Godrej Agrovet's business performance has been moderate. But the year's monsoon will have a positive impact on the rural economy. So should we understand that that the company's growth can see an uptick in growth with the growth in the rural economy?
A: Yes, I feel that you will be able to see an uptick and the growth will be supported by two things and they are the scope of growth on Agrovet's business and its R&D, which is helping us in developing products that can help the farmer in increasing their productivity.
Q: As you said that R&D by your will help the farmers by increasing their productivity.  In a similar way, the government is trying hard to support the farmers by launching several schemes like a hike in MSP and says that it will double their earnings by 2022. Do you think that the government on a right track at present and will be able to achieve, what it has said, in next 3-4 years?
A: Yes, it can be done. For the purpose, the farmers will also have to concentrate on animal husbandry like milk and eggs among others, as this is a sector that will provide an income year-on-year while agriculture is a business that can witness ups and downs. 
Q: Now, let us talk on the economic front. Forecasts suggest that the country's GDP will remain above 7 per cent in time to come. It also says that the inflation will also remain around 5 per cent. Where do you see the growth trajectory in the times to come? Can you see some challenges on the external front that can temper the growth trajectory?
A: Growth is going well and I and very happy when it comes to the future of India. Have a look at the purchasing power parity (PPP) where we are in the third position in the world and just behind China and the US. I feel we are going to be the number one country in terms of PPP by 2050 as we are young country and have less pressure of handing retired person. 
Q: Let us talk about the crude and its pricing, which is going up on a daily basis. Do you think that this hike is a matter of concern?
A: Crude prices were high in the recent past but has fallen back. Secondly, the OPEC nations in its recent meeting have decided to increase the production so that its prices are kept under control. 
Q: My last question will be related to Godrej Group that is always ready for organic as well as inorganic growth. Can you let us know about the kind of inorganic growth that will be visible in time to come?
A: We always keep looking at what the opportunities for inorganic growth not only in India but also in other countries and acts at places where we can see a strategic opportunity for growth.
 
Get Latest Business News, Stock Market Updates and Videos; Check your tax outgo through Income Tax Calculator and save money through our Personal Finance coverage. Check Business Breaking News Live on Zee Business Twitter and Facebook. Subscribe on YouTube.