Increasing trade with EU at the core of Modi's Brussels visit
Modi will be attending the 13th India-EU summit in Brussels on March 30, being held after a gap of four years.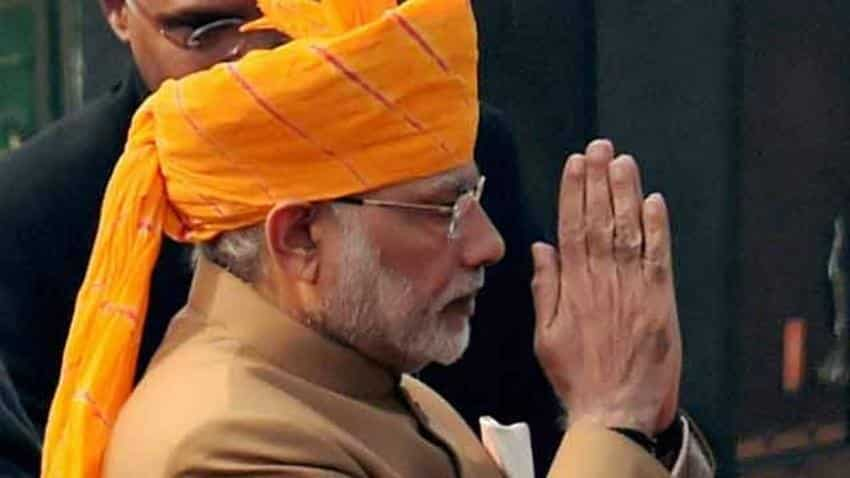 Narendra Modi, Prime Minister, Government of India, Image Source-PTI
Updated: Mon, Apr 04, 2016
05:03 pm
Mumbai , PTI
Prime Minister Narendra Modi is scheduled to visit Brussels on March 30 for the 13th India-European Union Summit which was last held in 2012. While earlier it was expected that he might cancel his visit on the back of the recent terror attacks that hit the Belgian capital's airport and metro station, it's going to go on as planned.
This year's India-EU summit is going to be held after a gap of four years – In 2015, the EU refused to confirm the dates for the Summit scheduled for April because India and Italy were caught in a tussle over the trial of two Italian marines accused of killing two Indian fishermen in 2012. The EU's unceremonious ban on over 700 Indian generic drugs in late2015 contributed its bit and led to talks between the two failing.
The 2012 India-EU meet, held in New Delhi, ended in a deadlock over several key issues.
India and EU, strategic partners since 2004, have been vying to conclude negotiations over the Bilateral Trade and Investment Agreement (BTIA), the Free Trade Agreement (FTA) since the talks first began in 2007.
The FTA Deadlocks
-- India has been pushing for clarity on Mode 4, a provision of the 1995 General Agreement on Trade to facilitate the movement of professionals from one country to another, on which the EU hasn't given any definite clarity.
-- Data security is another bone India has, to pick with the EU. It wants EU to declare the country data-safe which will Indian outsourcing and tech companies. Brussels, on its part, says the issue isn't a part of FTA and shouldn't be included in the negotiations.
-- The EU, on its part, wants to start registering Geographical Indicators, mostly on wines and spirits, but India still refuses to "accept their demand for a more stringent geographical indications regime," a LiveMint report said, quoting an anonymous government source.
Geographical Indications are signs used on products to indicate the geographical origin of the said product and acts as a kind of an assurance that the product upholds the qualities and the reputation of the origin.
India says, while EU's demand for lower import duty on spirits and vehicles was accommodated, stringent norms on GIs was not acceptable.
The India-EU Summit Agenda
"The 13th India-EU Summit aims to deepen the India-EU Strategic Partnership and advance collaboration in priority areas for India's growth and development," the Ministry of External Affairs said in its release on March 22.
Modi and his Belgian counterpart Charles Michel will focus on enhancing economic ties and hold discussions on regional and global issues of mutual interest.
According to several media reports, terror, trade, economy, clean energy and 'Namami Gange' (Clean River Ganga) will be on top of the agenda. Intellectual Property Rights (IPRs) and pharmaceuticals will also be discussed.
The two countries will try and kick-start the FTA negotiations again, "with the aim to instil some political impetus to the stalled talks," the European Council said on its official website.
"Discussions will focus on the EU-India agenda for action 2020, which will set out concrete priority actions for the EU-India strategic partnership in the next 5 years."
Other issues like declarations on a water partnership, an energy and climate partnership, will also be discussed, the website said.
The meet will also focus on developments in countries around EU and India, hold discussions to enhance cooperation on counter-terrorism, research and innovation, digital market and human rights, it said.
The two parties are expected to start a dialogue on the full and swift implementation of the 2030 agenda for Sustainable Development, the European Council said.
India-EU Trade Tussle
The EU is India's leading trade and investment partner and is the biggest export destination.
In 2014-15, India exported shipments worth $49.3 billion (nearly 3.38 lakh crore), which was down 4.4% from the previous year's trade figures. Imports contracted 2.2% to $48.8 billion (nearly Rs 3.25 lakh crore), according to a LiveMint report.
Both sides have a long history of a tussle over generic drugs. There have been instances of seizures of Indian generic drugs at EU ports since 2008. Last year, the talks fell through when 700 generic medicines tested by GVK were banned by the EU.
In May 2014, the EU had banned the import of Alphonso mangoes, brinjal, taro, bitter gourd and snake gourd in noting the use of pesticides. The ban on Alphanso mangoes was lifted recently.
In November 2015, PM Modi met European Commission chief Donald Tusk on the sidelines of the G20-meet, where both the leaders agreed to take stock of the situation before the formal talks resumed. 
In February 22 this year, Commerce Secretary Rita Teaotia and the EU Trade Commissioner Cecilia Malmstrom met in Brussels. But talks ended sans any consensus on a plan to move forward, a LiveMint report says. 
Why Is India-EU Summit Important?
The 28-member bloc the EU is India's leading trade partner and it accounts for nearly 15% of trade in both goods and services, cited a news report. It is the big market for India's textiles, garments, pharmaceuticals, Information Technology (IT). It's the biggest exports destinations for India.
Belgium is India's second largest trading partner. 
India over the past three years has liberalised many sectors for foreign investments, including some of the areas where the EU had interests and it feels the flexibilities shown by it in further opening up to foreign investments should be considered positively by the EU.
The EU is also the biggest source of FDI inflows to India, accounting for over one-fourth of the total.
Expectations of India, EU From Summit
Modi, before leaving for the summit, said, My meeting with the Prime Minister aims to expand trade, investment and high technology partnership with this important E.U. member. 
The EU expects India to increase FDI limit in private banking space. Besides, India's Intellectual Property Rights (IPR) regime remains a concern for leading pharmaceutical companies from the EU.
The import duties on assembled vehicles have been high around 60 to 75%, therefore, the EU wants India to reduce the high import duties imposed on assembled vehicles, wines and spirits.
During his visit to Brussels on Wednesday, PM Modi will address at least 5,000 members of Indian origins at the cultural evening - Stronger Together.
The Prime Minister will have three-tier security during his visit to the Belgium's capital, which has come after days of recent terror attacks in Brussels.
Reports say the Belgian Army will be deployed along with police to guard venue of multiple engagements during PM Modi's visit to the city.