Increase in wheat demand to boost low global prices, says industry experts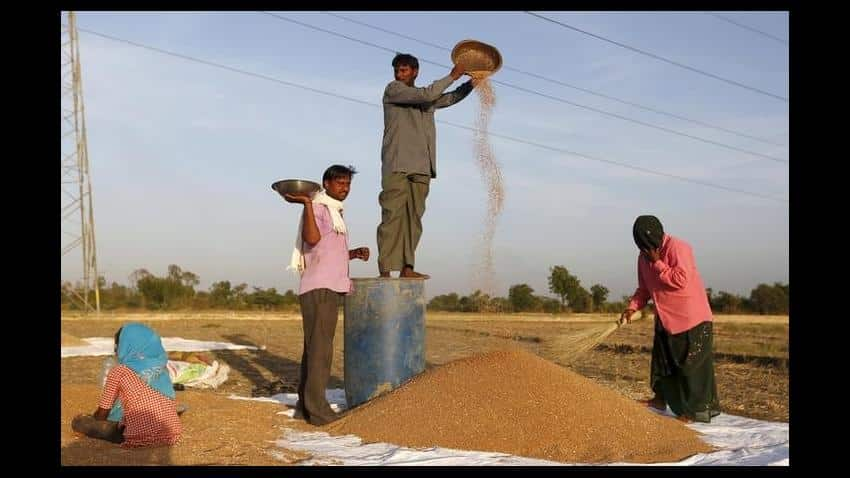 A farmer standing on a plastic drum, winnows wheat in a field on the outskirts of Ahmadabad, India. Image Source: Reuters
Wheat traders and industry representatives in India expect the country to step up international purchases significantly over the coming months, providing a potential boost to global prices languishing near 10 year lows.
Production in the last two years has fallen well below the peak of 2014 -15, reducing stocks to the lowest level in nearly a decade and pushing domestic prices close to record highs. Some traders expect them to climb still further this year.
India has already bought about 600,000 tonnes of wheat in 2016, the most in nine years, but traders expect the government to reduce or even abolish the 25 percent import tariff to make imports cheaper and ease a domestic supply squeeze.
"The supply situation is getting very serious," said Veena Sharma, secretary of the Roller Flour Millers Federation of India, the country`s main wheat industry body.
"A review of the import policy may be a viable and rational option to bridge the gap between demand and supply in the domestic market. There is hardly any wheat available in the open market; production is much lower than the number the government is citing."
Ramped up imports by the world`s second biggest wheat producing and consuming nation could help support global prices, which have fallen this week amid a projected rise in world stocks to a record 252.8 million tonnes.
India rarely enters the global market beyond buying a few hundred thousands tonnes annually.
The last time it bought more was in 2006, when surprise purchases of close to 7 million tonnes, combined with production problems elsewhere, helped fuel a near 50 percent rally in global prices.
The Food Ministry declined official comment, but a senior government source said there was no cause for panic.
"Although we`re keeping an eye on the situation, we don`t see any shortage at the moment. At the same time, we`ll encourage the private trade and flour millers to import as much as they can," said the source, who declined to be named because he was not authorised to speak to the press.
"In terms of various options available to us, we can always abolish or lower the import tax. Please remember that there`s no need to worry, as the world has plenty of wheat."
PRICE SPREAD WIDENS
Trade and industry experts said India was likely to import large volumes.
"In my view, India will have to import at least 4 million tonnes of wheat. A broad estimate suggests our imports will hover around 5 or 6 million tonnes," said Tejinder Narang, a veteran New-Delhi industry expert.
In a sign of tightening availability, authorities last month reduced the allocation of wheat each flour mill can buy from the government`s open market sales scheme to 500 tonnes from 5,000.
It was subsequently raised to 2,000 tonnes, following a protest from millers.
Domestic prices are strong and trading near record highs set in June. The spread between Indian and global benchmark U.S. prices has widened to an all-time peak.
India`s farm ministry in August pegged 2015/16 wheat output at 93.50 million tonnes, up from 86.53 million tonnes a year ago, but most traders estimate production at about 84 million tonnes.
India`s state wheat reserves, which on Aug. 1 stood at 26.9 million tonnes, are falling rapidly, and traders estimate a drawdown of 2.5-3 million tonnes a month up from the usual 1.5-2 million tonnes.
"It will be difficult to maintain buffer stock levels," said a trader based in southern India. "The talk among traders is India will be left with (stocks of) 5-6 million tonnes by April."
India`s minimum buffer wheat requirement, set in 2010/11, is 7.5 million tonnes on April 1, ahead of the arrival of the new crop.
Wheat consumption is estimated to rise to 93.1 million tonnes in 2016/17, up around 11 million tonnes on 2010/11 levels, U.S. Department of Agriculture data show.
Although traders said increased Indian purchases were unlikely to spark a price rally on the scale of that in 2006, with global stocks so plentiful, they could prove a boon to exporters such as Australia.
Australia, the world`s fourth largest exporter, is on track to produce a near-record crop of 28 million tonnes, and so far overseas sales have been disappointing.
"India likes Australian wheat ... If the tax gets removed, Australian wheat exports will go into India in reasonable volumes," said James Foulsham, Wheat Trading Manager at CBH Group, Australia`s largest grain exporter.
(By Naveen Thukral and Mayank Bhardwaj - Additional reporting by Colin Packham in SYDNEY; Editing by Mike Collett-White)
Get Latest Business News, Stock Market Updates and Videos; Check your tax outgo through Income Tax Calculator and save money through our Personal Finance coverage. Check Business Breaking News Live on Zee Business Twitter and Facebook. Subscribe on YouTube.
Updated: Fri, Sep 02, 2016
08:36 am
Reuters