IMF cuts India's, global growth projection on Brexit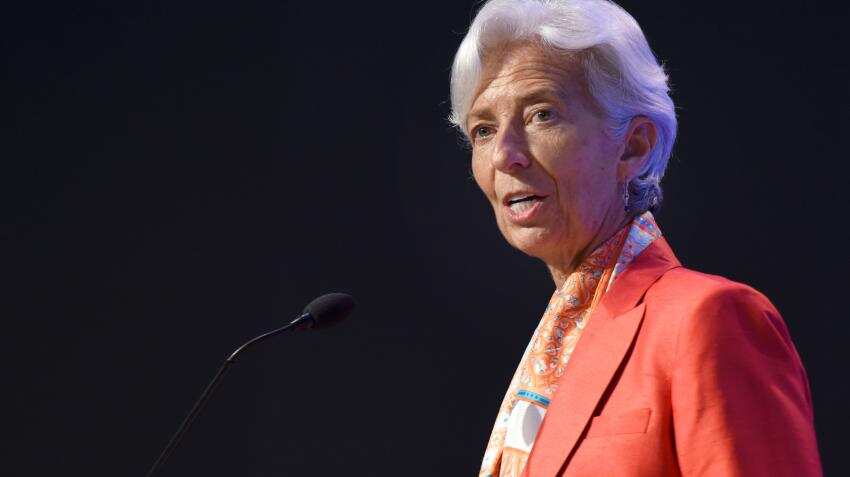 Photo of the International Monetary Fund(IMF) Managing Director Christine Lagarde. Image Source: IANS
Updated: Wed, Jul 20, 2016
02:33 pm
Mumbai, ZeeBiz WebDesk
International Monetary Fund (IMF) has cut India's growth projection by 0.1% to 7.4%.
It said that India is now expected to grow at 7.4% in 2016 and 2017.
The unexpected vote out of Britain from the EU has caused IMF to cut global growth forecasts by 0.1 percentage points in 2016 and 2017. The global economy is now projected to expand 3.1% this year and 3.4% in 2017, according to the IMF report dated July 19 on Global Growth Forecasts.
The IMF report pointed out that this growth rate will reflect a more sluggish investment recovery for the Indian economy.
India's growth rate is nevertheless better than that of other emerging economies.
China is projected to grow at 6.6% in 2016, up 0.1 points from April outlook.
While Russia and Brazil noticed an improvement in their growth outlook from the IMF.
The decline in growth rate is now predicted to be less hard hitting for Russia as it is projected to decline by 1.2%.
"The 2016 recession is now projected to be slightly less severe, with a return to positive growth in 2017," the report stated while speaking about Brazil.
 Adding 0.5 percentage points to the April outlook, Brazil will grow at a negative rate of 3.3% during 2016, the report stated.
Emerging markets and developing economies have not had any growth rate cuts since the April outlook and are projected to grow at 4.1% in 2016 and 4.6% in 2017.
Global growth rate cuts
After Brexit, the United Kingdom is now projected to grow at 1.7% in 2016 down 0.2 points since April.
IMF has cut UK's growth rate by 0.9 points in 2017 to 1.3%. This is being termed as 'the biggest reduction among advanced economies,' by the IMF.
As for the EU region, IMF raised its forecast by 0.1 points this year, to 1.6 %, and lowered it by 0.2 points in 2017, to 1.4%.
"Had it not been for Brexit, the IMF was prepared to leave its outlook for this year broadly unchanged as better-than-expected euro area performance offset disappointing U.S. first-quarter growth.
The IMF also had been prepared to raise its outlook for 2017 slightly, by 0.1 percentage point, on the back of improved performance in a few big emerging markets, in particular Brazil and Russia," the report stated.
The fund also trimmed its forecast for U.S. growth this year by 0.2 percentage points to 2.2%.
The world's largest economy – Japan, will now have a growth rate of 0.3% in 2016, down 0.2 points since April.
Advanced economies had their growth rates cut 0.1 points in 2016 and 0.2 points in 2017 and are predicted to grow at 1.8% in both the years.