I want to bring a scheme to serve 5 crore children who don't have access to nutritional food, basic education & healthcare facilities: Anil Agarwal, Vedanta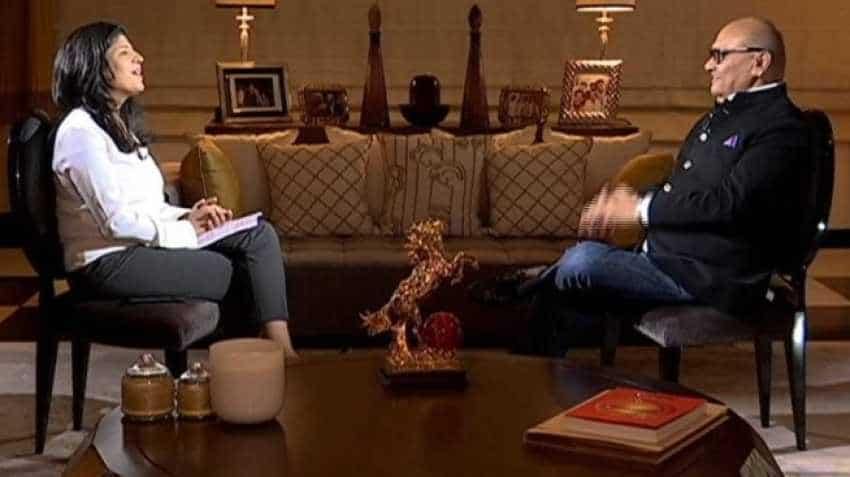 Anil Agarwal, Chairman, Vedanta Group, speaks Swati Khandelwal, Zee Business.
Anil Agarwal, Chairman, Vedanta Group, speaks about his expectations from 2019, his expectations from the government, plans related to investment and expansion and area about which he is passionate and wants to work for it during an interview with Swati Khandelwal, Zee Business. Edited excerpts: 
Q: Tell us about your expectations from 2019?
A: The whole world is hopeful and this time during my visit to India I was able to see a different atmosphere in India as people were in the joyous mood and were celebrating the time. So, there is an excitement and under such a situation I would like to talk about three things, the first is about India, as per my understanding about the country; business and my personal life. 
India is an agrarian country and farmers are the base of the nation. I feel, we should provide a relief to the farmers for the next 10 years, where they are provided seeds and fertilizers at marginal rates, free electricity and compensation for their crops along with farm loan waivers. 
Secondly, we should thank mother earth, as she is asking us to exploit minerals like oil, gold, copper, coal and iron among others that are lying underneath the earth and reduce the imports and use the funds in employing your people and waving off the farm loans. You will be surprised to know that half of India's total income is invested in imports but using it, the amount, in the country will help in employing people and provide a subsidy to farmers. In fact, using 10-20 per cent of the amount will help us in providing almost everything that a farmer wants today. 
Q: You have a clear stand that domestic players should be provided opportunities so that we should not have to import. But, what is stopping the industry and government from being on the same page?
 A: I am the only person from natural resources segment with a demand that India should stop importing from another country. Interestingly, the earth is saying that you can exploit me in a sustainable manner. 
You will not believe that our company, which is a drop in the ocean, has paid around Rs1.60 lakh crore as tax to India. Thus, think what will happen if another 10-20 more companies, which are ready to come, can come and start operations. 
Q: What is going to be Vedanta Group's approach amid the elections, which is going to be the biggest event in 2019?
A: I feel, we must not wait and watch, and people should start working from today itself as nothing is going to change with the government change as whosoever comes to power will remain progressive in nature. If you want to increase your business and feel that you have the capability then I would request, you to carry on with your process. India is a country of entrepreneurs, so fuel the entrepreneurship within you and extend your business. 
Q: We can see that as you have announced your plans to invest an additional 8 billion dollars in India in the next five years. 
A: We will be spending 8 billion dollars in the next three years in India. I will like to talk about the company, Vedanta, which is working with a single agenda of taking the country ahead. 
Q: The investments will be made from internal accruals or you will have to look forward to funding?
A: The expenses will be met from the internal accruals as we earn a profit of around $7-8 billion/year, which means, we will have around $20-21 billion after three years. Apart from this, Banks have never denied funds to us and we can approach it in case of emergencies. But, I would like to say that don't undermine Indian industrialists as they have proved themselves whenever you have shown your trust in them. The best telecom company, airport and steel company are an outcome of that trust. 
Apart from this, the government has no business to be in business is something that has been said by almost every government in democratic countries. We, India, do not have a Red Tapism, but it provides red carpet and it is important because investors have enough opportunities and I wish that they come and invest in India as this investment can help us in eradicating poverty in India. We, Vedanta, is also engaged in doing the same and in the process, we are offering best practices, governance and we encourage our people to work for the country.  I want to turn Vedanta into a world-class company. 
Q: Can you see investment opportunities in the international market, if yes, then let us know about the areas where it, Vedanta, would like to expand itself?
A: We have acquired 22 per cent stakes of Anglo American, which is the world's largest producer of the diamond. It produces 80 per cent diamond in the world and it is also in the production of Platinum. Interestingly, Vedanta and Anglo American together are producing almost everything that is available under this earth. In addition, we are trying to convince them to come to India, a land of 2 billion population, and start a business over here. But, they fear from being here as they think that they will not be able to work in the country due to certain reasons like bureaucracy. 
In addition, Sterlite Technology is the second company I'm proud of as the company is has connected optical fibre of 1.33 lakh villages with its panchayat, to date.  
Q: There are talks that import duty on Aluminium will be increased by the government. What is your view of this move?
A: See, Aluminium has the power of changing the face of India. In addition, India is a home of bauxite and coal and we have invested about $15billion in establishing world-class plants with a capacity of 4million tonnes. And, India consumes nearly 3.6million tonnes of aluminium but the 60 per cent metal being consumed in India is being imported. A quick decision is needed to put a pause on it as the almost everything is being dumped in India due to the ongoing trade war between the US and China. The government should act fast and increase the import duty on aluminium from 2.5 per cent to 10 per cent and protect India from being a dumping ground for other countries and India can consume its own production within the country. During your visits to ports, you will find that ample amount of aluminium scrap and coal is lying ideal on the ports. The exercise will help the government in saving the precious forex reserve at this juncture where the rupee is depreciating against the dollar. 
For instance, closure of Goa mines has affected the lives of more than 3 lakh people. I want to ask the reason for shutting down the production at least when the industry is functioning since the last seven decades. This closure is forcing other companies, who are dependent on us, about 400-500, are forced to import these materials. I just want to say that we should create an atmosphere that no one dares to look eye to eye towards our country. As, it will help us to ensure that democracy, which is a strength for us, is not twisted for personal benefits leading to a closure of companies. 
Q: You have proved yourself in oil & gas and metals. Name another area, where you can see opportunities and you want to be in it? 
A: I am interested in serving or supporting more than 5 crores children under the age group of 7years, who are exploited and don't have access to nutritional food, basic education and healthcare facilities. I am passionate about it and that's why I want to bring a scheme, like Anganwadi scheme, which was rolled out during the reigns of former Prime Minister Late Pt. Nehru but has failed in proving itself, to serve children. For the purpose, I will hand over my work to Tom Albanese, who joined us as CEO and will divert myself towards this cause. Under the process, I will visit villages and will try to connect children with the mainstream by ensuring that not a single child remains hungry and is free of diseases. Similarly, we will ensure that women must not face problems when she gives birth to a child. 
Q: Let's talk about your business. By when you are going to restart production at your smelter plant?
A: NGT has given a clean chit to the plant with certain recommendations and we are working on it. And, I feel that the plant will start production in the next 20 days or a month. 
Q: Electro Steel will start production from?
A: Electro Steel is very close to my heart as it is providing a chance to serve Bihar, the state from which I come from. During my interaction with Raghubar Das, I felt that he has a vision of creating something like Bokaro Steel Plant, which can be created in a gap of three-five decades. Electro Steel has a production capacity of 1.4 million tonners and we want to take it to 2.5 million tonnes with an estimated expense of around $300million and we are investing in it. Secondly, we are also trying to open a mine over there, which will help in creating new employment avenues of nearly 30,000-40,000 people in the state. In addition, we are also working on a plan to come up with a new plant with a production capacity of 5 million tonnes.  Actually, I would love to do something for Bihar and Jharkhand as I owe to these states. 
Q: What is your view on profitability and how will you improve it?
A: Vedanta is a company that provides best earning opportunities to its shareholders as we always try to return the investments in a gap of three-four years. The best part of our business is that maximum part of our production is consumed internally in India. But, we expect that the government should stop its fight with us by introducing retrospective taxes. For instance, the introduction of retrospective taxes on oil has reduced its valuation from $15 billion to $3-4 billion. We have received 41blocks and am supposed to start operations on these blocks in Assam, Rajasthan, Gujarat, Tamil Nadu and Rajasthan and this is going to be the largest oil exploration work in the world. But, I need the support of several people from across the world, but the introduction of these retrospective taxes is stopping them to come forward and support us. However, I would like to inform our shareholders that Vedanta is a transparent and technology-driven company. 
Get Latest Business News, Stock Market Updates and Videos; Check your tax outgo through Income Tax Calculator and save money through our Personal Finance coverage. Check Business Breaking News Live on Zee Business Twitter and Facebook. Subscribe on YouTube.
Updated: Tue, Jan 01, 2019
07:03 pm
New Delhi, ZeeBiz WebDesk