How to become a crorepati! Invest now to be rich in 1 year; Sensex seen at 47,000! Ache-din coming
Guess what! Sensex is seen crossing the massive 47,000-mark, while Nifty 50 is seen skyrocketing to 14,000-level! By when? Just by the end of December, 2019! Yes, you read that right!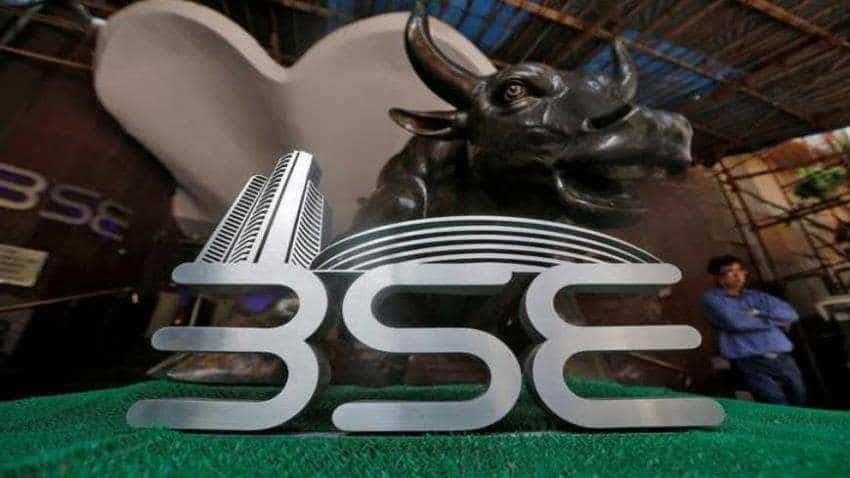 Representational Image: Photo: Reuters
When you invest in equities there is a sudden change in behaviour. Either you are among those who panic every time volatility hits markets, or you are among those who tries to read between the lines the real message stocks are sending. Equities have proved to be the best investment option for most people. currently both Sensex and Nifty are seeing price corrections and if you want to become a crorepati in a year's time, then equities is should be your preferred choice. Guess what! Sensex is seen crossing the massive 47,000-mark, while Nifty 50 is seen skyrocketing to 14,000-level! By when? Just by the end of December, 2019! Yes, you read that right! 
 Simply put, if you invest when markets are trading lower, then you have a very good chance to become rich in just one year's time. And yes, deep research backs this claim! All you have to do is to invest and wait for the upcoming elections to boost markets that will in turn make you rich! WHo says so? This research firm. It believes that the general elections 2019 are going to be the next trigger for equities. 
In Karvy Stock Brokings view, for Indian markets, the major trigger will be the upcoming general elections. It said, "We expect some nervousness in markets ahead of the elections. The results of the state elections next month will set the tone though we wouldn't extrapolate the results to general elections as the Indian electorate can vote differently in state elections and general elections. We believe markets will welcome continuity in the form of a NDA (led by BJP) regaining power at the Centre."
As per the broking firm, after the recent turmoil in financial markets, it is easy to be pessimistic. The macro outlook for India has certainly deteriorated somewhat compared to six month ago; however, the outlook remains strong and gives reason for optimism. 
Analysts at Karvy believe that growth in India is accelerating, the OECD Leading Indicator points to strong growth ahead. More importantly, the investment cycle in India is turning. In Q2FY2018-19, Gross Fixed Capital Formation grew by 10% YoY. Capacity utilization is inching upwards, which should also reflect in growth and is also borne out by high frequency indicators like commercial vehicles sales growth, cement production and air traffic growth. This should be supportive of corporate earnings and thus of equity markets.
An opinion poll carried by Karvy revealed that, they indicate  three states it is in power, BJP is likely to lose Rajasthan and has a close fight in other two where anti-incumbency gives the opposition a marginal edge, however, in MP and Chhattisgarh the results could go either way. A loss in two states would be a minor negative for markets. A loss in all three states may trigger a correction. 
Similarly, a win in two states would be a minor positive, in the event of a win in all three states by BJP (unlikely according to opinion polls) may raise expectations from the general elections.
Following which Karvy said, though it is early days, opinion polls indicate that NDA (led by BJP) is likely to regain power, with a reduced number of seats, this scenario would be welcomed by markets in style by rocketing higher.
Karvy added, "We forecast Sensex to reach 45,000 (14,000 for Nifty) by the end of 2019. If the BJP were to cross the halfway mark on its own, Sensex could reach about 47,000. A loss for NDA and formation of a coalition government which the market reads to be unstable could lead the Sensex to decline to 30,000 (Nifty 9,000) in the immediate aftermath of the elections."
On sector-wise investment, Karvy favors Automotives, Capital goods financial services,IT and Healthcare.

A look in the history compiled by Karvy has revealed that, in the run up to the general elections, despite nervousness, markets have always gained in 5 out of 6 elections in six months leading to the counting date. 
The exception was 1998 when markets were suffering on account of the Asian Financial crisis.
Similarly, strong gains were made in 1999, when markets were gaining on account of the technology boom and in 2009 when markets made strong gains 2 months in the run up to the elections, as the world markets recovered from the global financial crisis.  

From the table above, it is clear that India underperformed global markets only once and that too only marginally. Also, in the 6 month period after elections, India outperformed world markets significantly twice, after the elections in 1998 and 2014. In 1999, as well as in 2004 and 2009 Indian markets marginally underperformed global emerging markets. 
As for 1999, this was on account of the crash in technology shares, whereas in 2009 it was on account of a stronger performance of markets like Brazil.
For a 12 month period, starting from 6 months prior to election results announcement date to 6 months later, Indian markets outperformed global markets in all but 1996, as per Karvy.
Thereby, state polls will be watched as a barometer of what lies ahead, but general elections matter more. Are you ready? 
Updated: Fri, Nov 23, 2018
07:42 pm
Mumbai, ZeeBiz WebDesk