How demonetisation dented the RBI
On November 08, 2016, PM Narendra Modi announced the demonetisation of high denomination notes old Rs 500 and Rs 1000 to tackle black money and terror financing.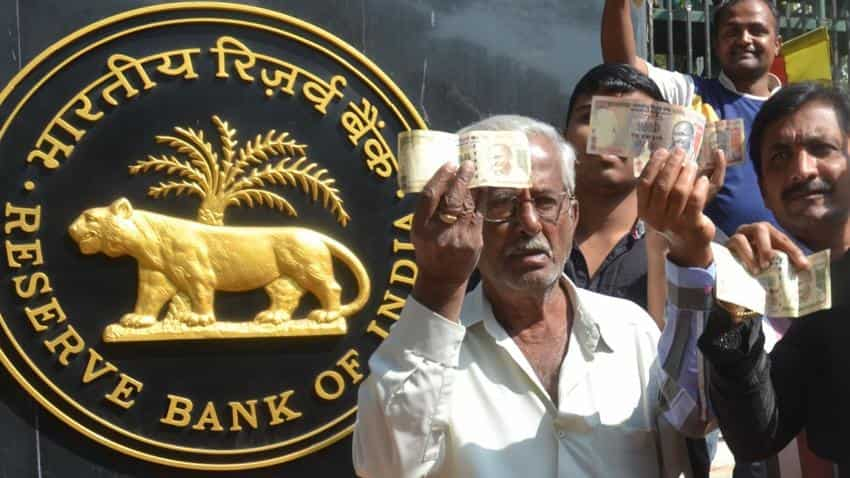 People queue up outside Reserve Bank of India to exchange demonetised notes. Photo: IANS
Updated: Tue, Sep 05, 2017
12:32 pm
Mumbai, ZeeBiz WebDesk
Key Highlights:

Rs 15.44 lakh crore worth SBN banned on November 08, 2016
Rs 16,000 crore of banned notes not back in RBI system
RBI says to parliamentary panel "No information on black money returned"
In a parliamentary panel discussion, the Reserve Bank of India (RBI) stated that it has 'no information' on how much black money must have been investigated as a result of demonetisation. 
Replying to the queries, RBI said to panel that it has "no information" on how much black money has been extinguished as a result of demonetisation of Rs 500/1,000 notes or about unaccounted cash legitimised through exchange of currency post note ban. 
Further, RBI mentioned that it also has "no information" whether demonetisation is being planned to be implemented at regular intervals.
Last month, RBI released its annual accounts report for 2016-17 - under which showed that 98.96% of banned specified bank notes (SBN) old Rs 500 and Rs 1000 - have come back to the system. 
When demonetisation drive was announced on November 08, 2017, about 6,857.82 million notes of Rs 1000 and 17,165.06 million notes of Rs 500 valuing separately Rs 685,782 crore and Rs 858,253 crore respectively were scrapped. 
Thus, RBI indicated that Rs 15.28 lakh crore was brought back out of the cumulatively banned Rs 15.44 lakh crore. 
Thus, Rs 16,000 crore demonetised value not back in the system. 
Answering to the queries, RBI said the verification for authenticity and numerical accuracy are still on, while some of the specified bank notes (old Rs 500/1,000 notes) which were accepted by banks and post offices are still lying in currency chests.
Annual Report of RBI revealed -  762,072 pieces of counterfeit notes were detected in the banking system, of which 95.7% were detected by commercial banks. Detection of counterfeit notes was 20.4% higher than the previous year. 
Study done by RBI shows that the rate of FICN detected per million pieces of notes processed at the currency chest level at 7.1 pieces for Rs 500 denomination and 19.1 pieces for Rs 1000 denomination, which were higher than the rate of detection at the Reserve Bank (5.5 pieces for Rs. 500 and 12.4 pieces for Rs. 1000). 
It further informed the panel that the completion of the process of verification will take time in view of the large volume involved.
It has become over eight months now that the PM Narendra Modi's demonetisation move has ended, but things does not seem to ease away for RBI. 
Due to demonetisation, RBI continues to face heat not only from various opposition parties, former finance minister P Chidambaram but also suffers dent in its own financial performance. 
Former Finance Minister P Chidambaram recently in media reports slashed out at the central bank stating "shame on RBI''for not bringing back one% of the demonetised notes in the chest.
Rs 16,000 crore of scrapped notes - which are not back is considered a failure to clamp down on black money, as government officials  claim Rs 3.5 lakh crore of the returned currency is illegitimate and would be put under the scanner. 
Another fall-out of the exercise would be RBI with lower dividend payouts to the government, partly due to the high cost of printing new notes. 
In FY17, RBI's dividend to the government is nearly half of the amount paid last year Rs 30,659 crore compared to Rs 65,876 crore in the same period of the previous year - reaching at five year low. 
Between June - July 2017, money spent on printing of new notes is estimated to stand at Rs 7,965 crore as against Rs 3,420 crore a year ago same period. 
Also, RBI's balance sheet expanded by a marginal 1.9% in FY17 (June ending). While its total income declined by 23.6%, the expenditure increased by 107.8%.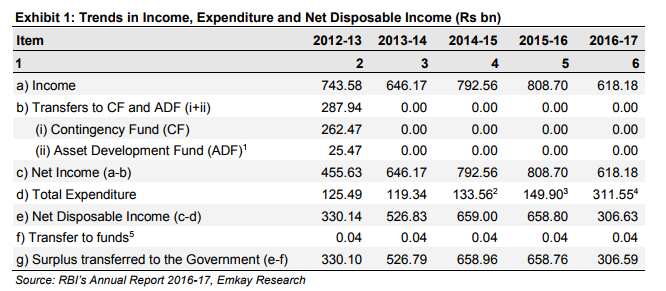 Provisions of Rs 13,140 crore transferred to Contingency Fund (CF) are adjustments for unforeseen losses on financial assets etc.
Interestingly, RBI also incurred a cost of Rs 17,430 crore on account of interest paid under LAP on SBN deposited by banks in the demonetization process. Hence, overall net interest income from domestic assets declined by 15% to Rs 3,754 crore in FY17 from Rs 4,412 crore in FY16. 
This was not enough, bringing India back to remonetisation level - RBI had to employ two modes namely printing of new Rs500 and Rs2000 notes and secondly release of small notes of Rs50 and Rs100 withdrawn in earlier years.
From November 2016 - to March 2017, RBI printed 9.2 billion of new Rs500 and Rs2000 notes or 1.8 billion notes per month.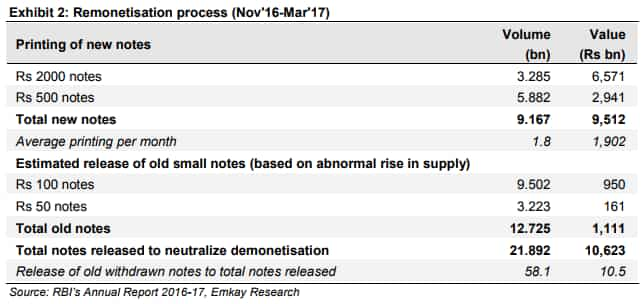 Emkay in its report said, "This is lower than the peak average monthly level of 2 billion new notes supplied by RBI in FY15."
In value terms, printing of new notes is around Rs 9.5 lakh crore. Secondly, the release of old small denomination notes (Rs 50 and Rs 100) was around 12.7 billion pieces amounting to Rs 1.1 lakh crore. 
"This portion of supply was unanticipated when demonetization was announced and it helped ease the supply shortfall of currency. Hence, nearly 58% of volume of total notes released by RBI in remonetisation was in the form of old small notes withdrawn by RBI in earlier years," Emkay. 
Such expediency in regards to remonetisation by RBI has still not reached to its fullest. Total currency-in-circulation (CIC) stood at Rs 15.7 lakh crore as on August 18, 2017 - still short of the Rs 17.3 lakh crore  total supply of currency that existed before demonetisation. 
Dhananjay Sinha and Kruti Shah of Emkay said, "Apart from the impact on RBI's financials, the wider implications of demonetisation in the form of a slowing economy and shocks to informal & farm sectors amplify the cost of demonetization, far more than the potential benefits envisaged."
On a positive side, SBICAP said,''While a reduction in currency in circulation (value terms) indicates formalisation of the economy, a rise in volume of notes indicates a conscious effort on part of the policymakers  to reduce high value notes, which are easier to hoard.''
After RBI's annual report, Finance Minister Arun Jaitley on August 30 made it clear that the object of demonetisation was not confiscation of money, but significantly altering India's pre-dominantly high cash economy towards a less-cash one. 
Jaitley said, "Nearly how much money comes back to the system and how much does not, that was never the real object of demonetisation."
ALSO READ:
Get Latest Business News, Stock Market Updates and Videos; Check your tax outgo through Income Tax Calculator and save money through our Personal Finance coverage. Check Business Breaking News Live on Zee Business Twitter and Facebook. Subscribe on YouTube.