Headed Home: Workers abandon building sites after cash crackdown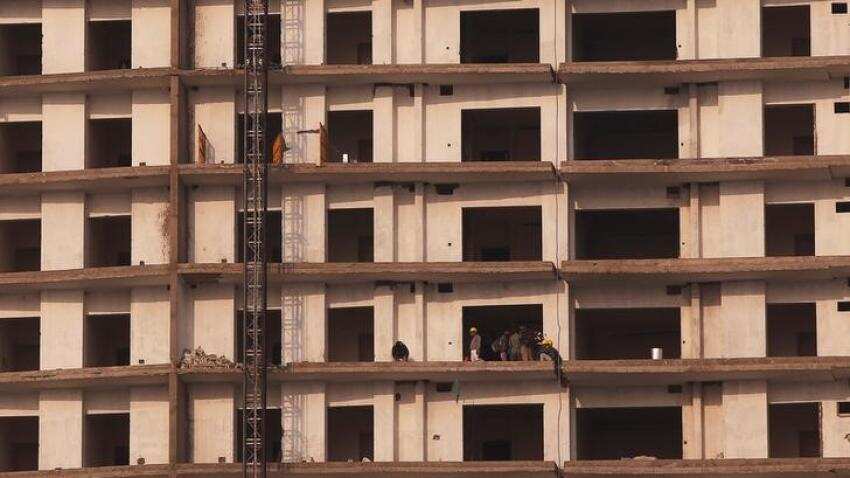 Labourers work at the construction site of a residential complex in Noida, on the outskirts of New Delhi. Image Source: Reuters
Hundreds of thousands of construction workers have returned home since Prime Minister Narendra Modi abolished high-denomination banknotes, leaving some building sites across the country facing costly delays.
A month after Modi`s shock move to take away 86% of cash in circulation to crush the shadow economy, the growing labour shortage threatens to slow a recovery in India`s construction industry, which accounts for 8% of gross domestic product (GDP) and employs 40 million people.
Work at SARE Homes` residential projects, spanning six cities, has slowed dramatically as migrant workers, who are out of cash and have no bank accounts to draw from, have little choice but to return to their villages. 
"Construction work at all projects has slowed down in a big way," managing director Vineet Relia told Reuters. 
Property enquiries, meanwhile, have slumped by 80% around the Indian capital since the cash crackdown, according to property portal 99acres.
Getamber Anand, president of Indian builders` association CREDAI, said projects nationwide had been hit, and estimated that roughly half of the migrant workforce, numbering in the low millions, had left for home.
Road developers have also reported a slowdown as they struggle to find sufficient labour.
ALSO READ: India abolishes larger banknotes in fight against graft, 'black money'
The exodus shows little sign of reversing, risking damage to construction activity and the wider economy into 2017, despite Modi`s assurances that hardships from his radical "demonetisation" should be over by the end of the year.
The disruption to building raises doubts about the Reserve Bank of India`s (RBI) view that the impact on the economy would be transitory. The central bank held interest rates on Wednesday despite calls for action. 
No Bank Account
Modi`s gamble is that the majority of workers will be compelled to open a bank account as sub-contractors refuse to pay in cash, bringing them into the formal economy and expanding the country`s low tax base.
That may happen eventually, but for now, millions of workers who depend on daily wages for food and shelter are struggling. Many have never held a bank account, and even if they wanted one, some do not have the necessary documents to do so.
At a construction site in Gurugram, a satellite city near Delhi, worker numbers have halved to 100. The site manager received a government circular on November 25 saying every worker`s wage should be paid into a bank, a message relayed to each contractor.
Biseshwar Yadav, a 36-year-old migrant labourer from Bihar, worries about arranging documents to open an account and the cost of making regular trips to the bank.
Standing in the largely deserted worker housing colony opposite the unfinished 20-storey blocks of flats he had been building, Yadav said that with no salary, he was surviving on $89 borrowed from a local shopkeeper to pay for food.
Some labourers back in their villages are reluctant to return. Duryodhan Majhi, 38, travelled to Odisha after his employer in Secunderabad ran out of cash to pay his $4.4 daily wage.
ALSO READ: New Rs 500, Rs 2000 notes: Here are the new features
"We keep moving from city to city in search of work. This new order would mean opening a new bank account every time we change cities. How and when will we work then?" he said, adding he would seek farm work.
CREDAI`s Anand predicts activity on construction sites will not return to normal until April, and only once labourers are able to open accounts at banks still struggling to serve long queues of people desperate for cash.
"Right now the banks say they don`t have time to open accounts. It`s the biggest challenge," Anand said.
Slowing Economy
Data suggest that demand in India`s economy has slowed sharply since Modi`s decision on November 8.
Indian services activity plunged into contraction in November for the first time since June 2015, a survey showed, while factory activity also slowed. 
The real estate industry was already carrying an overhang of unsold inventory, and was hit by an earlier clampdown on "black" money, much of which is invested into property.
Indian cement and steel makers are feeling the pinch.
"Developers have cut down purchases," said Mukesh Kasana, a dealer for UltraTech Cement Ltd , part of the Aditya Birla conglomerate, estimating his sales had slumped 80 percent.
India`s decade-long construction boom created one in three new jobs as tens of millions of people made the journey from the rural hinterlands to seek employment in towns and cities.
For Modi, a healthy construction sector is vital if he is to fulfil his promise of boosting job creation for the one million Indians joining the workforce every month.
There is no reliable data on the number of migrants who have abandoned construction sites since demonetisation, because most are undocumented. But stories abound of cash-strapped workers thronging railway and bus stations to make their journey home.
Jainuddin, a labour contractor near Delhi, said he had lost about 40 of his 50 men since November 8.
"The ground reality is vastly different from what it appears to those designing these policies."
ALSO READ: 9 steps you must take to exchange your old Rs 500, Rs 1,000 notes
Get Latest Business News, Stock Market Updates and Videos; Check your tax outgo through Income Tax Calculator and save money through our Personal Finance coverage. Check Business Breaking News Live on Zee Business Twitter and Facebook. Subscribe on YouTube.
Updated: Mon, Dec 12, 2016
10:33 am
Gurugram , Reuters