Haryana government briefs about measures to combat COVID-19 on Zee Business-ASSOCHAM webinar, answers queries
Chautala said that Haryana is a big exporter of apparel and the government is looking at a possibility where operations are resumed with one fourth manpower.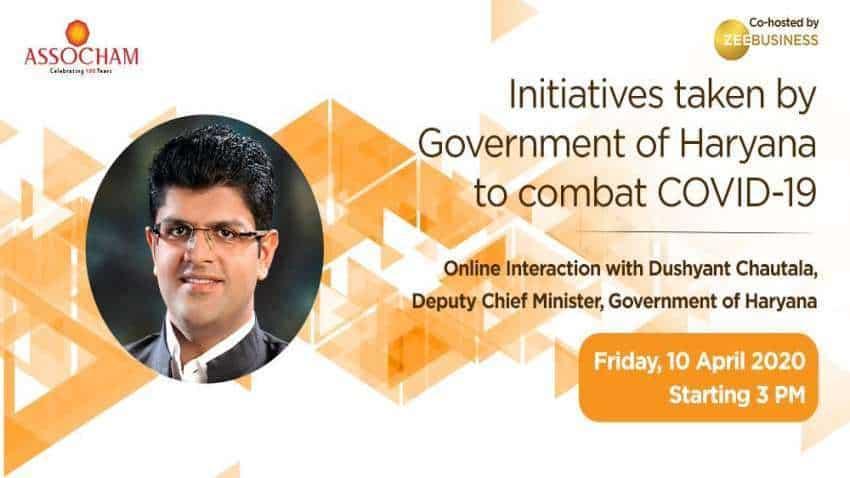 The Haryana government Friday held a briefing about the initiatives taken to combat the coronavirus pandemic.
The Haryana government Friday held a briefing about the initiatives taken to combat the coronavirus pandemic. In a webinar co-hosted by Zee Business-ASSOCHAM, state Deputy Chief Minister Dushyant Chautala explained that the state is looking at several measures to resume operations in certain sectors of the industry and sought support for industry bodies as well. 
"In March, we only had 1,050 coronavirus cases in India but over the last 10 days, we have crossed the 6,000 mark. The way numbers have increased in some states like Maharashtra, it is an alarming situation. For Haryana, we are looking at a few options. First of all, we need to make sure all the tasks can be done from house where community contact is not necessary," he said. 
Chautala said that Haryana is a big exporter of apparel and the government is looking at a possibility where operations are resumed with one fourth manpower by maintaining a proper gap between employees. 
See Zee Busines Live TV streaming below:
"Thirdly, we need to look at industries like automotive where manpower requirement is less and machines dominate. We can look to resume operation is such sectors," he said. 
The deputy CM said that as far as the construction sector is considered, there are other challenges as well. He explained that as soon as construction is allowed, movement of goods will be required which will lead to community contact. 
"One of the major concerns of the MSME sector is about the GST refund. We have already directed about this and got approval from Central government too, We will start the refund of GST from Monday for all MSMEs," he added. 
Chautala is hopeful that lockdown is relaxed from April 14, allowing industries to return to work. 
"Prime Minister Narendra Modi said that this is the time to unite and we hope that the Central government opens this lockdown from April 14, even if it is done in a phased manner," he said.  
Saket Kumar, IAS, Director Industries, Government of Haryana explained that the first issue that has to be addressed is the humanitarian issue. He said that a total of 587 relief camps have been setup in which over 30,000 labourers are staying and getting the food too. 
"The Government of Haryana has also announced that the contractual workers should be taken care of and their salaries should be released. From over 6 lakh labourers that we are aware of, about 5 lakh have already been paid. We request ASSOCHAM to make sure that all the contractual labourers receive their salary and it is not put on hold," Kumar said. 
He revealed the other issue is of the passes, which has been highlighted as well. Kumar said that a dedicated portal has been setup for the industries on Saral Haryana. 
On this portal, any industry can apply for operations as well as passes. When applied, the report automatically goes to the DM. This is a completely online system. Many people have already taken benefit of this. 
"N95 masks is a critical requirement right now. I am surprised to know that only one firm – Venus – is allowed to make these masks. We are working closely to get permission for at least two firms in Faridabad to make N95 masks. This is not a very difficult thing to make and we are capable of making it," he said. 
"Similarly for testing kits, we are dependent on China. The industry bodies should rise up to the occasion and look to meet these demands," Kumar said. 
Deepak Sood, Secretary General, ASSOCHAM and Vineet Agarwal, Sr Vice President, ASSOCHAM and Managing Director, Transport Corporation of India Ltd, represented the industry body in the meeting.  
"Big or small, everyone is going through challenging times right now due to COVID-19 crisis. It has cut across everyone. We are employing people in a very large number, second to only agriculture. This means that MSME is the backbone of this country. I believe that the government is doing a great job right now. And, I am not saying it only for the Haryana government but also for the centre. We are in full support of the actions taken by the government so far to protect us from this virus," Sood said. 
He said that many initiatives have been taken across the country by ASSOCHAM with an aim to help investors, industries and families of people impacted by this.  
"Our companies are providing medical facilities, food and other services to needy. For Haryana, we are providing 2 lakh to 2.5 lakh soap cakes of Dettol. These are a few things we are doing to help. We are also encouraging people to donate blood," Sood said. 
He added that livelihood is important and for that you need to go back to work.  
"The major concern for all large, medium and small industries is that how we are going to come out of this," Sood shared. 
Agrwal, meanwhile, said that he is in touch with a few people from the industry and have got some feedback.  
"There are certain labour-related issues. This is an important season for farmers. Also, we need to figure out if we can provide some incentive to labourers. Right now the demand is not being met at places where workforce is require. So, we need to find a way around this," he explained. 
The ASSOCHAM representative added there are certain places in the state like Gurugram where people are not getting passes to visit their workplace and get their salaries processed.  
"The government has issued directives that salaries should be paid but to get them processed, at least some people should be allowed to visit workplaces while maintaining social distancing," he said. 
"The last major concern is the liquidity. We want you to help the MSMEs with refunds and liquidity," Agrawal added.
Updated: Fri, Apr 10, 2020
08:50 pm
New Delhi, ZeeBiz WebDesk