H-1B, L-1 visas row: How India's tech majors are looking to beat Trump caused crisis
In April, Indian companies such as Wipro, Infosys, and TCS reduced visa filings, revealed San Francisco Chronicle quoting a study. This is in contrast to the number of Indians who went to the US on H1B visas in the last three years, which stood at a shade above two lakh.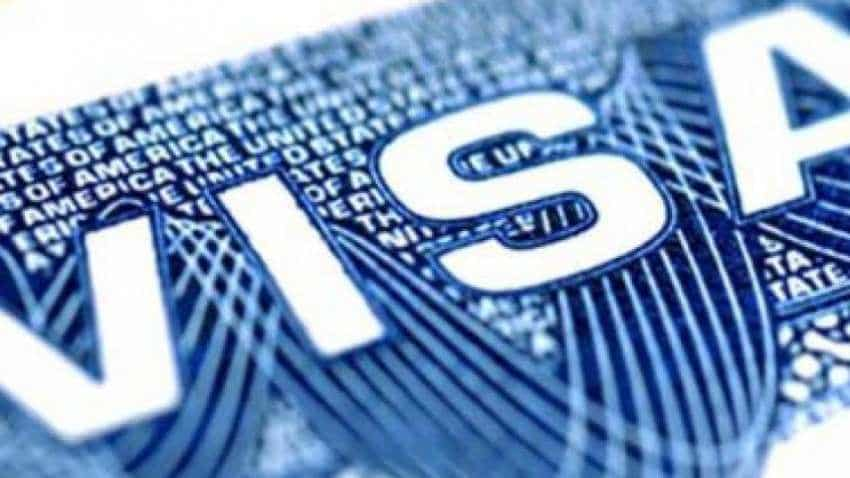 As the tighter norms for H-1B and L-1 visas threaten the financial health of domestic information technology (IT) companies, they are swiftly moving to tweak their business model. Image source: Reuters
Updated: Fri, Sep 07, 2018
10:16 am
Mumbai, ZeeBiz WebDesk
In April, the chill in San Francisco was unusually harsh. Indian IT majors, operating in Bay Area, had already scaled back visa filings and stepped up the intake of foreign workers. As they adapted to tighter enforcement and increased scrutiny by the Trump administration, dreams of thousands of Indian techies lay shattered. The heat from the 'Buy American, Hire American' campaign threatened to burn down several Indian service providers.
But they emerged stronger from what many believed could have been the ashes. Yes, when the going got tough, the tough got going.
In April, Indian companies such as Wipro, Infosys, and TCS reduced visa filings, revealed San Francisco Chronicle quoting a study. This is in contrast to the number of Indians who went to the US on H1B visas in the last three years, which stood at a shade above two lakh.
Today, this long-running problem of US visa is something that the domestic tech services firms have learned to live with. They are weaving their new business models around it and slowly deflecting any hit on their revenues or margins.
As the tighter norms for H-1B and L-1 visas threaten the financial health of domestic information technology (IT) companies, they are swiftly moving to tweak their business model. To reduce their dependence on US specialist visas, the Indian tech majors are hiring more locals in the US, automating repetitive processes and moving to high-end services like digital transformation, artificial intelligence, data analytics, etc.
V Balakrishnan, former chief financial officer (CFO) and board member of Infosys, avers that IT majors were trying to reduce their dependence on US work visa by hiring more locals in the US and through automation. "IT companies have started hiring locally (in the US) and automating repetitive processes to reduce their dependency on H1B visas. This means they are trying to see whether they can automate more or reduce workforce," he says.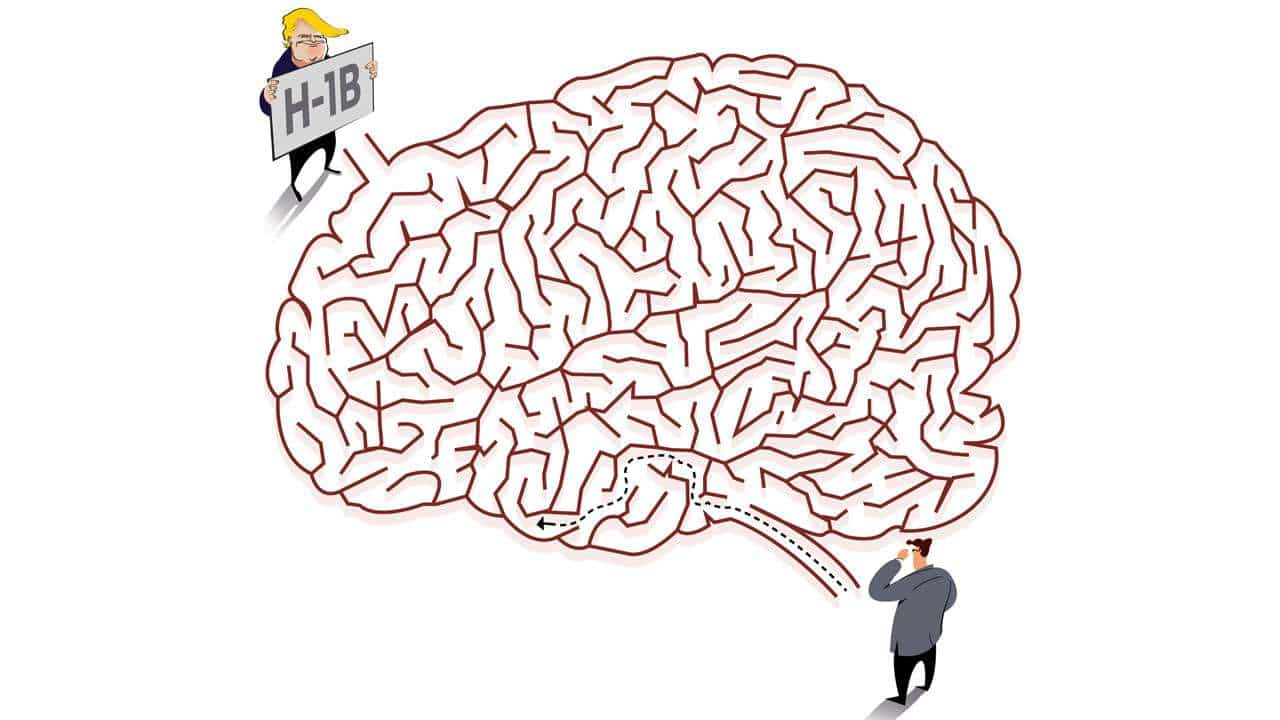 Altering business models
The clampdown on employers using H-1B visas for their projects in the US by various governments has forced major IT services companies like Infosys, Tata Consultancy Services (TCS), Wipro, Cognizant, HCL and others to alter their business models.
The H-1B is a visa in the US under the Immigration and Nationality Act that allows US employers to employ foreign workers in specialty occupations. It has been used by domestic tech firms and multinationals based in India to execute their US projects using cheaper technical staff to bolster their margin.
Different governments and lawmakers have blamed it for declining jobs in the US and promised action in their election campaigns. One of the actions, taken about a decade back, was additional fee for "50/50" employers under the Consolidated Appropriations Act.
Here, the 50/50 employers were companies with employee strength of more than 50 in the US and who had more than 50% of their workers on H-1B and L-1 visas. Since 2010, these employers were mandated to pay an additional fee of $2,000 on every H-1B visa and $2,250 on L-1 visa. The fee had sunset on September 30, 2015. It was extended by the Barack Obama government by 10 years till 2025, and the fee has been doubled to $4,000 for H-1B visa and $4,500 for L-1 visa.
Even though the tech services majors have taken the extension and fee hike in their stride, they are gradually weaning away from their reliance on these visas.
After reaching a peak of three lakh H-1B visa petitions in 2016, the number of applications filed by employers from India fell 17.6% to 2.47 lakh in 2017. India, however, still continues to be the highest user of H-1B visas. In 2017, petitions of firms from India were 73.76% of the total applications.
Bellwether Infosys is the company with most H-1B filings up till 2017 at 1.10 lakh petitions, followed by TCS at 69,920 and Deloitte at 42,835.
The Trump administration has continued to put pressure on these companies with the United States Citizenship and Immigration Services (USCIS) having significantly increased the number of denials of H-1B petitions. The US immigration authority has also made stringent the scrutiny of applications by issuing more request for evidence (RFE). All this seems to have affected India-based companies more than anyone else.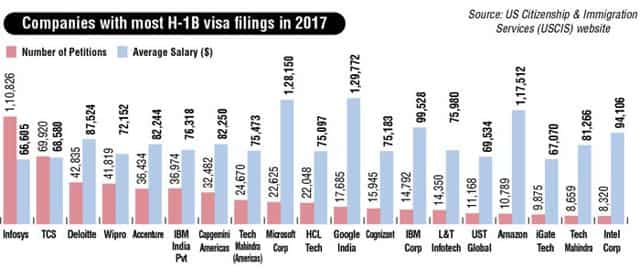 According to a report brought out by the US-based National Foundation for American Policy, the number of RFE received by Indians was 72% compared to 61% by other nationals in 2017.
The report clearly states the rise in denials and RFE for US work visas was due to the new Trump administration policies.
The margin game
Even as these trends unfold, tech companies have swung into action to safeguard their revenues and margins.
For instance, Balakrishnan says that Infosys has hired around 2,000 locals in the US over the past one year. He says most IT companies have created development centres in the US and are hiring fresh local graduates from American tech institutes and training them.
"Infosys has hired some 2,000 people in the US and is training them. They have created development centres there. Indian companies are trying to replicate in the US what they are doing in India. This means they hire fresh graduates, train them on technology which is required and then deploy them on projects. They are creating the same (business) model which they have in India in the US too. This way their dependency on H-1B and L-1 visas have come down," he said.
The National Association of Software and Services Companies (Nasscom), representative of Indian IT and business process outsourcing (BPO) industry, said the use of visas by Indian companies has gone by around 43% over the last two years.
The IT lobby body claimed India's usage of H-1B visa was less than 12% at 8,500 of the total 65,000 available every year.
Ganesh Natarajan, chairman of 5F World and former chairman of Nasscom, said the new visa regime has made the business model more proximity-based and slightly costlier.
"The model is becoming more proximity-based and is a slightly higher cost model. Fortunately, the current weak Indian rupee against the US dollar is cushioning the profit but in the longer term the profitability of the industry will be lower because of the digital trend and the difficulty of visas and difficulty of movement of people," he said.
Drivers for fresh hiring
Som Mittal, director of ExlService Holdings Inc and former president of Nasscom, said there were other "drivers" for hiring more people in the US companies other than difficult visa environment.
"There are many drivers for hiring people in the US. The reasons for their hiring is not just visas but also because the whole technology world is moving towards digital and we need proximity of people to the workplace. We also need expertise and context, for that we need local people in the US," he said.
The former Nasscom head believes it would be the US technology giants, operating out India, which will get affected more than domestic IT companies.
"H-1B visas are widely used by US companies. Microsoft, Google, Apple, Amazon and other global majors hire foreign nationals, most of them are Indians. They are using H-1B visas for this. So, any restrictions in the use of H-1B visas is actually going to impact the American companies much more. They are saying it is going to be negative for them. The American companies' point of view is when we give so many visas to Indians, it's not about Indians but it's about the need for technical people. It just happens that a large number of Indians are technical specialists and they get those visas," he said.
As per the USCIS data, six out of ten 10 companies with highest approvals in 2017 were Indian IT majors, including Cognizant (28,908), TCS (14,697), Infosys (13,408), Wipro (6,529), Tech Mahindra (4,931) and HCL Tech (4,392). It has four US-based company names – Deloitte (6,027), Accenture (5,070), Amazon.com (4,767) and Microsoft (4,069).
Going forward, Mittal expects the noise to continue but does not see much action on the ground. He also believes domestic IT services companies have transformed into full services providers and are no longer effort-based service providers. This, he said, would require more onsite hiring for projects due to the requirement of domain expertise.
"You should also be sure that Indian companies are no longer offshore firms. Customers are not hiring Indian IT companies because offshore work can be done cheaply. That phase is over. Now, Indian companies are full-service providers and no different from IBM, HP or Accenture, who have a large presence in the country. They have also become global. So, we should not be comparing them (Indian companies) to what used to happen in early 2000, where offshore was the only way to serve customers. Today, customers are being served much more onshore," he said.
Indian dreams on the wane
The flipside of domestic IT firms hiring more in the US is IT jobs in the domestic market is dwindling. Nasscom has estimated hiring of around one lakh engineers in the current fiscal, way below the over two lakh jobs created only a few years back.
Natarajan says even salary hikes were down from around 25% some years back to single digit increments today. According to him, the skills required by companies have also moved away from Java programming to digital expertise, data sciences, artificial intelligence (AI) and other such skills.
And as domestic tech companies move towards automation and high-end services like digital, AI, data analytics and others, they are able to not only tackle the US professional visa issue but are also able to safeguard their margins and revenues.
All this has helped IT companies to sustain their profit margins above 20%. For instance, Infosys's profit margin, which had hit a low 18.54% in the September quarter of 2013 from a high of 30.01% in March quarter of 2007, has been above 20% in the quarters after that. In the last quarter of the current fiscal, it was 23.7%.
In its latest quarterly industry review, released in June, Nasscom said, "The revenue growth is upbeat at 2.8% and incremental revenue addition is strongest in the last four years."
Balakrishnan says, even though H-1B visa issue may cause some "cost impairment" in the short term if all the fresh developments in the industry come together, it would collectively be positive for the sector.
"In the short term, there could be some cost impairment but in the long run with automation coming in, dependency on people coming down and technology becoming more non-linear, I think it should be very positive for the business," he predicts.
Watch this Zee Business video
And so as local IT companies relegate the H-1B and L-1 issues to the margins, it is unlikely that it will feature prominently in the two-plus-two talks between the US and Indian diplomats.
"There'll always be a discussion on all the trends on a generic basis but whether H-1B matter will get specifically raised, I doubt it. I don't think it is such a big issue at this point in time to anybody," said Natarajan, shrugging off the issue.
Source: DNA Money
Get Latest Business News, Stock Market Updates and Videos; Check your tax outgo through Income Tax Calculator and save money through our Personal Finance coverage. Check Business Breaking News Live on Zee Business Twitter and Facebook. Subscribe on YouTube.