GST rate on restaurants: Tax impact hurts fine dining outlets
Newer brands are also introduced into different price points. So, in the upper end of fine dining where it is trying to bring back the excitement, Speciality introduced a brand Gong, in Pune last year, positioned as modern Asian cuisine In the lower-end of the market, it is experimenting with easy on the pocket, small portion eating joint named Spicery in Kolkata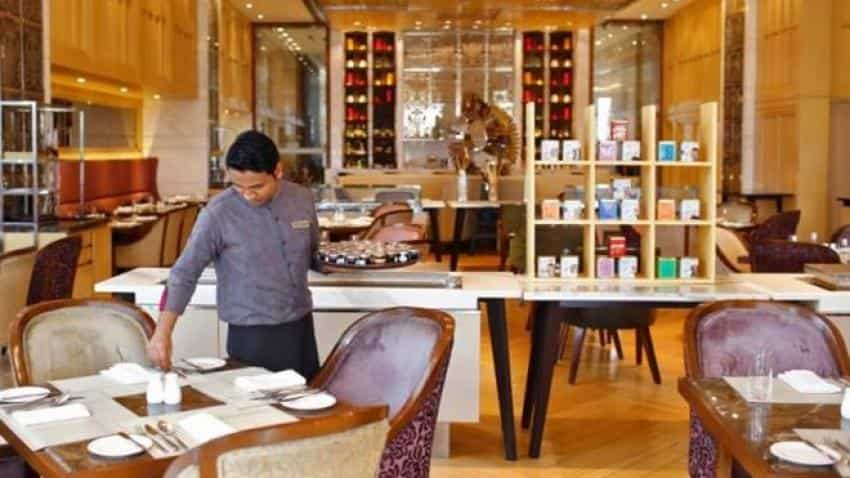 GST has come in with no input tax credit, which means high prices for dishes at a time when the concept of fine dining itself is in a crisis with people preferring to order online at affordable prices at home. Image source: Reuters
Updated: Mon, Mar 19, 2018
01:08 pm
ZeeBiz WebDesk
By Sumit Moitra
GST rate on restaurants:  For the only listed fine dining restaurant chain in the country — Speciality Restaurant — coming days would be difficult. Goods and services tax (GST) has come in with no input tax credit, which means high prices for dishes at a time when the concept of fine dining itself is in a crisis with people preferring to order online at affordable prices at home. "The youngsters are no more going out to eat. They would rather order food online at home, or might just grab a piece of pizza. They don't dress up to visit a restaurant and don't bother about the finer elements of taste," says Anjan Chatterjee, founder and managing director of Speciality Restaurant, the largest chain of restaurants across the country. And then there is GST.
"The most unfortunate part is that it is only the restaurants on which there is no input tax credit. Every other business or industry enjoys GST input tax credits. Every restaurateur would now think twice before setting up a new outlet," he said. The only way out is to keep bringing in new brands and experiences, particularly those targeted at the youngsters, says Chatterjee. "While we are known for our brands like Oh! Calcutta or Mainland China, we don't want to remain an archaic brand and have now brands like Hoppipola or Cafe Mezzuna," he said on the occasion of 25th year of operations of the company.
Newer brands are also introduced into different price points. So, in the upper end of fine dining where it is trying to bring back the excitement, Speciality introduced a brand Gong, in Pune last year, positioned as modern Asian cuisine In the lower-end of the market, it is experimenting with easy on the pocket, small portion eating joint named Spicery in Kolkata. Chatterjee, who started off 25 years back setting up 'Only Fish' in Mumbai, is now working on new brands including Progressive Oriental House, again in Mumbai, this time spearheaded by his son Avik.
"PoH is turning into a destination for Bollywood celebrities and the concept is a success. We are coming up with 19 Dariole, our bakery brand, over a period of time. We have been able to set up 125 outlets in 25 years including restaurants and confectioneries within India as well as outside in places like Colombo, Doha with Dubai starting this month and also in Tanzania," he said. Speciality's outlet in Doha has been in trouble following the geopolitical situation there which led to the imposition of embargo. Following a tough business environment, the restaurant is being scaled down.
Opening an outlet in London is under planning for long because of adverse business environment there—Brexit and restrictive worker immigration laws. The launch, however, will provide a boost to its long-term plans.
"We would be targeting the diaspora, wherever they are across the globe. The brand pull of Mainland China is significant among Indian dine diners," Chatterjee said.
(Source: DNA)