Good news for govt! Makeover for Rs 100, Rs 200, Rs 500, Rs 2,000 notes will help RBI in getting more dividend
While this is good news in terms of citizens perspective, interestingly, if varnished notes come in the picture even RBI and government are bound to benefit from it as well.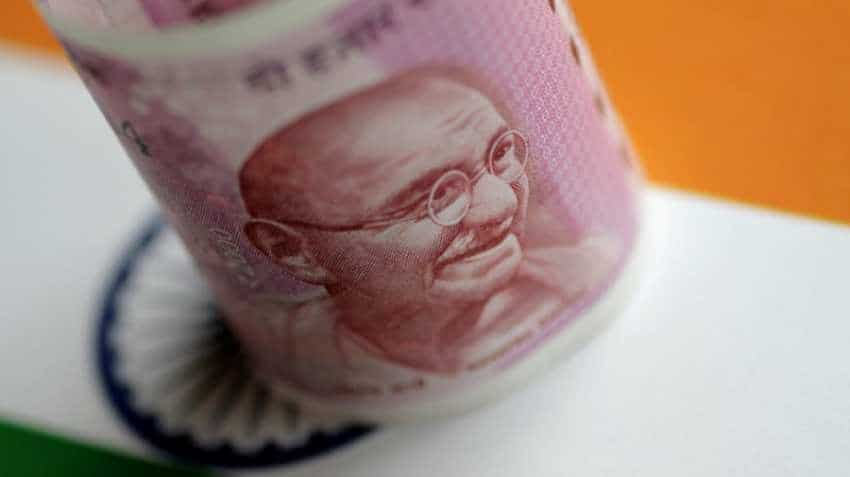 Representational Image: Photo: Reuters
Updated: Wed, Nov 21, 2018
05:26 pm
Mumbai, ZeeBiz WebDesk
Even after giving a whole new makeover to currency notes like Rs 10, Rs 50, Rs 100, Rs 200, Rs 500 and Rs 2,000, the Reserve Bank of India (RBI) has made yet another proposal. This time, the central bank plans to increase the life expectancy of banknotes. Now, varnished banknotes are being proposed by RBI, which will definitely make the currency in your pocket different and also, notably, bring new changes in your life as well. Simply put, you will have to no more go through soiled notes. Yes, you will therefore, not accumulate torn and tattered notes in your almirah as no one was accepting them. Also, no more requirement for knocking on the doors of banks to exchange these notes with new ones. While this is good news in terms of citizens perspective, interestingly, if varnished notes come in the picture even RBI and government are bound to benefit from it as well. How? Let's find out! 
The demonetisation drive not just introduced new Rs 500 and Rs 2000 currency notes, but even hinted towards the makeover of all the banknotes in the country. While old Rs 500 and Rs 1000 said goodbye to India, the country also witnessed the entry of new Rs 500 and Rs 2000 currency notes. The entry of these two new high denomination notes was a clear indication the transformation of entire currency chest. Several factors hinted at this. 
First, RBI introduced new Rs 200 to fill the gap between Rs 100 and Rs 500 in the month of August 2017.  When Rs 200 was launched, RBI made its interesting move by giving a makeover to Rs 50 and Rs 10 notes. Now RBI has also introduced new Rs 100 notes. 
The similarities between Rs 500 and Rs 2000 notes are clear indication as to why RBI had to give makeover to small denomination notes like Rs 10, Rs 50 and now Rs 100. 
Apart from color, motif and numeral almost everything is same between Rs 10, Rs 50, Rs 100, Rs 200, Rs 500 and Rs 2000. 
Now that this procedure is done, RBI has proposed varnishing of banknotes! 
In its annual report FY18, RBI said, "In consultation with the Government of India, the Reserve Bank has been exploring the feasibility of increasing the life of Indian banknotes. International experience suggests that varnishing of banknotes is expected to increase their life and durability, reduce the banknote replacement requirements and thereby lower the overall security printing expenditure."
Currently, RBI plans to unveil varnished notes on trial basis. 
How does it help you! 
RBI has issued a guideline when it comes to exchanging a specific currency with banks. While mutilated banknotes have to first go through a scanner of Prescribed Officer, the soiled banknotes on the other hand are directly exchanged. 
Coming to soiled banknotes it is one of the major cause for withdrawing banknotes from its circulation. A soiled note occurs due to human touch like sweat, sebum, grease, but comes also from the external environment such as dirt, dust.
This makes a currency note dirty and also brings in physical damage as well like  tears, holes, limpness, print abrasion. Also when notes are soiled, then the legal watermarks and other features turn out to be less visible. Hence, avarnished banknotes will surely, increase life expectancy. 
How does RBI, government win in this situation? 
Withdrawing a damaged banknote becomes a burden for RBI, as their printing cost generally rises. Printing cost is an expenditure for RBI, and if it is higher then the earnings of a central bank will be impacted, and hence less dividend will come to government. 
For example, demonetisation has dented RBI to an extreme level. In FY17, RBI's dividend to the government is nearly half of the amount paid last year, from Rs 30,659 crore compared to Rs 65,876 crore in the same period of the previous year - reaching a five year low. This was partly due to the high cost of printing new notes. During this fiscal printing of new notes is around Rs 9.5 lakh crore.
Printing of new notes is alone managed by RBI. The central bank prints every banknote except the one rupee note, as they are printed under the supervision of the Ministry of Finance. While RBI is responsible for printing banknotes, the ministry takes care of one rupee notes and minting of coins of all denomination. 
RBI's decision on printing how many notes and which currency depends upon  Minimum Reserve System which is in effect since 1957. The system asks RBI to maintain up to Rs 200 crore worth property - which includes gold reserves of Rs 115 crore and foreign currency of Rs 85 crore. Once secured amount for these two indicator, RBI is free to print as per requirement of economy. 
In FY18 annual report, RBI highlighted that they have issued Rs 19,119.60 billion worth notes compared to Rs 15,063.31 billion banknotes in the corresponding period of previous year. 
However, RBI's printing cost was lower by 38.33% to Rs 49.12 billion in FY18 compared to Rs 79.65 billion in FY17. The decrease was mainly on account of reduced supply of notes during the year 2017-18 at 25,003 million pieces which was 14% lower than that of the previous year's supply of 29,043 million pieces.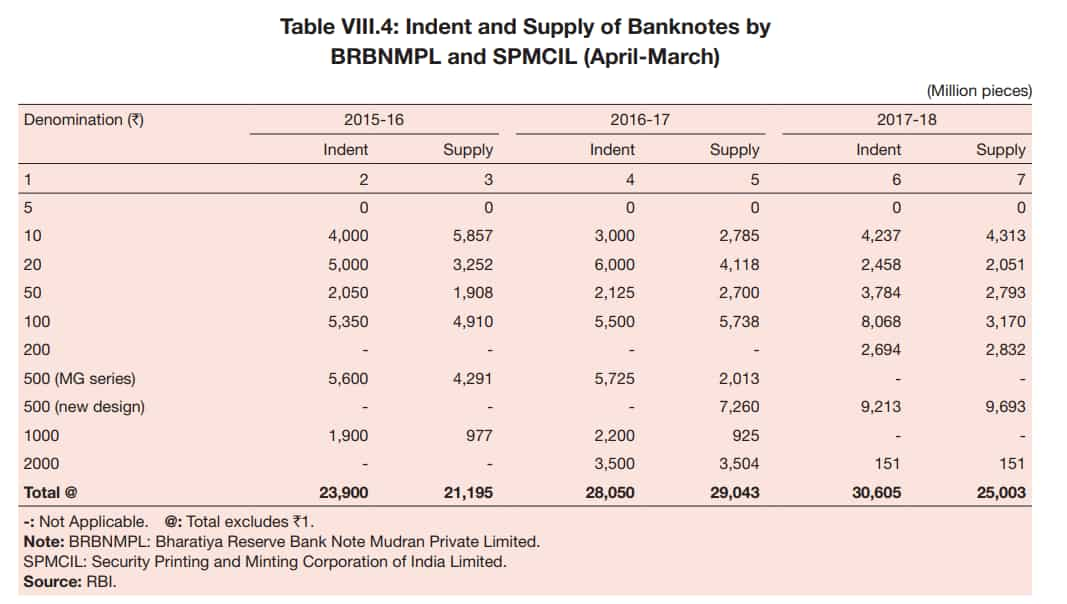 During the same fiscal, 27.7 billion pieces of soiled banknotes were disposed in FY18 as against 12.5 billion pieces last year, mainly on account of accelerated processing of SBNs of Rs 500 and Rs 1000 denominations.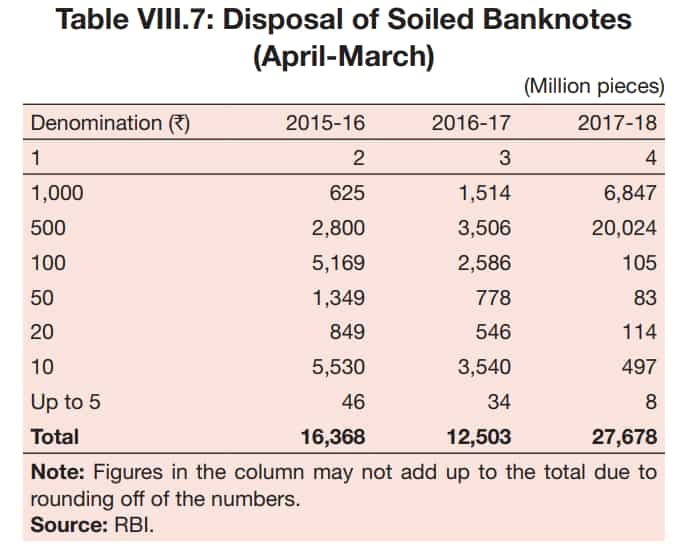 Meanwhile, 522,783 pieces of counterfeit notes were detected in the banking system, of which 63.9% were detected by banks other than the RBI.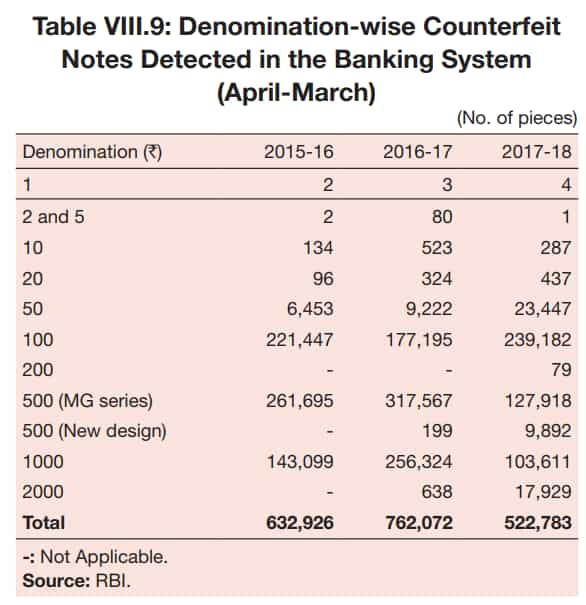 As RBI has already mentioned the intention of introducing of varnished notes, is also reducing the printing expenditure, this surely will rise its profit and hence dividends to government. 
It needs to be noted that, RBI's main expenditure for printing notes derives on the purchase of paper, ink, safety thread and machines used in the printing. 
In FY18, RBI transferred surplus of Rs 500 billion to government, which was quite better than compared to surplus of Rs 306.59 billion in FY17. In the fiscal 2016-17, RBI's dividend was the lowest, something that can be blamed to demonetisation drive, which costed the central bank a hefty sum for printing currencies.
RBI's surplus to government stood at Rs 658.76 billion in FY16, at Rs 658.96 billion in FY15 and Rs 526.79 billion in FY14. 
RBI says, "Currency management is one of the core central banking functions of the Reserve Bank. The responsibility of maintaining integrity and quality of banknotes and ensuring public confidence rests with the Bank."
As an issuer of banknotes, the Reserve Bank has to ensure that the quality control, systems and processes relating to printing at the presses and technology employed, both at BRBNMPL, a wholly owned subsidiary of the Bank and SPMCIL owned by the Government of India, are standardised and are at par with international standards. 
Therefore, good news for government is that it will see more money coming from RBI! As far as you are concerned, varnishing means an increased life of your Rs 10, Rs 20, Rs 50, Rs 100,Rs 200, Rs 500 and Rs 2,000 currency notes, which will ensure they last for a longer period of time. 
 
Get Latest Business News, Stock Market Updates and Videos; Check your tax outgo through Income Tax Calculator and save money through our Personal Finance coverage. Check Business Breaking News Live on Zee Business Twitter and Facebook. Subscribe on YouTube.