Gold price in India today: Investors disappointed over rates, here's why
Gold price in India today: Gold prices tumbled following the global rates which dropped today as the dollar advanced towards more than three-month highs.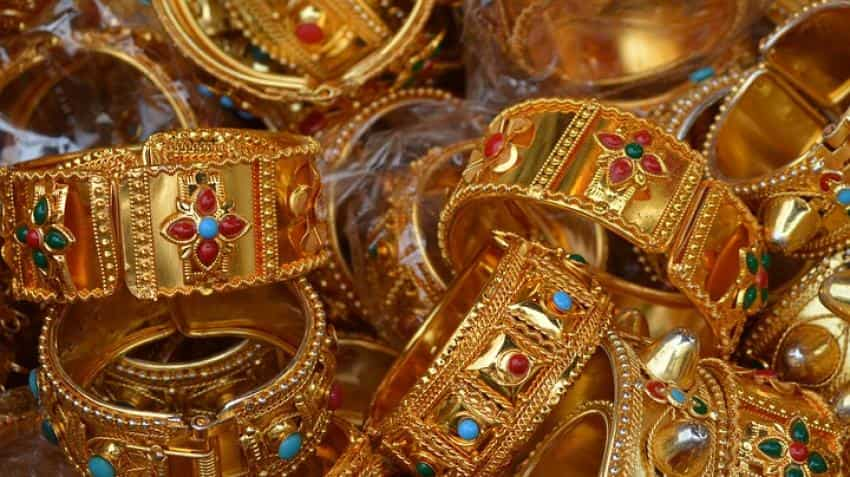 Representational Image: Photo: Pixabay
Gold price in India today: The yellow metal in India was trading on a opposite direction on Saturday, with 24 karat gold in various grams trading on a negative note, whereas 22 karat gold in various grams rising during the same day. In the case of silver prices, they faced selling pressure from investors today. Recently an industry body revealed that, gems and jewellery exports have declined by nearly 9% in fiscal year FY18. Also a Reuters report stated, physical gold demand lacked vigour in most Asian hubs this week amid a slight dip in prices, while the yellow metal switched to a premium in India for the first time in over 1-1/2 months due to a correction in local rates.
Gold in India has been a perfect hedge against inflation over the years and investors are now increasingly looking at it as an important source of investment. Here's where the price of 24 karat and 22 karat gold stands currently. 
 
24 karat gold today was trading at Rs 32,600 down by Rs 70, compared to its previous day performance when it stood at just Rs 33,670. While 100 gram in 24 karat slipped by Rs 700 and was available at Rs 3,26,000 compared to previous day price of Rs 3,26,700. Also, 1 gram and 8 gram in 24 karat fell by Rs 7 and Rs 56 respectively. 
 
22 karat gold in 10 gram gold was valued at Rs 30,660 above Rs 110 compared to previous day price of Rs 30,550, while 100 gram in the same karat priced at Rs 3,06,600 surged by a whopping Rs 1,100 as against previous day price of Rs 3,05,500. Also, prices of 1 gram and 8 gram rose by Rs 11 and Rs 88 respectively. 
 
Meantime, silver metal prices dropped today, as 1 Kg in silver was priced at Rs 42,800 down by Rs 200, whereas 100 gram silver was at Rs 4,280 lower by Rs 20. Also, 10 gram, 8 gram and 1 gram silver slided by Rs 2, Rs 1.60 and Rs 0.20 respectively. 
As per the reports, it is being known that, in India, dealers were charging a premium of up to $1 an ounce over official domestic prices. This compared to a discount of $1 last week as the country celebrated the annual Akshaya Tritiya festival, when buying gold is considered auspicious. 
However, retail demand in India, the second-biggest gold consumer after China, remained subdued, added the report. 
According to data given by the Gem and Jewellery Export Promotion Council (GJEPC) of India, the exports of gems and jewellery stood at Rs 2,64,130.64 crore in FY18 which was down by 8.67% compared to Rs 2,89,207.47 crore in the previous fiscal FY17. 
Moreover, Spot gold was up 0.1 percent at $1,318.52 an ounce by 1245 GMT, not far from a low of $1,315.06 hit in the previous session, its weakest since March 21.
Updated: Sat, Apr 28, 2018
11:22 am
Mumbai, ZeeBiz WebDesk