Gold price in India today: 24 karat rises, 22 karat price mute on Buddha Purnima
Gold price in India today: Gold prices tumbled following the global rates which dropped today as the dollar advanced towards more than three-month highs.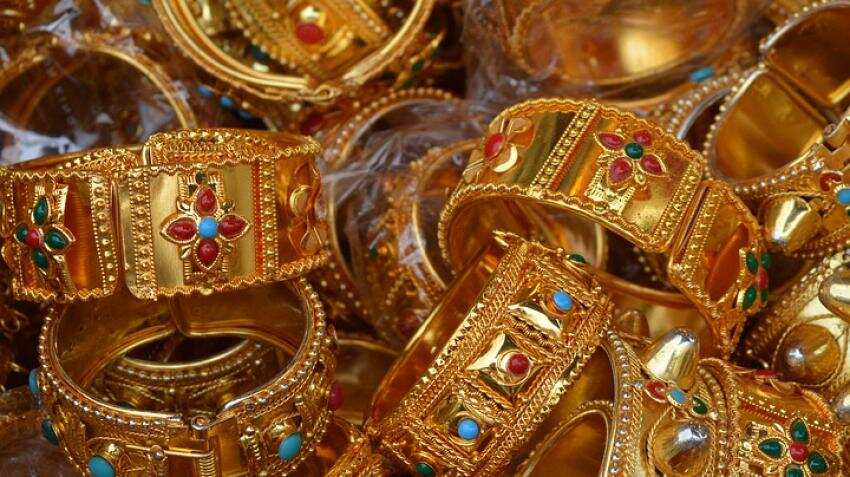 Representational Image: Photo: Pixabay
Gold price in India today: While Indian citizens are celebrating Buddha Purnima on Monday, the  yellow metal in the country is moving in the opposite direction, with 24 karat gold in various grams trading on a positive note, whereas 22 karat gold in various grams remained muted during the same day. The silver metal prices also remained unchanged from the previous day. The global gold prices were little changed as investor interest in the yellow metal dropped as the US dollar steadied and there were signs of easing tensions on the Korean peninsula, reducing the safe-haven demand for gold. 
 
Gold in India has been a perfect hedge against inflation over the years and investors are now increasingly looking at it as an important source of investment. Here's where the prices of 24 karat and 22 karat gold stand currently. 
 
24 karat gold today was trading at Rs 32,791 up by Rs 191, compared to its previous day performance when it stood at just Rs 33,600. While 100 gram in 24 karat surged by a whopping Rs 1,900 and was available at Rs 3,27,910 compared to previous day price of Rs 3,26,000. Also, 1 gram and 8 gram in 24 karat rose by Rs 19.10 and Rs 152.80 respectively. 
 
22 karat gold in 10 gram gold was valued at Rs 30,660 same as previous day, while 100 gram in the same karat priced at Rs 3,06,600, 1 gram was at Rs 3,066 and 8 gram at Rs 24,528.
 
Meantime,  1 Kg in silver was priced at Rs 42,800, whereas 100 gram silver was at Rs 4,280, 10 gram at Rs 428, 8 gram at Rs 342.40 and 1 gram silver was at Rs 42.80. 
 
Moreover, Spot gold fell 0.1 percent to $1,320.80 per ounce at 0428 GMT. US gold futures for June delivery declined 0.1 per cent to $1,322 per ounce. Gold is set for a slight monthly decline of 0.2 per cent for April
 
"Gold is still tracked very closely with the dollar," said Helen Lau, analyst at Argonaut Securities in a Reuters report.
 
Updated: Mon, Apr 30, 2018
11:08 am
Mumbai, ZeeBiz WebDesk