Free public discourse from violence: Mukherjee in last address to nation as president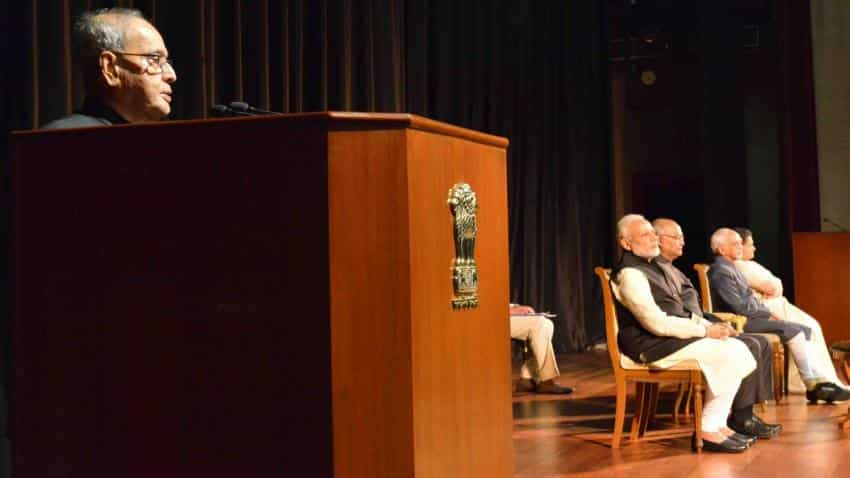 Outgoing President Pranab Mukherjee addresses during the release of special book Various Reports, 4th Volume of Selected speeches of the President at Rashtrapati Bhavan in New Delhi. Image Source: IANS
Updated: Tue, Jul 25, 2017
09:13 am
PTI
President Pranab Mukherjee today advocated freeing public discourse from violence -- "physical as well as verbal" -- and asserted that the country derived its strength from tolerance.
Stressing the need for "pluralism and tolerance" in his last televised address to the nation as the president, he said the capacity for compassion and empathy was the "true foundation" of the country's civilisation.
"But everyday, we see increased violence around us. At the heart of this violence is darkness, fear and mistrust. We must free our public discourse from all forms of violence, physical as well as verbal," Mukherjee, who will demit office tomorrow, said in his address.
He made it clear that only a non-violent society could ensure the participation of all sections of the people, especially the maginalised and the dispossessed, in the democratic process.
"The power of non-violence has to be resurrected to build a compassionate and caring society," Mukherjee, 81, said.
The soul of India, he emphasised, resided in "pluralism and tolerance".
"India is not just a geographical entity. It carries a history of ideas, philosophy, intellect, industrial genius, craft innovation and experience," the president said.
Plurality had come through the "assimilation of ideas" over the centuries, he said.
"Multiplicity in culture, faith and language is what makes India special. We derive our strength from tolerance," he added.
Not ruling out divergent stands in public discourse, he said, "We may argue, we may agree or we may not agree. But we cannot deny the essential prevalence of multiplicity of opinion. Otherwise, a fundamental character of our thought process will wither away."
The president reminded the people of Mahatma Gandhi's philosophy, and said the creation of an inclusive society had to be an article of faith.
Gandhi wanted the people to move forward unitedly in "ever-widening" thought and action, he said, and stressed the need for focusing on the poor.
"Financial inclusion is at the core of an equitable society. We must empower the poorest of the poor and ensure that the fruits of our policies reach the last person in the line," he said.
Mukherjee, a former lecturer who has often assumed the role of a teacher during his visits within and outside the country, spoke about education, which he called the alchemy that could take India to its next golden age.
Referring to the "transformative power" of education, he called for upgrading higher educational institutions to world-class levels.
"Our education system must accept disruption as a norm and prepare our students to manage and build upon the disruptions. Our universities should not be a place for rote- memorising but an assembly of inquisitive minds," he said.
Institutes of higher learning must promote "creative thinking, innovation and scientific temper", he said.
"It calls for the application of logic through discussion, argument and analysis. These qualities have to be cultivated and the autonomy of the mind has to be encouraged," he said.
Talking about the need for protecting the environment, he said nature had been kind in its bounty but cautioned that "when greed exceeds need, nature lets loose its fury".
He asked scientists and technologists to work with farmers and workers to revive the health of the soil, arrest the decline in water tables and restore ecological balance.
Mukherjee emphasised the people's right to lead a happy life which, he said, could be achieved through good governance, social inclusion and poverty eradication.
"Eradication of poverty would provide a strong boost to happiness. A sustainable environment would prevent damage to planetary resources. Social inclusion would ensure access to the fruits of progress to all," he pointed out.
Good governance would enable the people to "shape their own lives through transparent, accountable and participatory political institutions", the president said.
"We all have to act together now for the future may not give us another chance," he said. 
Get Latest Business News, Stock Market Updates and Videos; Check your tax outgo through Income Tax Calculator and save money through our Personal Finance coverage. Check Business Breaking News Live on Zee Business Twitter and Facebook. Subscribe on YouTube.