Foreigners committed fewer than 1,500 crimes in India in 2014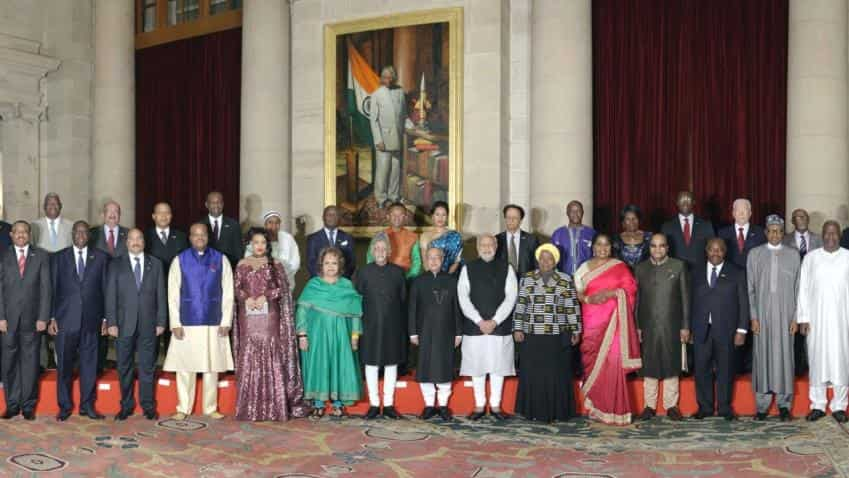 New Delhi: President Pranab Mukherjee with heads of delegation and their spouses during the 3rd India Africa forum summit 2015 (IAFS-III) at Rashtrapati Bhavan in New Delhi on Oct 29, 2015. (Photo: IANS/RB)
Updated: Mon, May 30, 2016
12:25 pm
Mumbai, ZeeBiz WebDesk
Two Swedish researchers in 2013 revealed what many in India already know but never acknowledge openly — racism and a dislike for the dark skin even for our countrymen. 
Couple this with the attitude towards foreigners coming in, and what you get is a cocktail of bigotry unparalleled to anywhere else in the world. The death of Masonda Ketanda Olivier, 23, teaching French in New Delhi has once again opened the Pandora's Box of our deep-seated racism and 'Afro-phobia'. 
This isn't the first time Africans have been harassed, killed or maimed in India. 
Dave Adali, a widely traveled African American didn't think twice before stating that India was indeed the most racist country in the world, on a Quora post. 
Adali wrote, "If you are of obvious African ancestry, including African-American, you can find life really, really tough in India, if you are going to be in India for a while. Indians can be such unabashed, in-your-face racists."
Crimes by foreigners in India
Let's look at some data from the National Crime Record Bureau (NCRB). 
The latest data available dates back to 2014. 
NCRB data shows that less than 1,500 cases of crimes were reported and 1,843 foreigners were arrested in 2014. 
The total number of crimes committed in India in 2014 stood at 72.3 lakh. 
Interestingly, foreigners arrested for crimes related to narcotic drugs and psychotropic substances stood at a mere 6.1%, murder at 0.7%, cheating at 3.2%, and rape at 0.9%. 
NCRB said, "New Delhi and Maharashtra have reported highest number of arrested foreigners under cheating (16 foreigners in New Delhi & 12 foreigners in Maharashtra) and forgery (53 foreigners in New Delhi & 22 foreigners in Maharashtra)."
"For 1,290 charge-sheeted cases, a total of 1,584 foreigners were charge-sheeted during 2014. Against 509 convicted cases, a total of 638 foreigners have been convicted during the year 2014. 82 foreigners have been acquitted by the courts during 2014. Trials remained pending in respect of 6,847 foreigners at the end of the year 2014," it concluded. 
Crime against foreigners in India
The NCRB data revealed that out of nearly 77 lakh tourists that arrived on the Indian shores in 2014, a total of 486 cases of crimes against foreigners were reported in the country, of which 384 cases were under crime against foreign tourists during 2014, constituting 79.0% of total crime against foreigners.
It said, "New Delhi has reported highest incidents of crime against foreign tourists accounting for 35.2% (135 out of 384 cases), followed by Goa (66 cases), Uttar Pradesh (64 cases), Rajasthan (31 cases), Maharashtra (25 cases), Bihar (13 cases), and Karnataka (11 cases). These states accounted for 17.2%, 16.7%, 8.1%, 6.5%, 3.4%, and 2.8% of such crimes, respectively, during 2014."
NCRB further said, "Most of the cases of theft (116 out of 260 cases), assault on women with intent to outrage her modesty (10 out of 39 cases), rape (8 out of 22 cases), cheating (9 out of 22 cases), were reported in New Delhi alone, accounting for 44.6%, 25.6%, 36.4%, and 40.9%, respectively, of total such crimes reported in the country during 2014."
Seemi Nazneen Lodi, a research scholar, said in her paper on "Crime against foreign tourists in India and its negative impact on industry (tourism), "While the southern and western parts of the country rank favourably, north India is unanimously the most prejudiced culturally."
The data confirms this observation. NCRB said, "Maximum cases of assault on foreign tourists (women) with intent to outrage their modesty were reported in New Delhi (9 cases) followed by Uttar Pradesh (6 case), and Kerala & Goa (4 cases each), these five states together accounted for 69.7% of total such cases reported in the country during 2014."
Tourism and soft power
Tourism and increasing India's soft power globally have been some of the marque strategies of Prime Minster Narendra Modi over the past two years of his governance. 
India rebooted the India-Africa Forum Summit in 2015 and hosted the largest number of African leaders since the summit's inception in 2008. 
Ironically, the Forum mentioned the joint struggle against colonialism, apartheid and stressed on "A partnership that is anchored in the principles of equality, mutual respect and mutual benefit."
India's Minister of State for Tourism, Mahesh Sharma, told the Lok Sabha on December 21, 2015, that his ministry had formulated a draft National Tourism Policy 2015 with the aim of positioning India as a "Must Experience" and "Must Revisit" destination for global travellers.
The precious foreign exchange that India earned from foreign tourists in 2014 shot up to Rs 1,23, 320 crore from Rs 64,889 crore in 2010. 
India also undertook many promotional activities, including signing agreements for tourism cooperation with countries, including Tanzania. 
However, in all fairness, Prime Minister Narendra Modi's aim to get more people to visit India might remain a dream if Incredible India doesn't solve its racism problem. 
Get Latest Business News, Stock Market Updates and Videos; Check your tax outgo through Income Tax Calculator and save money through our Personal Finance coverage. Check Business Breaking News Live on Zee Business Twitter and Facebook. Subscribe on YouTube.