Five things that will impact India's GDP data today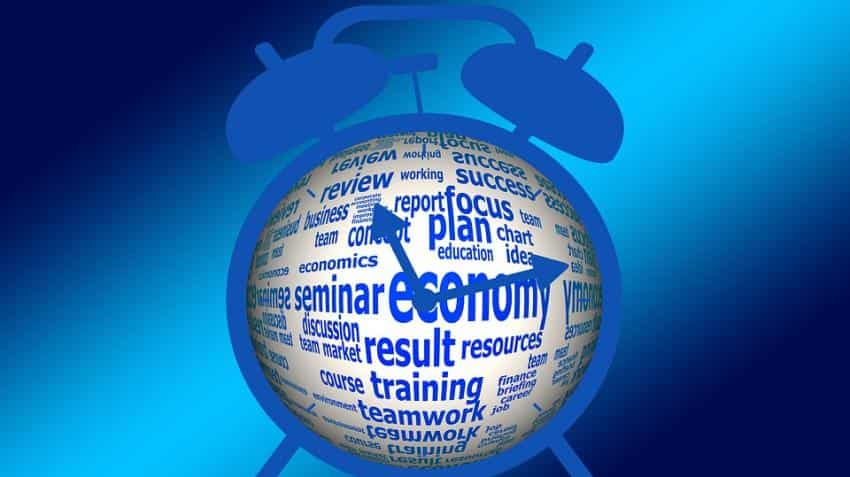 Representational Image: Photo: Pixabay
Updated: Wed, May 31, 2017
04:17 pm
Mumbai, ZeeBiz WebDesk
Ministry of Statistics & Programme Implementation is set to unveil India's GDP (Gross Domestic Product) growth data for the fourth quarter ended on March 31 as well as for full financial year (FY17), today. 
This time GDP numbers will be very crucial and closely watched as they will be showing the broader impact of Prime Minister Narendra Modi's demonetisation drive that was announced on November 8, 2016. 
In the third quarter, India's GDP growth stood at 7.0% at constant prices GDP growth in second quarter stood at 7.4%, 7.2% in the first quarter. 
The second advance estimates of the country's GDP growth was pegged at 7.1%.
But, before the growth data is reveiled, it is important to know what will impact today's GDP numbers:
1. Demonetisation: The surprise announcement shook the whole economy of the country. PM Modi had outlawed 86% of India's total currency in circulation as part of Rs 500 and Rs 1000 notes and later introduced a new Rs 2000 note. 
Following this move, the economist that time predicted GDP to crash below 6.5%. But, third quarter GDP numbers left economists scrach their heads. 
ALSO READ: Will demonetisation impact India's GDP for the last quarter of FY17?
That time Anjali Verma, Economist, Phillipcapital told Reuters, "It`s a slight positive surprise the fact that they have not revised FY17 numbers downwards. That is clearly showing that it is the financials which have saved the GDP. I think Q4 should be slightly better than the third quarter. It is not going to have any impact in rate cuts because (RBI is) focused on inflation. This will rather boost their argument of shifting from accommodative to neutral."
However, this time too demonetisation will play a vital role in calculating the GDP numbers.
2. New IIP series: The government on May 12 released the new series of Wholesale Price Index and IIP with new base year of 2011-12, which was considered as a long pending demand of the economists. Till now, IIP and WPI was calculated on 2004-05 as base year. 
Analysts and industry experts believe that the new series of India's factory output data or Index of Industrial Production (IIP) would mean that the GDP numbers could be significantly higher than the earlier quarters. 
ALSO READ: How much will new IIP, WPI series impact India's GDP?
Nikhil Gupta and Madhurima Chowdhury of Motilal Oswal, in a report dated May 29, 2017 said, "Irrespective of the new IIP (index of industrial production) series (2011-12 base), which is a key ingredient in quarterly GDP estimates and shows much higher growth than the old IIP series (2004-05 base), we continue believing that real GVA/GDP growth (2011-12 base) will likely be 6% YoY in 4QFY17, much lower than in previous quarters."
Thus, the new Index of Industrial Production and Wholesale Price Index series will impact all GDP numbers from FY14.  
3. Inflation: Indian economy is likely to be impacted by falling inflation. In April 2017, inflation stood at 2.99% as against 3.81% in March 2017 and 3.65% in February and 3.17% in January 2017. 
source: tradingeconomics.com
Wholesale inflation or Wholesale Price index has been 4.3% in January 2017 followed by 5.5% and 5.3% in February and March 2017. 
source: tradingeconomics.com
Consumer Price Index, or retail inflation for the month of April eased to 2.99%, in March 2017 stood at 3.81%, rising from 3.65% in February.
source: tradingeconomics.com
Moody's in its research report said, "We believe that the inflation rate will rise to around 5% by the end of this year, once the effect of this temporary factor fades."
4. Gross Value Added (GVA): GDP is calculated by adding GVA plus taxes on products minus subsidies on products.
GVA takes into consideration the value of goods and services produced in an area, industry or sector of an economy. They account the highest share of a country's GDP.
In Q3, gap between GDP and GVA expanded by 40 basis points compared to contraction of 2 basis points in the similar period of last fiscal.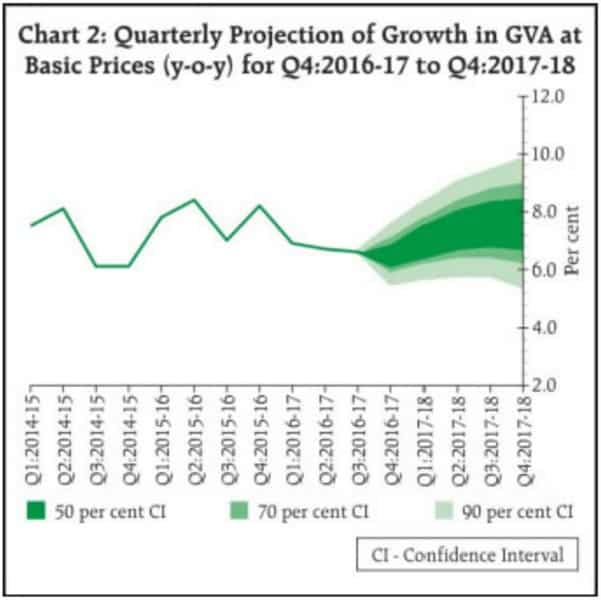 However, compared to previous quarter (Q2FY17) gap in third quarter was still lower. In Q2, there was a large gap of 70 basis points between GDP and GVA. However, this was before demonetisation came into existence.
ALSO READ: Gap between India's GDP and GVA widens further
Motilal Oswal in its report titled "Why real GDP growth could be about 6% in 4QFY17?", said that real GVA growth for 1HFY17, however, is likely to be revised upward to 7.3%, as against 6.8% estimated previously. Consequently, real GVA growth for full-year FY17 may be revised from previously estimated 6.4% to 6.8%, while it could be broadly unchanged for FY16. 
Real GDP accordingly could post growth of 7.2% in FY17 – higher than our earlier estimate of 6.8%.
In the last monetary policy meet on April 6, the Reserve Bank of India had projected GVA growth to  strengthen to 7.4% in 2017-18 from 6.7% in 2016-17, with risks evenly balanced. 
5. Cash-dominated sector: In every release, Ministry of Statistics & Programme Implementation releases sector-wise performance. 
In the third quarter, CSO had said, "Sectors which are likely to register growth rate of over 7.0% are 'public administration, defence and other services', 'manufacturing' and 'trade, hotels, transport, communication and services related to broadcasting'. The growth in the 'agriculture, forestry and fishing', 'mining and quarrying', 'electricity, gas, water supply and other utility services', 'construction' and 'financial, real estate and professional services' is estimated to be 4.4%, 1.3%, 6.6%, 3.1% and 6.5% respectively."
ALSO READ: GDP numbers: How did cash-dominated sectors perform so well despite demonetisation?
Sectors like refineries, paints, realty, steel, diamond, gems, jewellery and construction are highly cash-driven segment in India. During the time of demonetisation these sectors suffered the most and had to carry their business operations on credit.
However, the data released showed that average cash sales per entity of refinery sectors was at Rs 917.18 crore, higher by Rs 105.82 crore compared with Q2.
Get Latest Business News, Stock Market Updates and Videos; Check your tax outgo through Income Tax Calculator and save money through our Personal Finance coverage. Check Business Breaking News Live on Zee Business Twitter and Facebook. Subscribe on YouTube.