FAST MONEY: Titan, ICICI Bank among 10 Buy and Sell trading ideas for Monday's trade
Titan, ICICI Bank, Astral Poly are some of the stocks that will remain in focus in Monday's trade. Titan is being included on Nifty index. RBI has imposed Rs 58.9 crore penalty on ICICI Bank, Astral Poly maintained strength amid market fall.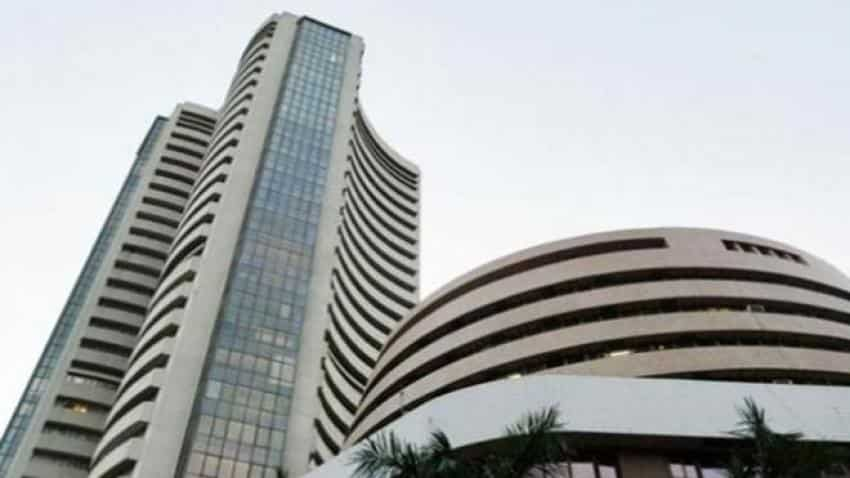 Intraday trading ideas: Buy Titan with a target of Rs 958. Image source: Reuters
The benchmark indices are expected to open lower on Monday tracking mixed trend in Asian markets after China slapped extra tariffs of up to 25 per cent on 128 US products including frozen pork, as well as on wine and certain fruits and nuts, in response to US duties on imports of aluminum and steel, China's finance ministry said.
Back home, the India Meteorological Department on Sunday warned that the average temperatures in most parts of India is expected to be "above normal" between April and June, the period it considers the actual summer season. The IMD, however, said the temperatures in east, east-central and southern
India, which include Odisha, coastal Andhra Pradesh and Telangana, are likely to be lower than the usual, indicating that the onset of monsoon will be on time.
MSCI's broadest index of Asia-Pacific shares outside Japan rose 0.3 per cent. South Korea's KOSPI gained 0.6 per cent and Japan's Nikkei advanced 0.55 per cent. Hong Kong's Hang Seng added 0.25 per cent and Shanghai was up 0.4 per cent.
Wall Street surged last Thursday as technology stocks rebounded, ending a tumultuous first quarter on a high note. Many major financial centers were closed for the Good Friday Easter holiday. The Dow Jones Industrial Average rose 254.69 points, or 1.07 per cent, to close at 24,103.11, the S&P 500 gained 35.87 points, or 1.38 per cent, to 2,640.87 and the Nasdaq Composite added 114.22 points, or 1.64 per cent, to 7,063.45.
MSCI's world equity index ended up 1.2 per cent last week. But it lost about 1.5 per cent in the first quarter, pushed away from record highs as tensions over global trade escalated, turmoil in the White House deepened and market-leading technology firms wobbled on fears of regulation and other issues.
Here are key trading ideas for today's trade:
1) Titan (Buy)
Target: Rs 958
Stoploss: Rs 935
Titan, Grasim, Bajaj Finserv included in Nifty
Ambuja, Bosch, Auro Pharma excluded from Nifty
2) ICICI Bank (Sell)
Target: Rs 272
Stoploss: Rs 282
RBI imposed Rs 58.9 crore penalty 
Violated treasury norms 
3) IGL (Buy)
Target: Rs 288
Stoploss: Rs 276
CNG, PNG prices go up in Delhi
CNG prices up by 90 paise, PNG prices go up by 1.15 paise
Natural gas prices have been raised by 6% to $3.06 per million British thermal unit
4) Gujarat Gas (Buy)
Target: Rs 848
Stoploss: Rs 826
CNG, PNG prices go up in Delhi
CNG prices up by 90 paise, PNG prices go up by 1.15 paise
Natural gas prices have been raised by 6% to $3.06 per million British thermal unit
5) S Chand (Buy)
Target: Rs 426
Stoploss: Rs 405
Focus on education shares
IDFC Sec IDFC Securities has an 'outperform' rating with a target of Rs 520
6) Mah Logistics (Buy)
Target: Rs 493
Stoploss: Rs 480
E-way bill launched from April 1
1.7 lakh e-way bills generated on Day one
7) McNally Bharat (Buy)
Target: Rs 61
Stoploss: Rs 58.5
Promoters bought 40 lakh shares
Pullback expected from lower levels
8) LT Foods (Buy)
Target: Rs 88
Stoploss: Rs 84'
Board approval to raise stake in Raghunath Agro
9) Astral Poly (Buy)
Target: Rs 910
Stoploss: Rs 885
The stock remained strong in falling market
The stock rallied after two-day fall
10) CESC (Buy)
Target: Rs 990
Stoploss: Rs 955
IIFL has a buy rating on the stock with a target of Rs 1270
(Stocks mentioned here are for informational purpose. Consult your financial advisor before investing.)
 
Updated: Mon, Apr 02, 2018
08:48 am
ZeeBiz WebDesk