Education key to social security of girls, says Naqvi
Mukhtar Abbas Naqvi said education is the "golden key" to guarantee the constitutional and social security of girls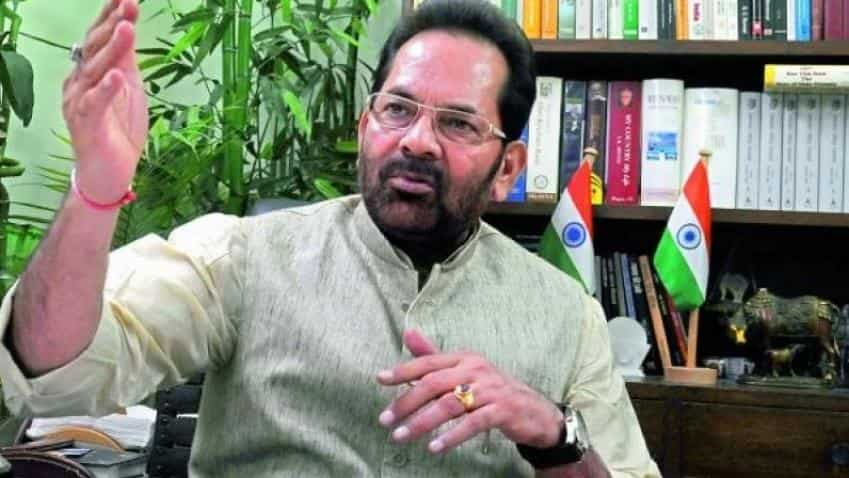 Mukhtar Abbas Naqvi said education is a very strong tool for development and the Modi government is committed to educational empowerment of minorities. Image source: PTI
Education should be the first priority for the country as it is the "golden key" to ensure constitutional and social security of citizens, especially girls, Union Minister Mukhtar Abbas Naqvi today said. The Narendra Modi government has been working towards educational empowerment of minorities, especially girls, on a priority basis, the minority affairs minister said.
He said education is the "golden key" to guarantee the constitutional and social security of girls. "We should take it as a mission to make education our first priority."
Addressing a programme at Anjuman-a-Islam Girls High School in suburban Mumbai, Naqvi said education is a very strong tool for development and the Modi government is committed to educational empowerment of minorities.
Naqvi said due to efforts of the Centre, the school dropout rate among Muslim girls, which was earlier more than 70 per cent, has now come down to about 40 per cent. "The goal of the government is to bring it down to zero per cent."
This year, the focus of the minority affairs ministry will be on better education and employment-oriented skill development of girls, he said.
Naqvi said the Centre will provide financial aid to institutes which are being established and run on waqf properties and engaged in educational activities. The government will award those "mutawallis' (caretakers) who perform well in management of waqf properties to ensure utilisation of these properties for betterment of the society, especially educational empowerment of girls.
He said the record increase of Rs 505 crore in the budget of his ministry for 2018-19 proves that inclusive growth is the priority of the Modi government. Last year, the ministry's budget was Rs 4,195 crore, which has now been increased to Rs 4,700 crore. This increase will be helpful in socio-economic-educational empowerment of minorities, the minister said.
Naqvi said during the last three years, about 2.42 crore minority students have been provided various scholarships. This year, more than 1.5 crore students have applied for pre-matric, post-matric, merit-cum-means and other various scholarships given by the ministry, he said.
More than three lakh applications have been received for "Begum Hazrat Mahal Girls Scholarship" alone, he said.
In the last six months, thousands of educational institutions of minority communities, including madarsas, have been included in the mainstream education system by connecting them with "3Ts - Teacher, Tiffin, Toilet", he said. Besides, girls are getting benefits from job-oriented skill development schemes such as `Nai Roshni', `Seekho aur Kamao', `Nai Manzil', `Garib Nawaz Kaushal Vikas Yojana' and `Hunar Haat'.
In the last three years, these schemes have succeeded in providing employment and employment opportunities to more than 8.5 lakh people from minority communities, the minister added. 
Updated: Sat, Mar 10, 2018
06:07 pm
PTI