Doubling Purchases will create Artificial Demand and create situational shortage: Harsh Mariwala, Marico
Harsh Mariwala, Chairman, Marico Limited, talks about the Innovate2BeatCOVID challenge, ways to deal with the pandemic, how to use to lockdown period in the best way and why panic has created shortage in supply among others during an exclusive talk with Swati Khandelwal, Zee Business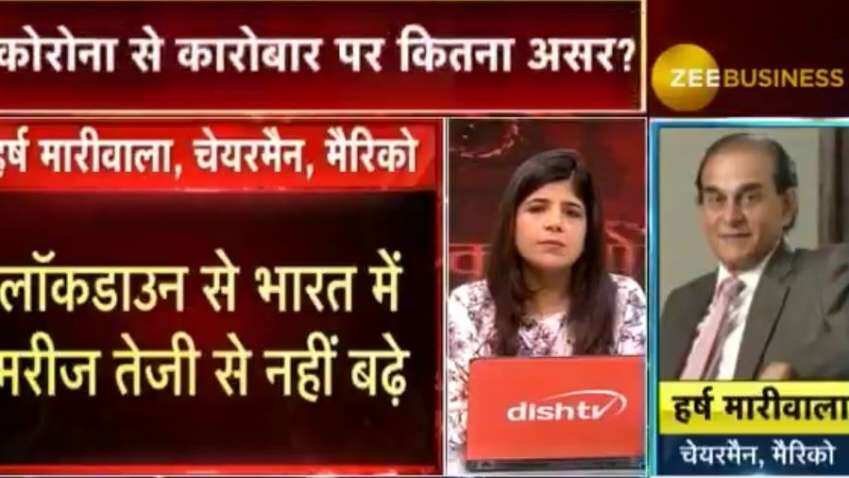 Harsh Mariwala, Chairman, Marico Limited, talks about the Innovate2BeatCOVID challenge, ways t deal with the pandemic, how to use to lockdown period in the best way
Written By:
Jitesh Kumar Jha
Updated: Wed, Apr 01, 2020
09:26 pm
Mumbai, ZeeBiz WebDesk
Harsh Mariwala, Chairman, Marico Limited, talks about the Innovate2BeatCOVID challenge, ways to deal with the pandemic, how to use to lockdown period in the best way and why panic has created shortage in supply among others during an exclusive talk with Swati Khandelwal, Zee Business. Edited Excerpts:
Q: Tell us something about the grand challenge, Innovate2BeatCOVID, launched by Marico Innovation Foundation and the thought behind it?
A: Growth of coronavirus in India will lead to a shortage of ventilators, respiratory solutions and personal protective equipment and we will have to find out the solutions to cope up with it. We thought several innovations are happening in India and people have ideas. That's why we thought to come up with a challenge so that people will put entries with their ideas. But, we want to have solutions that are affordable because costly things will not suit to the masses. Secondly, it is also needed because the impact of coronavirus is increasing and we will need a solution in a fortnight or in a month. Thus, the challenge has been launched and has received several entries and many have said that they will file their entries in the next few days. So, the response has been a good one. I would also like to call on your viewers and readers who have good ideas or are aware of such people who can contribute by participating in the challenge. We will provide grants to them. We have an independent jury headed by Dr Mashelkar, who is the head of the Innovation Foundation. The grant is not limited to just one but 4-5 grants have been issued. The challenge has a budget of Rs 2.50 crore but can go up, if, there is an increase in response.
Q: How a person can participate in the challenge?
A: For the purpose, you will have to visit the website of Marico Innovation Foundation, where you can get all details regarding; Innovate2BeatCOVID, challenge and anyone who faces a problem in the process can mail it to me at @cmsmarico.com.
Q: People are going through an unprecedented problem at present and are not aware when the problem will come to an end. Can you suggest the way/s deal with the situation and what is your view on the situation as an individual and a corporate?
A: Lockdown is a good step and its absence would have created a situation similar to what has happened in Italy, the UK and the US. It would have been spread in India. So, I am in full support of the lockdown and will have to wait and watch the kind of growth trajectory of the virus and the way it grows. The lockdown can be lifted if it remains around the current levels of 200-250 and can be extended further if it goes up. But, it is too early to predict and we will have to wait to see the way in which the number goes u in next 15 days to a month, however, the numbers are under control if seen in the perspective of the population density of India.
Q: What measures will be adopted to revive the businesses that have gone down due to this pandemic?
A: First of all, one must not panic. I got a message on WhatsApp that a case has emerged in one building in your area but being under a panic situation is not going to help you out. Undoubtedly the virus is spreading but is not dangerous because it has a death rate of 2-3% and that also only for those who are not keeping well, either they have diabetes or heart issues. Thus, one must not be worried a lot as we all are going through a difficult phase and the whole world is united today. So, I think the challenge should face the challenge calmly may you are facing issues related to health, business and livelihood. We will get a solution for it but for the short term, we will have to bear with it.
Q: Wellness and health are two subjects which are very close to your heart and you have taken several initiatives in the segment. So, I would like to know that are you planning to come up with something to deal with the issue that we are facing today.
A: I think, people have enough time at present, so you can take steps to increase your immunity either by opting for online courses, yoga, eating healthy foods and drinking hot water in every 30 minutes. They are not going to harm you but can increase your immunity. Secondly, you should exercise at your home; even you are residing in a small room. At the same time, I would like to say that these exercises must not be confined just to the lockdown period but make it a habit in any form may be a walk or yoga or gym, or swimming.
Watch Zee Business live TV below:
Q: Marico is a big FMCG company and that's why I would like to know that do you think that there can be challenges related to supply of essential items, which can emerge as production has either gone down or has stopped and what is your view on it?
A: There are two things the supply chain was affected a few days back when the lockdown was announced as workers were not coming to the companies and there was an absence of transport as well as distributors. But, there is a slight improvement in it now. At the same time, I would like to ask people to not panic as this has led people to double their purchases and has created an artificial demand situation and has created a situation of shortage. I feel things will come in control and there is no need to panic and essential commodities will be available but doubling the purchases will create shortage as it will create an artificial demand situation.
Get Latest Business News, Stock Market Updates and Videos; Check your tax outgo through Income Tax Calculator and save money through our Personal Finance coverage. Check Business Breaking News Live on Zee Business Twitter and Facebook. Subscribe on YouTube.