Diesel price in India today up by 11-12p; Mumbai sees highest rise, check other cities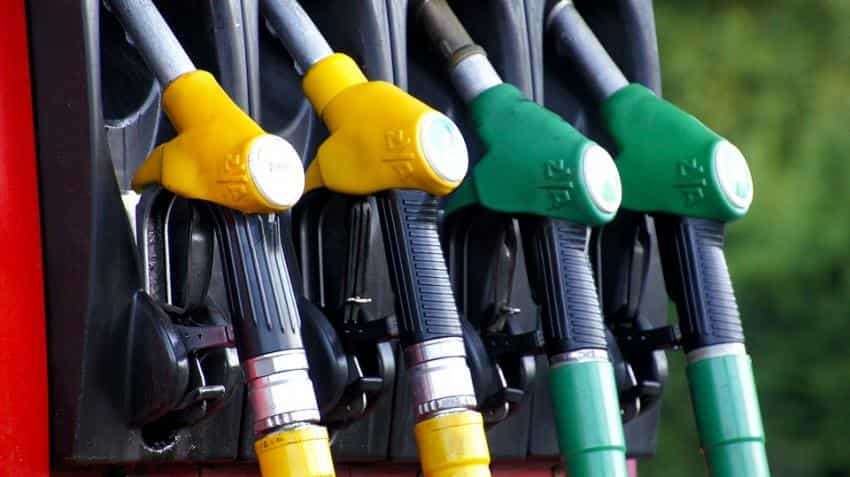 Representational Image: Photo: Pixabay
Diesel price in India today: On similar lines with petrol prices, the state-owned Oil Companies on Tuesday, also increased prices of diesel product in the range of 11 paisa to 12 paisa each per litre in various state capital of India. This was due to global crude oil prices rose, pushed up by concerns that tensions in the Middle East could lead to supply disruptions.With the above hike, diesel prices have once again clocked four-year high, and consumers are set to pay higher for their purchase in this fuel product. Meanwhile, petrol prices were hiked by 11 paisa to 12 paisa in various state capital. 
Diesel price in New Delhi: Diesel price in the national capital was up by 11 paisa and was available at Rs 63.77 per litre compared to Rs 63.66 per litre of the previous day. 

 Diesel price in Kolkata: Similarly, 11 paisa hike was made here as diesel was available at Rs 66.46 per litre against Rs 66.35 per litre of the previous day. 
 



 
Mumbai saw much increase in diesel prices,  compared to other metro cities. 
Diesel price in Mumbai: Diesel here was increased by 12 paisa and was valued at Rs 67.91 per litre, versus previous day price of Rs 67.79 per litre. 
 



 
Diesel price in Chennai: Diesel price in Chennai saw a surge of 11 paisa, and was available at Rs 67.25 per litre from Rs 67.14 per litre of previous day. 


 
Diesel prices in other state capitals: The product in Bangalore was available at Rs 64.84 per litre, Bhopal at Rs 67.10 per litre, Bhubaneswar at Rs 68.41 per litre, Chandigarh at Rs 61.91 per litre, Dehradun at Rs 64.27 per litre, Gandhinagar at Rs 68.48 per litre, Hyderabad at Rs 69.28 per litre, Jaipur at Rs  68.02 per litre, Lucknow at Rs 64.11 per litre, Patna at Rs 68.37 per litre, Raipur at Rs 68.88 per litre and Srinagar at Rs 67.09 per litre. 
James Mick, Managing Director and Energy Portfolio Manager with asset management firm Tortoise, in a Reuters report said "rising geopolitical tensions" were driving up oil prices. The biggest risk was that the United States could re-introduce sanctions on Iran.
"Crude also received support from OPEC members as Saudi Arabia and Russia both reiterated goals to extend the production cut agreement," Mick said.
Iraq, the second biggest producer within the Organization of the Petroleum Exporting Countries (OPEC) said on Monday that it also supports the producer cartel`s agreement to cut oil output.
Moreover, U.S. West Texas Intermediate (WTI) crude futures were at $65.71 a barrel at 0142 GMT, up 16 cents, or 0.2 percent, from their previous close. Brent crude futures were at $70.25 per barrel, up 13 cents, or 0.2 percent.
Updated: Tue, Mar 27, 2018
10:30 am
Mumbai, ZeeBiz WebDesk