Despite deluge all over India as heavy rains hit, Monsoon 2018 still deficit
Tables turned during the other half, with Monsoon rains taking a break. But few pockets did saw vigorous Monsoon during that time.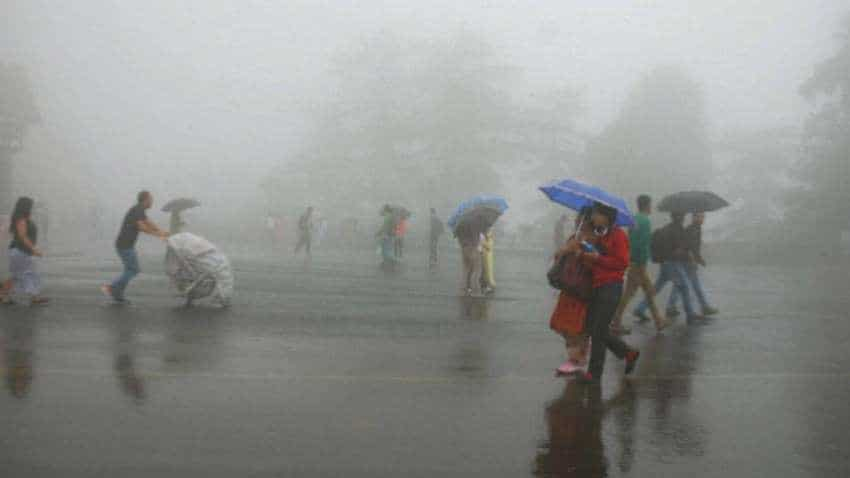 Representational Image: Photo: PTI
It is Monsoon time in India and the first month of this season has already caught the Indian Railways and airlines which has caused many citizens to be inconvenienced. Almost every region of India has witnessed heavy rains so far in the monsoon and the cities have had thier share of troubles during these showers. Especially, Mumbai who is India's financial hub has faced heavy losses so far in monsoon this year. Interestingly, Monsoon 2018 which made a grand entry, with country witnessing surplus rains during the first half of June. Tables turned during the other half, with Monsoon rains taking a break. But few pockets did saw vigorous Monsoon during that time. 
According to Skyment, but still Monsoon remained deficit and June ended with countrywide rainfall deficiency of 5%. July too began on a deficit note, which did not improve and rather increased to 9% in the first week of July. 
It added, " July is the core Monsoon month and rain deficiency increasing during the main Monsoon month indicates that rainfall has been really low. Figures suggest that from July 1 to 10, rainfall has been below the normal average by 15% to 20% on daily basis, barring just one day."
There have been several factors that have been responsible for this huge rainfall deficiency that too during this crucial month, according to Skymet. 
Slow progress of Monsoon: Though Monsoon made a grand entry and even progressed steadily till Mumbai, but progress became sluggish thereafter. In fact, it halted for quite a long time.
Prolonged weak Monsoon conditions: Country witnessed prolonged week Monsoon conditions as the Monsoon trough had shifted all along the foothills. During such situation, Northeast India generally rains heavily. However, Monsoon 2018 defied this feature as well and continued with the deficit rains.
Both Northeast and West Coast are the top two rainiest pockets during the Monsoon. Both the major contributors not firing together during Monsoon is not a common thing. As a result, the countrywide rainfall suffered a major loss and thus kept increasing.
Lack of weather system in Bay of Bengal: Last powerful weather system that had formed in Bay of Bengal ditched its usual track of moving inland and instead, tracked towards northeast direction. In fact, this system did more harm than any good as it took away all the moisture, leading to deficient rainfall.
Off-shore trough: The off-shore trough which is responsible for giving torrential rains along the West Coast remained active in patches only. Kerala and Konkan & Goa had taken a back seat for almost 10 days, though showed some revival signs during the last 24 hours. According to weathermen, rainiest pockets likely these taking backseat is a matter of concern, as it may take deficiency to whole new levels.
Saurashtra and Kutch: The region has remained highly rain deficit. In fact, the deficiency had once mounted over 90%. Places like these hold lot of importance. In comparison to other parts, normal average rainfall for the places like Saurashtra and Kutch and West Rajasthan ae quite low. And, even if these figures are not achieved they make quite a difference.
East India: All there have been series of the weather systems forming along the East Coast but they all have been week in intensity. Not only this, they have been tracking through central parts of the country. Thus, rains across East India had not been up to the mark.
Predictions! 
The monsoon season (June to September) rainfall for the country as a whole is likely to be 97 percent of the LPA with a model error of ±4 percent, according to Ministry of Earth Science. Region-wise, the season rainfall is likely to be 100 percent of LPA over North-West India, 99 percent of LPA over Central India, 95 percent of LPA over South Peninsula and 93 percent of LPA over North-East India with a model error of ± 8 percent.
The monthly rainfall over the country is likely to be 101 percent of its LPA during July and 94 percent of LPA during August both with a model error of ± 9 percent.
Updated: Sat, Jul 14, 2018
04:40 pm
Mumbai, ZeeBiz WebDesk