Demonetisation, GST were not the only reasons for three-year low GDP in Q1FY18
India's GDP for first quarter of financial year 2017-18 (Q1FY18) came in at 5.7% below market expectation of 6.6%. This has resulted in Indian economy at three-year low.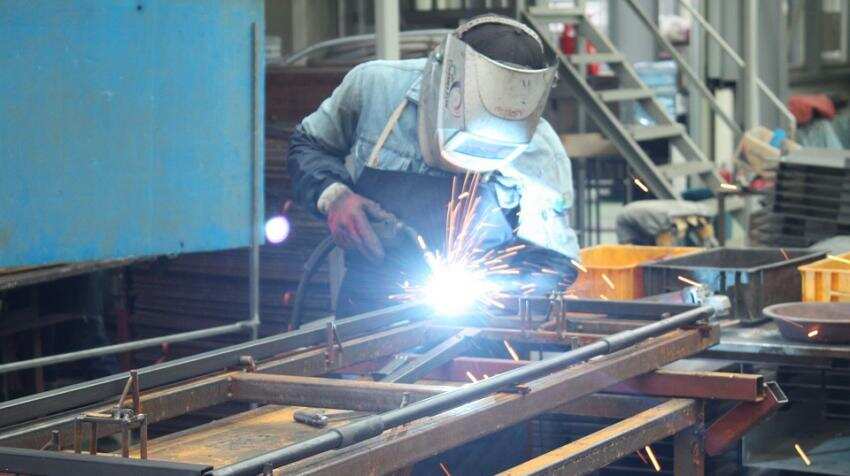 Representational Image. Photo: Pixabay
Updated: Fri, Sep 01, 2017
03:50 pm
Mumbai, ZeeBiz WebDesk
Key Highlights: 

India's GDP at 5.7% in Q1FY18  compared to 6.1% in Q4FY17
Gross Value Added (GVA) stood at 5.6% in Q1FY18
Economist stated GST and demonetisation both impacted India's GDP growth
India's Gross Domestic Product (GDP) data surprised analysts and economist, as touched to a three-year low in the first quarter of financial year 2017-18.
As per Ministry of Statistics & Programme Implementation, GDP at constant (2011-12) prices in April – June 2017 is estimated at Rs 31.10 lakh crore, as against Rs 29.42 lakh crore in Q1 of 2016-17, showing a growth rate of 5.7%. Lower compared to GDP of 6.1% in January - March 2017 (Q4FY17) and 7.9% in April - June 2017 (Q1FY17).
Such tepid start of Indian economy in FY18 was definetly not expected as one would argue that GDP numbers was suppose to face shock of demonetisation coupled with uncertainties arising from GST implementation starting from July, 2017. 
Yet economists predicted on quarter-on-quarter basis the performance would be higher in Q1FY18.
Teresa John, Research Analysts at Nirmal Bang predicted India's gross value added or GVA growth to come in at about 6.2% for 1QFY18 while gross domestic product or GDP is likely to register 6.6% growth.
Dr. Soumya Kanti Ghosh, Group Chief Economic Advisor at State Bank of India stated economic growth plunged below 6% as gross value added (GVA) at basic prices grew by 5.6% in Q1FY18 – a sharp 200 basis points less than the corresponding quarter of the previous year.
Interestingly, both the nominal and real GVA saw deceleration in Q1 compared to Q4FY17. Nominal GVA slowed down to 7.9% - lower from 11.3% in last quarter. Similarly, the GVA deflator which was evident in Q4FY17, has now declined from 5.4% to 2.2% due to negative deflator in agriculture (-2.0%).
Ghosh said, " We thus don't agree with the CSO narrative that the increase in WPI prices / higher GVA deflator was one of the reasons for slowdown in GVA growth. The decline of GVA could be due to the factors like lingering impact of demonetization and destocking activities undertaken ahead of GST implementation."
Agriculture and industry sector where among the major laggards in the indicator of GVA.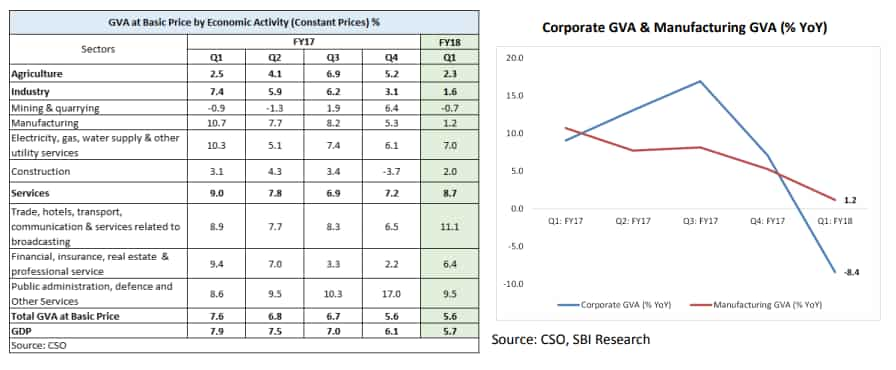 Agriculture and Allied Activities grew at 2.3% in Q1, compared to last year's growth of 2.5%. Meanwhile industry grew by 4.5% in Q1 FY18 from 7.4% in Q1 FY17, owing to significant decline in Mining (-0.7% from negative 0.9% in Q1FY17) and miniscule growth in Manufacturing (1.2% from 10.7% of Q1FY17).
Kamalika Das and Samir Tripathi analysts at ICICI Securites said, "We are surprised by the lower than expected print on agriculture in light of the strong Rabi crop."
On the other hand Ghosh argued saying, "This low growth is not entirely unexpected as the average agriculture growth in first quarter of last five fiscal was 2.5%. However, the point of concern is that nominal agriculture growth was lower than real agriculture growth indicating that rural sector might be facing an adverse terms of trade."
Manufacturing sectors such sharp drop, as per the duo at ICICI Securities was presumably affected significantly by inventory de stocking ahead of the implementation of GST in July.
"IIP growth for the quarter and corporate earnings were also much muted for this quarter which weighed on the print," it added.
Construction too witnessed slower growth by 2% as against 3.1% in Q1 FY17.
Service sector growth jumped to 8.7% and this was a saving grace. Indicators in this section performed well with trade, hotels, etc recording growth of 11.1% from 8.9%, while public administration, defence and other service clocked growth of 9.5% in Q1 from 8.6% in Q1FY17.
However, financial, insurance, real estate and professional services decelerated to 6.4% in Q1 from 9.4% a year ago same period.
SBI said, "However, the growth rate in service sector was under fortuitous circumstance, as the Trade sub segment growth jumped because of destocking ahead of GST and was also boosted by increased competition in the sector and adoption of wireless broadband services with the entry of Reliance Jio."
Thus, demonetisation and GST both had their share of impacting India's GDP growth in Q1FY18. 
Well analysts are very certain, that these two are periodic changes and its impact will cool off in the coming quarters.
Nirmal Bang in its report said, "We expect a strong pick-up in activity in 2HFY18 as the shocks of demonetisation and GST fade away slowly."
But there are deeper problems that needs proper twerking in India. If we look at the data, GDP numbers has been slowing down since the start of last fiscal year (FY17). GDP which stood at 9.2% in March 2016 reached to 7.9% in June 2016, 7.5% in September 2016 and 7% by December 2016. This was way before demonetisation and GST flavored out their affect.
source: tradingeconomics.com
Two things one consumption demand and the other investment that needs to be looked seriously in India.
Private Consumption constitutes about 54% of GDP and grew by 7%. Last year for the same quarter, consumption grew at 8%.
Sahil Kapoor and Shobana Krishnan analysts at Edelweiss Financial Services said, ''High frequency consumption indicators like IIP-Consumer goods, Personal loans, credit cards, 2 wheeler and passenger vehicle sales have all seen growth too. The black spot remains investment."
Investment accounts for about 30% of GDP down from 31%. Investment grew by only 1.6% in Q1 FY18 as against 7.4% last year.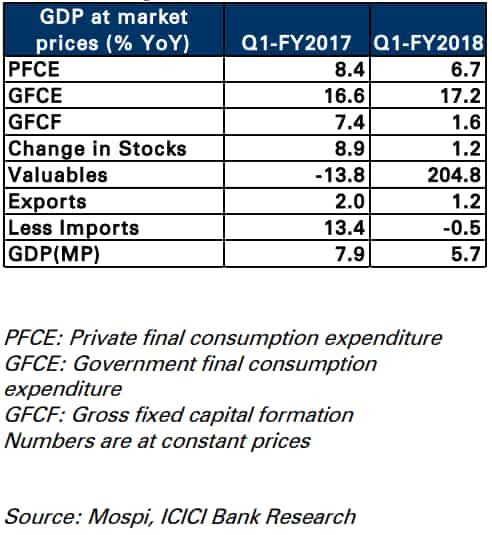 Finance Minister Arun Jaitley on Q1FY18 GDP numbers said, "Considering the 28% drop in GDP numbers, investments and policy will have to be pulled up in the coming quarters."
ICICI Securities said, "The slowdown in consumption and investment growth indicates that a substantial negative output gap still exists in the economy."
Edelweiss added, " GDP growth cannot be sustainable without pickup in investment. As advanced economies begin to expand, global trade cycle picks up, investment demand should kick in. Exports have been growing although the pace has slowed due to strong currency."
Outlook ahead has definitely come down.  Aditi Nayar, Principal Economist at ICRA, "Restocking post-GST and a favourable base effect are likely to contribute to higher GDP and GVA growth in the remaining quarters of FY2018. Nevertheless, the likelihood of economic growth surpassing 7.0% for the ongoing fiscal year has diminished after the bleak Q1 readings."
Overall, SBI expect FY18 GVA growth to be around 6.5% with a downward bias.  However, Jaitley is still hopeful  of over 7% GDP  growth this fiscal year. 
 
ALSO  READ: 
Get Latest Business News, Stock Market Updates and Videos; Check your tax outgo through Income Tax Calculator and save money through our Personal Finance coverage. Check Business Breaking News Live on Zee Business Twitter and Facebook. Subscribe on YouTube.