Demonetisation anniversary: Is India a 'less cash' society?
Post demonetisation currency in circulation has fallen, while cash withdrawals soar and digital transactions at point of sales terminals also increase, we ask – Is India now a 'less cash' society?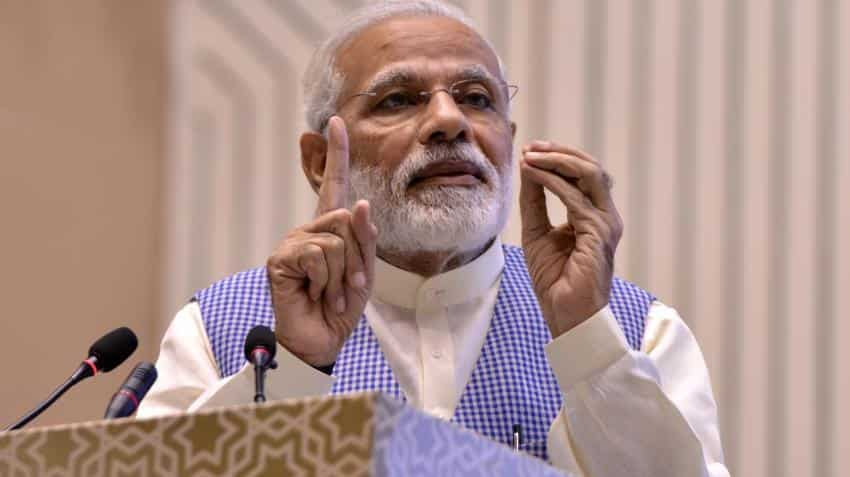 Picture of Prime Minister Narendra Modi addressing a press conference. Image Source: IANS
Updated: Wed, Nov 08, 2017
01:19 pm
Mumbai, ZeeBiz WebDesk
Key Highlights

Currency in circulation stood at Rs 16.35 lakh crore in November 2017 as against Rs 17.97 lakh crore in November 2016.
Digital transactions at POS stood at 24.03 crore in September 2017.
Digital payments in total were 86.39 crore in October 2017.
On the first anniversary of demonetisation of higher currencies in India the nation is observing 'Anti-Black Money' day.
The initial objective of the whole demonetisation exercise was to eradicate majority of the black money in circulation. Goalpost of demonetisation was later changed by PM Narendra Modi to a digital India and a 'less-cash' society.
The currency in circulation as on November 4, 2017 stood at Rs 16.35 lakh crore, as per RBI data. The week prior to demonetisation announcement total currency in circulation was Rs 17.97 lakh crore of which 86% was rendered illegal overnight.
"When demonetisation was implemented, one of the intended objectives was to put identity on the cash holdings in the economy.  With the return of Rs 15.28 lakh crore in the formal banking system, almost entire cash holding of the economy now has an address," Jaitley added.
India has witnessed a fall of currency in circulation post demonetisation.
"The published figure of 'currency in circulation' for half year ending September, 2017 is Rs.15.89 lakh crore. This shows year on year variation of (-) Rs.1.39 lakh crore; whereas year on year variation for the same period during last year was (+) Rs.2.50 lakh crore.  This means that reduction in currency in circulation is of the order of Rs.3.89 lakh crore," Jaitley added. 
The announcement by PM Modi struck useless panic among the common persons that rushed to ATMs and banks. Cash loving Indians were standing in line to let banking executives put indelible ink on their fingers as they received their share of new Rs 2000 notes and deposit old notes.
After the initial cash crunch in the economy, cash withdrawals have also returned to pre-demonetisation levels.
"Digital transactions have increased, cash in circulation is down and cash withdrawals is also back to pre-demonetisation levels. If you ideally think that whatever currency in circulation was there the biggest assumption you need to make is how much of that currency was circulating and how much was lying idle. If you believe that everything was in circulation in that everything was leading to the multiplier and was used to make transactions then obviously the increase in digital transactions was nowhere close to the fall in currency circulation that we are seeing in the past one year," Nikhil Gupta, Vice President of Institutional Research at Motilal Oswal .
He further explained, "What I mean is that currency in circulation is some Rs 16.50 trillion (Rs 16.50 lakh crore) as against Rs 18 trillion (Rs 18 lakh crore) in the week before demonetisation. So it means that it is still one and half trillion lower than what it was a year ago. On net basis there is a decline in currency in circulation plus digital transactions. Now either your multiplier (Gupta explained with an example of one rupee changing hands 10 times earlier as against it changing hands 12 times currently) has increased, unless that has happened the decline in the sum of currency in circulation and digital transactions means that consumer spending has gone down."
Debit and credit cards used at point of sales terminals as on September 2017 were 24.03 crore as against 20.50 crore in November 2016.
Industry personnel from e-commerce, banking and financial sector and the real estate sector are touting the 'digital push' that demonetisation left on the economy.
"The policy of demonetisation, at this time last year, had given a much-needed digital push to our economy. It was a preparing ground for the reform of One Country, One Tax (GST) and a boost to the government's Digital India. The reform has evaded the unorganized players in the market pushed the organized players to meet the trends of digital consumption," said Rahul Garg, CEO and Founder, Moglix, B2B e-commerce marketplace.
"According to me, the most crucial outcome of demonetisation is that it showed that India is ready to accept change, if it is done for reforming the Indian economy. A secondary benefit is that Demonetisation created an acceptance and awareness about the digital channel among public at large. Demonetisation in retrospect, was one of the important stepping stones for introduction of GST which is going to formalize Indian economy even further and is clearly one of the largest reforms of any type undertaken by Government of India post-independence," said Ashishkumar Chauhan, MD and CEO of BSE.
"It is now a year after the event and, on reflection, I feel that the impact for the banks has been largely positive. Besides the fact that banks picked up deposits, during the demonetisation drive, a lot of small loans got paid off, many of which were sticky. A spinoff from demonetisation has been the overall increased emphasis on digital transactions and that channel has seen manifold growth," said Parthasarathi Mukherjee, MD and CEO, Lakshmi Vilas Bank.
Has demonetisation reduced black money?
With over Rs 15.28 lakh crore making its way back into the economy the success of demonetisation as a move to eradicate black money comes into question.
Large deposits of over Rs 2.5 lakh were deposited into unused Jan Dhan accounts post demonetisation. 'Money changers' were reportedly collecting 20-30% fee for depositing cash into banks. Later the government announced up to 60% tax on 'unaccounted deposits.'
"It can be said that during demonetisation people believed that 15-20% of the currency would not come back. This would translate to Rs 3-4 lakh crore. They thought that was the amount of black money which the holder of that money would be afraid to deposit into banks. Again we can only rely on one of two assumptions. First - that there was no black money in the system. Or - there is no fear in the minds of people. One of these things was actually the case when we know now that almost 99% of the currency is back into the system," Gupta of Motilal Oswal said.
'Less cash' economy
In hopes of building a 'cashless economy,' in his monthly 'Mann ki baat' sessions in November 2016, requested the nation to work toward a 'less-cash' economy first.
"Our dream is that there should be cashless society. This is correct that 100% cashless society is never possible. But we can make a start with less-cash society - then cashless society will not be a far-off destination," PM Modi said.
The currency in circulation is Rs 16.35 lakh crore as on November 4, 2017. This was 9% less than currency in circulation pre-demonetisation.
Digital payments in total were 67.50 crore in volume before demonetisation. This number has reached 86.39 crore in October 2017, as per RBI data.
Explaining his point of view on a 'less cash' economy, Gupta said, "What I can say for sure is that yes digital transactions has increased to an extent. When you say 'less cash' I am unsure because ATM withdrawals were the same as the year ago period or even slightly higher. Now when you use your debit cards you use them for either making payments or withdrawing cash. If cash withdrawals were the same a year ago and POS transactions have increased a little as per cent of total card usage cash withdrawals have fallen. Depending on whether you want to look at the absolute amount or if you want to look at the ratio you can make a conclusion if India is a less cash economy or not."
"In absolute terms it is not, in terms of per cent of total it is," Gupta added.
Also Read: 
Get Latest Business News, Stock Market Updates and Videos; Check your tax outgo through Income Tax Calculator and save money through our Personal Finance coverage. Check Business Breaking News Live on Zee Business Twitter and Facebook. Subscribe on YouTube.