Delhi's homeless may be imparted skills to get jobs
The PHDCCI would then undertake a study among the homeless to understand their backgrounds and what levels of training they would be able to grasp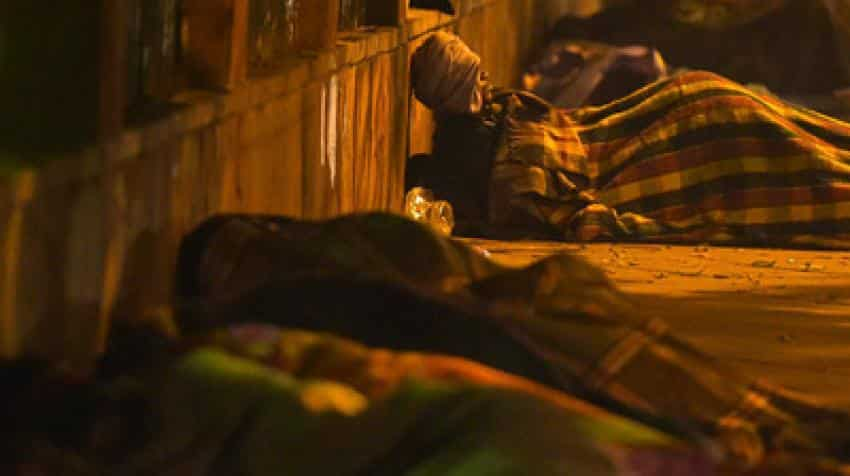 In January 2017, the DUSIB had started a programme to give skill development training to homeless people in the night shelters. Image source: PTI
Hundreds of homeless people staying in government-run night shelters across the capital may soon get jobs if a novel proposal to train and make them employable goes through.
The Delhi Urban Shelter Improvement Board (DUSIB), an agency looking after homeless people in the city, is considering a proposal by an industry lobby to impart skill-based training to the homeless and then refer them for jobs with private organisations, DUSIB CEO Shurbir Singh told IANS.
According to the proposal from the PHD Chamber of Commerce and Industry (PHDCCI), the industry lobby has agreed to conduct a scope study to understand job requirements in the market.
This will be followed by a list of skills which could be imparted to the homeless so that the chances of them landing a job are high.
The PHDCCI would then undertake a study among the homeless to understand their backgrounds and what levels of training they would be able to grasp, according to the proposal.
After this, groups of 25-30 people would be given training in different batches. There are some 12,000 homeless people living in nearly 200 permanent night shelters in Delhi.
The CEO said that, after conducting the training, PHDCCI would recommend the homeless for jobs in various companies under the industry lobby that works on the promotion of industry, trade and entrepreneurship, and has 2,000 direct members and 48,000 indirect members through its affiliate associations.
Singh said this was not the first attempt by the DUSIB to bring homeless people to the mainstream.
In January 2017, the DUSIB had started a programme to give skill development training to homeless people in the night shelters.
Under the programme, more than 200 homeless across the city were given training in electrical works, plumbing and cooking, among others.
"From the last training we found out that it was futile to give training without providing placement," the DUSIB official said.
But the DUSIB and PHDCCI are still looking for funding the job scheme and the answer may lie in Corporate Social Responsibility (CSR).
"We have told them (PHDCCI) to find some funding from industries under CSR. They are yet to respond," a DUSIB official said. "But we are seriously considering the scheme."
A PHDCCI official confirmed the proposal but said its finer details were still being worked out.
Updated: Fri, Feb 09, 2018
04:18 pm
IANS