Davos 2020: Short term actions that put money in consumers' hand is the need of the hour, says Anish Shah, Mahindra Group
The main thing that we need right now is the short term actions that put money in the hands of the consumer that drives consumer demand, that's the primary need. There have been a lot of steps taken so far. Some of them are more medium and long term impact but we need short term stimulus right now. One of the requests from many companies across the company has been to review whether we should take advantage of the clause that we have the exigency clause in terms of fiscal management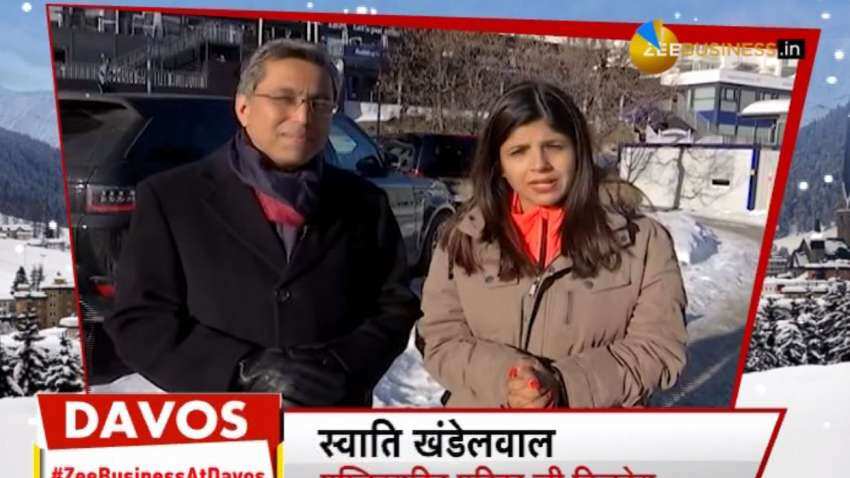 A lot of pain is behind us because the conversion from BSIV to BSVI is right underway and in the next couple of months it will be done
Written By:
Jitesh Kumar Jha
Updated: Mon, Jan 27, 2020
04:13 pm
New Delhi, ZeeBiz WebDesk
Dr Anish Shah, Group President (Strategy) for the Mahindra Group and a Member of the Group Executive Board for Tech Mahindra, speaks about Davos and its theme and what can be done on it, growth drivers of the company and its businesses, budget expectations and electric cars among others during a chat with Swati Khandelwal, Zee Business, at Davos. Edited Excerpts:
Q: What is the biggest task for you as you take over your new position?
A: For me, the biggest job is to maintain the culture of the Mahindra group. We have built a tremendous culture. Governance is one of the important things for the company. We believe in giving back to the community and enabling the customers and the communities to rise. Maintaining that culture is a very important thing. I look at myself as a custodian in many ways and that's part of the responsibility that's been given to me.
Q: Global warming and climate change are a few of the topics that are being discussed in Davos. How do you see India playing a big role in this whole endeavor that the world is talking about?
A: India will have to play a role but it has to run in conjunction with all other countries. One country alone cannot solve the problem here. So that something is that we will have to look at the overall picture. India has taken a lot of steps in terms of solar energy today and we have a business there also. The pricing for solar energy has come down dramatically and it has become very economical as compared to fossil fuels. There many other steps that have taken as well. So India in many ways is taking the lead. Several companies are responsible citizens and are doing the right things as well. We have taken a leadership position in that. India is ready for this and is doing a lot of things. We need to make sure that the rest of the world is also in lockstep. Many are, but not all.
Q: There are many business segments of your company. Tell us about the important growth drivers for 2020 onwards for Mahindra & Mahindra? Name the business that will give growth to you in the next 3-5 years?
A: We are more of a federation of the companies and that brings a lot of entrepreneurial spirits. In many ways creating values has been something demonstrated over time. Now, that has to be demonstrated more and more as we go forward. Beyond culture, the other key responsibility is driving growth and creating values for our investors. Over the last few months, there have been some questions around what if not driven by the auto businesses, where it is, but I am very positive on it. I think we can do a lot in terms of creating values. 
There are multiple business units today that are large that include auto, farm, IT services, Tech Mahindra, Mahindra Finance as well. Some numbers are poised for significant growth. So, logistics is one classic example of significant growth. The soul of business is best EPC, solar business is around. We have a huge car business that can create a lot of value for the customers and the list goes on. So it's taking each of this business and creating the value around it. So, that is going to be a key focus for us on how do we scale up.
Q: You have worked a lot on M&A and strategy for the group. What will you draw when it comes to M&A picture and do you think that there is an opportunity to go for acquisition, if yes, name the business where you need to scale up in an inorganic way?
A: Yes, this is the right time. There are a lot of assets available but we have to be very disciplined. We have to buy assets or do partnership only where it significantly add value for us. It's easy to go out there and acquire assets. The specific industry that we look at is one auto, we already took a big step forward with the Ford alliance. On the farm side, we will continue to look for assets globally to strengthen our global presence and to get more technology as we need in different parts. To look at the equipment in agriculture as well beyond just tractors, there is a lot of potential in that market in India. We got a very strong business in financial services and we will continue to look at expanding that business. Insurance is one area that we have been looking closely at in terms of what we do in financial services. And similarly in other businesses and acquisition makes sense is complementary to what we need then we will look at it.
Q: Big hopes are associated with the budget like it should be pro-growth budget and able to maintain its fiscal discipline. Thus it is going to be a very tight rope that the finance minister will be walking on. What do you think shall be top priorities of the government seeing the conditions of slowdown and growth not coming in? What is your wish list from this budget?
A: The main thing that we need right now is the short term actions that put money in the hands of the consumer that drives consumer demand, that's the primary need. There have been a lot of steps taken so far. Some of them are more medium and long term impact but we need short term stimulus right now. One of the requests from many companies across the company has been to review whether we should take advantage of the clause that we have the exigency clause in terms of fiscal management. And for that back couple of years, which allows us to have 3.8% that gives us an extra 50 basis point that can help us show balance sheet of households, that can be a big impact on the short term in the economy. So, right now what we need in the short term steps also some targeted specific industries. Auto is a key driver of the industry it is 49% of manufacturing GDP in India. So we need to take some steps. Not all the steps are needed to be tax-related but can be related to auto recycling, scrappage policies and these are something that helps the environment as well. At the same time help to bring in more demand without the government have to get less tax. So these are the things required in the short term.
Q: Do you think the concerns associated with the auto industry has been addressed to an extent. You have a big chunk of your businesses is in automobiles. Can we say that the worst is behind as far as auto sector is concerned and only growth can be seen in FY21?
A: A lot of pain is behind us because the conversion from BSIV to BSVI is right underway and in the next couple of months it will be done. The consumer demand needs to improve, it will given the demographics in India there will be a lot more people who will buy cars so from one of this perspective I am very optimistic about the future. Also in terms of how we have positioned with the Ford alliance, we have a lot of good things to look forward.
Q) When are we going to see some Rs10 lakh electric car of Mahindra? And, will its technology will be in-house or you may tie-up for the same? 
A) We have been making electric cars for the last 10 years. We are also at this point making the most technologically advanced car in the world which will happen to be the most expensive car. And that technology is something we are taking conscious steps to be able to help drive our entire electric portfolio. So, as we do it we will see a broader electric portfolio. The question that all-auto companies will have to grapple with is how much you invest and how fast you invest. So, keeping up with demand, keeping up with infrastructure, keeping up with the curves as we call it, that will intersect at some point and make electricity more beneficial for the customers and the investment has to match that. These are the things we look at and we are ready for it today. The question is how much to be invested, how quickly and comes back to financial discipline making sure that we get returns for that. 
See Zee Business Live TV Streaming
Q: What is your strategy for CapEx plans and how are you working around that strategy because to use the money wisely to use them in the businesses that are bound to grow? As the government has announced the reduction of corporate taxes do you think it is a good time of spending again?
A: We are continuing to spend and we have an acquisition in the number of areas and have made investments as well so for us that will continue. We also have several investors from around the world willing to come with us to different companies. So, the federation model coming back is an important point because if there is a company with a very good idea they are willing to or that they can execute and there is a strong right to win then it makes sense for us to invest there. Sometimes with outside investors but it will be done with a very high-level financial discipline. Our board has been pushing hard for a long time. We have processes in the group and that is the challenge round process that every proposal goes through. Those are the things that we see benefits as we grow on. Not everything will work something's may, something's may not. But on balance we have seen in the wealth creation for our investors is much higher in the balance. 
Get Latest Business News, Stock Market Updates and Videos; Check your tax outgo through Income Tax Calculator and save money through our Personal Finance coverage. Check Business Breaking News Live on Zee Business Twitter and Facebook. Subscribe on YouTube.