Davos 2020: Government should increase healthcare spending to 2.5% of GDP, says Alisha Moopen
Alisha Moopen, Deputy Managing Director, Aster DM Healthcare, talks about the theme of Davos, companies growth and expansion in India, expectations from the Budget and UAE acquisition among others during an interview with Swati Khandelwal, Zee Business.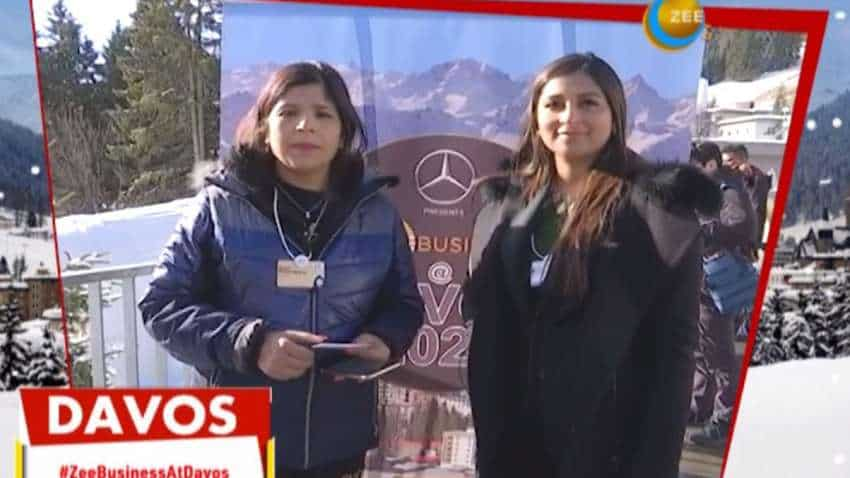 Written By:
Jitesh Kumar Jha
Updated: Fri, Jan 24, 2020
11:05 am
New Delhi, ZeeBiz WebDesk
Alisha Moopen, Deputy Managing Director, Aster DM Healthcare, talks about the theme of Davos (ZeeBusinessatDavos), companies growth and expansion in India, expectations from the Budget and UAE acquisition among others during an interview with Swati Khandelwal, Zee Business. The interview was conducted on the sidelines of the World Economic Forum in Davos. Excerpts:
Q: The theme for Davos 2020 revolves around climate change, sustainability and global warming. What are your expectations from Davos this session?
A) I am very excited about the session as it is an important topic. The key theme for this session is stakeholder participation. this means, for things to work in today's world everybody needs to participate. Nothing can be done alone, therefore this session states how could we engage all the stakeholder and get what is needed in terms of the economy, what does technology mean for us, what does society mean for us, what does climate change mean for us and what is the future of different industries. For us, in health care, the most important thing is how we can get all the important stakeholders from the government to the providers, to the patients and make sure we can find a system and a solution to build a very resilient and a very strong health care system. Ayushman Bharat is one of the best schemes that would be announced, it's one of the best schemes in the world. That is a great vision of Prime Minister Modi and we are very excited about the participation and see how this can impact the lives of millions of people. Our biggest thing is how do we make sure that there is a collaboration between all the stakeholders to achieve that goal.
हेल्थकेयर सेगमेंट में बड़े बदलाव करने होंगे, सस्ती हेल्थ सेवाओं को गरीबों तक पहुंचाए जाने की जरूरत: अलिशा मूपेन, डिप्टी MD, एस्टर डीएम हेल्थ

देखिए पूरा इंटरव्यू: https://t.co/Yc6rG0QodP#ZeeBusinessatDavos #WorldEconomicForum2020 #WEF2020 #Davos2020 @ASTERHealthcare pic.twitter.com/LFkadhWTsC

— Zee Business (@ZeeBusiness) January 22, 2020
Q: Your company has grown well in the Indian market and has expanded a lot. As India is an important market in the context of healthcare, how will you see the participation of India, what will be the expansion plan and how will you increase the revenue contribution from the Indian Market?
A: We have 13 hospitals in India with around 4,000 beds. So you are right, we have lots of plans in the term of expansion but we are taking a slightly different route. Expanding does not only mean expanding the numbers of beds. The whole idea of health care is how do you get closer to the people and how do you get to more people. So, what we are talking about is using technology as much as possible and to go to the homes of people for health care. This makes investments much lighter and has access to a much wider audience. We can cater to a much wider population. Last year, we almost treated 20 Million people. Our goal is to see many more patients in a much more cost-effective manner. We have more labs coming up which will be closer to people, we have home health care, we are looking at mental health. The whole disease burden is also changing rapidly. Something that is affecting the lower-income is more about access to care and if you look at the middle income or the richer population there are things like mental health, chronic diseases so you need different strategies for both the segments.
Q: Your revenue target from the Indian market is 25% but the current revenue is 16%-17%. How exactly are you planning to expand the revenue?
A: We already have 13 hospitals in Indian and 3 more are in the queue and will become operational in the next 3 years. It will help in increasing our revenue. Other than that, the home care business in the form of labs will help us to grow and reach a bigger population without adding too many investments to it.
Q: Tell us about the acquisition that you have completed in UAE and can you tell us about your plans to grow inorganically in terms of pockets and segments?
A: The recent acquisition related to home healthcare. There are around 400 nurses in the business. They go to the homes of the patients to assist them. It makes a lot of difference as people are treated while being at the home and it is a cost-effective measure. We have been into the healthcare business but this is a big acquisition for us. So, we want to follow the same trend even in India as well as in the GCC (Gulf Cooperation Council) to move towards home health care. In the case of another inorganic, we are looking for good assets mostly in the lower-income sector because the requirement over there is the most. So, we want to find out where people have a requirement and if we get good assets that cater to the lower segment of the population that is something we are actively looking in terms of the acquisition.
Q: When it comes to ease of doing business which has to face regulatory hurdles. What are your views on it?
A: Our first hospital was launched in India some 20 years back. So, if you ask in the last 4-5 years there has been a lot of changes and a lot of positive improvements has happened which helps us to set up the hospitals and licensing of the doctors among others. So, everything is getting a lot better. There has been a lot of positive moments that are happening.
Q: What is your wish-list from the budget as a health care sector? 
A: If you look at America then they spend around 25% of their GDP on healthcare, it is a bit too much. But when we see on India that it stands around 1.5% to 1.6% and that's too little and I think that to really estimate 4 to 5% at least. So, I am hoping that if we get the allocation of 2% to 2.5% then we can do the Ayushman Bharat in a proper way because you need the resources. When it comes to wish-list than at the end of the day, the health of the people is directly correlated to the productivity of the nation. With whatever the government has been doing and with the Ayushman Bharat there is a huge focus on that so hopefully, there is some more allocation on that and the health care also.
Q) You are a listed company and there has been a buyback from the promoters in the recent past. So, what are your plans on it and what message you would like to provide to the stakeholders and investors? How should they look at your company?
A: It's been two years since we were listed. When we first came here people asked us that 80-85% of your business is in GCC and we don't know anything about it and the remaining 10%-15% is from India. Our business is based on the sound foundation and we have a complimentary strength of these two geographies. So, we hope that we will be able to perform and deliver whatever was promised. The shareholders will also and gain effective gains.
Q: What is your vision for 2020 in terms of your margins and growth?
A: We can't say much about it as it's our silent period but I am sure that we will be able to show good progress.  
Get Latest Business News, Stock Market Updates and Videos; Check your tax outgo through Income Tax Calculator and save money through our Personal Finance coverage. Check Business Breaking News Live on Zee Business Twitter and Facebook. Subscribe on YouTube.