Cryptocurrency Bill: Do not panic, wait for more clarity on the law, suggests Anil Singhvi
Cryptocurrency Bill: As the debate over the Cryptocurrency Bill rages, Zee Business Managing Editor Anil Singhvi asked crypto holders not to panic as the virtual currency market has already shown knee-jerk reaction post inclusion of the Bill in the Parliament legislative agenda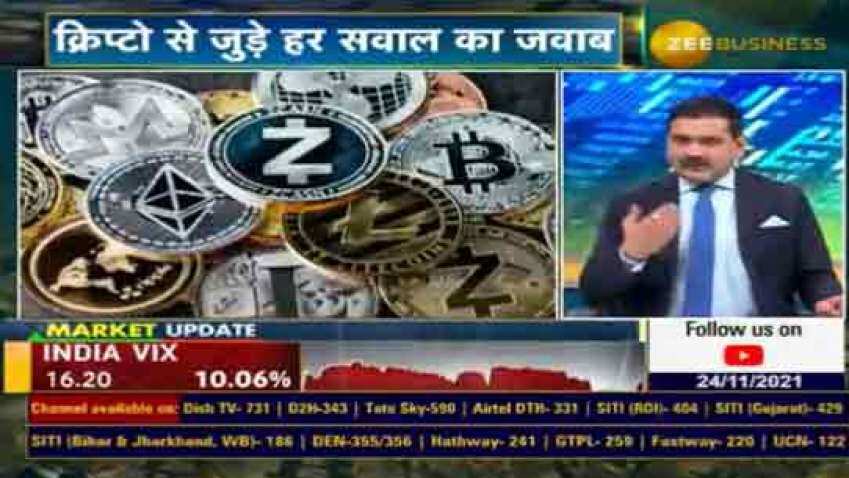 There are two important things about this Bill - One private cryptocurrency could be banned and another is that government will seek to pass the law to bring its own digital currency.
As the debate over the Cryptocurrency Bill rages, Zee Business Managing Editor Anil Singhvi asked crypto holders not to panic as the virtual currency market has already shown knee-jerk reaction post inclusion of the Bill in the Parliament legislative agenda.  
The government plans to introduce a new bill aiming to regulate cryptocurrencies in India in the Winter Session of the Parliament.  
See Zee Business Live TV Streaming Below:
Only private cryptocurrency could be banned 
Talking about the Bill to be introduced in the Parliament, Singhvi said there are two important things about this Bill. One private cryptocurrency could be banned and another is that government will seek to pass the law to bring its own digital currency.  
"The regulation is a right step as it will bring transparency and more clarity on the subject," he said.  
Speaking about his stand on cryptocurrency, Singhvi said he has neutral opinion. "I am neither in favour, nor against it. It is because I do not understand this technology/market yet. It is important to understand certain things before investing. There should be clarity on the rules and regulation and the future of the virtual currency."
Government aims to regulate crypto and not ban it
क्या है #Cryptocurrecy ?#Crypto है तो उसे HOLD करें या बेच दें?

सरकार क्यों ला रही है क्रिप्टो पर कानून?#CryptoInvestment में क्या है रिस्क, क्या है फायदा?

जानिए सारे सवालों के जवाब, अनिल सिंघवी के साथ..@AnilSinghvi_ https://t.co/xpkH29EaqS

— Zee Business (@ZeeBusiness) November 24, 2021
He said it has been traditionally seen that we have not advanced with the changing technology. The government has said it will regulate crypto and not ban it, said Singhvi. "There should be a clarity on how it will be regulated, what should be allowed and what not. This Bill aims to settle all these queries," he said.
Regulation problem not isolated to India
The problem of regulation is not isolated to India, but globally most of the country are struggling with it. "There are many governments which have brought legislation, some are in the process and those who could not understand this technology has banned it entirely," he said.
The government is trying to bring regulation and only ban private cryptocurrencies, he pointed out, adding that Bitcoin, Ethereum and likes do not fall in private crypto category, as per its definition.  
India has highest crypto investor at 10 cr, US second at 2.74 crore
Talking of where does India stands in global cryptocurrency picture, he said India has largest crypto users. "We are leading it in terms of adoption as there are as many as 10 crore crypto holders in the country. This is massive as a total whooping 7% of our population holds crypto. The average age which holds crypto is 24 years in India. This also shows this is an investment that attracts millennials the most. Interestingly, nearly 60% of total crypto investors in India is in Tier-2 and Tier-3 cities and not in metros. Another interesting fact is that of the 10-crore, as many as 6.5 crore are those whose first investment is crypto. These are massive figures. This is what has prompted the government to bring the law at the earliest," said Singhvi.  
The US has the second largest crypto investors of around 2.74 crore, which is way less than in comparison of India's 10 crore. India also has exchanges which compete with its global peers in terms of volume of trading.  
More than 10,000 cryptocurrencies worldwide
He further underlined that in the history of 100 to 150 years of stock market, there are only two exchanges in India, while there are 16 crypto exchanges which see active trading. Also, there are more than 10,000 cryptocurrencies worldwide, which is much more than stocks listed on exchanges.  
One thing also needs to be noted that charges on trading vary on different exchanges and are very costly. Buy and selling includes 0.5% to 1 % fee, besides transaction fee in wallets, AMC charges and there is more fee to withdraw money too.
Why Centre, RBI are concerned? 
Talking about the Reserve Bank of India's views, Anil Singhvi said the RBI is concerned as currency is its domain and if the INR is converted into dollar on such massive level, this may bring instability and affect forex.    
It is not possible to ban crypto and it should not happen either, but the government, RBI and SEBI all are concerned only that it should not be used for wrong purposes, including terror financing and hawala, observed Singhvi. "The problem is not the crypto, but how it can be used," he said.  
In general, crypto has made huge money for most of its investors. But it is also important that one can keep making money and there should be safety net and security of investors too. The government is more concerned about safety of the crypto investors, hence the law around it. This law is to ensure that crypto or the exchanges do not go bankrupt and youth are not misled by enticing advertisements promising them the moon," highlighted Anil Singhvi.  
Good things about cryptocurencies
"There are many good things about crypto as well, said Singhvi, one cannot deny that blockchain technology is the future as it is based on advanced and new technologies. Other good things about it are the privacy and volume that it handles. The only concern is volatility," he further said.  
Clarity on Bill
Talking about clarity on this bill, he said it is very important that government clears which crypto falls in private category, which are the ubblic ones. Other clarity should be made on if the ban will be only on investment or on exchange of currencies too. Third and most important is that if the government decides to ban it, how much exit window will be given to existing crypto holders, asked Anil Singhvi, adding, that who and how crypto will be regulated is another question that needs answer.  
Will Anil Singhvi buy cryptocurrency?
"I will buy crypto once i start understanding it. Once there is a clarity and regulation around it, I may buy it. It should clearly talk about taxation and what law of the country says," Anil Singhvi said on being asked if he would ever invest in cryptocurrency.  
 
(Disclaimer: The views/suggestions/advices expressed here in this article are solely by investment experts. Zee Business suggests its readers to consult with their investment advisers before making any financial decision.)
 
Get Latest Business News, Stock Market Updates and Videos; Check your tax outgo through Income Tax Calculator and save money through our Personal Finance coverage. Check Business Breaking News Live on Zee Business Twitter and Facebook. Subscribe on YouTube.
Updated: Wed, Nov 24, 2021
05:04 pm
Patna, ZeeBiz WebDesk