CPCL Recruitment 2019: Chennai Petroleum Corporation vacancy is offering Rs 28 lakh salary package - Check job details
Here are key details about CPCL jobs and vacancies available on Chennai Petroleum Corporation Limited's official website i.e. https://www.cpcl.co.in/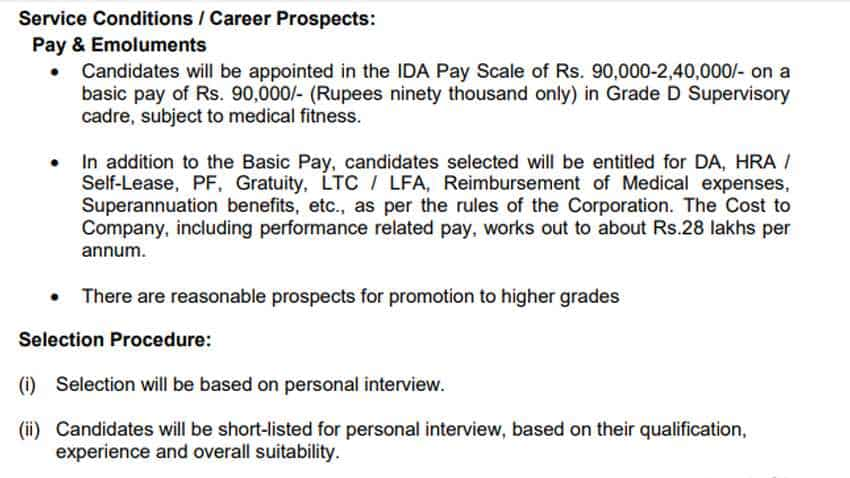 The Cost to Company, including performance related pay, works out to about Rs.28 lakhs per annum.
Updated: Wed, Nov 13, 2019
06:10 pm
ZeeBiz WebDesk
Chennai Petroleum Corporation Limited (CPCL), a group company of Indian Oil, has given an advertisement for various vacancies. "CPCL invites applications from young, self-motivated and energetic persons of Indian Nationality for the following positions," Chennai Petroleum Corporation Limited said in the advertisement.
Here are key details about CPCL jobs and vacancies available on Chennai Petroleum Corporation Limited's official website i.e. https://www.cpcl.co.in/
Recruitment of Deputy Company Secretary in Grade D (Senior Manager)
Chennai Petroleum Corporation Limited (CPCL), is a leading profit making Public Sector
Organization and a Group Company of Indian Oil Corporation Ltd., in the field of Hydro-carbon
processing with a refining capacity of 11.5 MMTPA, having Refineries located in Chennai and
Nagapattinam, in Tamil Nadu.
CPCL is looking for qualified and experienced candidate of Indian Nationality for the position of
Deputy Company Secretary in Grade D category (Senior Manager).
1. Name of the Post & Vacancy: Deputy Company Secretary & 1 (One) post for unreserved
(UR) category.
2. Eligibility Criteria:
a) Essential Qualifications: (As on 30.09.2019)
Candidates should have acquired Associate Membership of Institute of Company
Secretaries of India (ACS). Candidates must have secured minimum 50% of marks (or
equivalent CGPA and above) in the final examination of ICSI. Additional qualification in
Law from a recognized university is a must.
b) Experience: (As on 30.09.2019)
Minimum 10 years of work experience in a Company Secretarial set-up of Private/ Public
Sector or a reputed Listed Company with exposure detailed as below:
(i) Candidate should have an in-depth understanding and knowledge of new
Companies Act, Rules and Regulations, Listing Requirements, etc.
(ii) Candidate should possess knowledge of formalities for Public issue/Right
issue/Bonus issue, etc.
(iii) Candidate should have hands-on experience in coordinating and anchoring
meetings of the Shareholders, Board and Committees in accordance with the
Companies Act.
(iv) Candidate should have also dealt with matters relating to legal matters of the
Company.
3. Age Limit: Not exceeding 45 years as on 30.09.2019
Advt.No.2 of 2019 – CPCL/HRD:03:056/055 dated 13.11.2019
Page 2 of 6
Relaxation in The Upper Age Limit: Upper age limit will be relaxed as under:
Sl. No Category Relaxation in Age
(i) Persons with Disabilities (PWD) By 5 years
(ii) Ex-Servicemen ECO / SSCO
To the extent of service rendered
by them in Armed Forces plus an
additional period of 3 years'
subject to maximum of 50 years.
(iii)
Candidates who had ordinarily been domiciled in
Kashmir Division of the State of Jammu and
Kashmir between 1st January 1980 and 31st
December, 1989.
By 5 years
4. Candidates belonging to SC/ST/OBC/EWS/PwBD/Ex-Servicemen:
(i) This post is identified suitable for the persons with benchmark disabilities (PwBD) detailed
as below. Therefore, PwBD candidates with the functional disability mentioned can apply
even though the post is not reserved.
(ii) SC/ST/OBC/EWS/Ex-Servicemen candidates can also apply subject to meeting the
eligibility criteria (Age, Qualification & Experience) specified as above.
5. Service Conditions / Career Prospects:
Pay & Emoluments
* Candidates will be appointed in the IDA Pay Scale of Rs. 90,000-2,40,000/- on a
basic pay of Rs. 90,000/- (Rupees ninety thousand only) in Grade D Supervisory
cadre, subject to medical fitness.
* In addition to the Basic Pay, candidates selected will be entitled for DA, HRA /
Self-Lease, PF, Gratuity, LTC / LFA, Reimbursement of Medical expenses,
Superannuation benefits, etc., as per the rules of the Corporation. The Cost to
Company, including performance related pay, works out to about Rs.28 lakhs per
annum.
* There are reasonable prospects for promotion to higher grades
6. Selection Procedure:
(i) Selection will be based on personal interview.
(ii) Candidates will be short-listed for personal interview, based on their qualification,
experience and overall suitability.
Disability Categories for
which identified Functional Disability Physical requirements
Physical Locomotor
disability including Leprosy
Cured, Dwarfism, Acid
Attack Victims & Muscular
dystrophy
Leprosy Cured, Dwarfism,
Acid Attack Victims, Muscular
dystrophy & One Arm (OA),
One Leg (OL) and Both Legs
(BL).
Sitting, Standing, Walking,
Bending, Manipulation by
Fingers, Seeing, Read &
Writing, Hearing and
Communication.
Page 3 of 6
7. Application Fee (Non Refundable): Rs. 500/- (Rupees Five hundred only)
(i) Candidates are required to pay a non-refundable registration fee of Rs.500- (Rupees
Five Hundred only) as application fee (non-refundable) though Online mode (SBI eCollect) using either Debit/Credit Card or through Net-Banking only. The Bank
Charges as applicable have to be borne by the candidates. No other means / mode of
application shall be accepted. CPCL will not be responsible for non-receipt / bouncing
back of any email sent to the candidate.
(ii) Fees once paid will not be refunded under any circumstances. Candidates are
therefore requested to verify their eligibility before paying the application fee.
(iii) SC/ST/PwBD/ExSM candidates are exempted from payment of application fee.
8. How to apply:
a) The eligible candidates have to apply through online registration system of CPCL only. To
apply visit: www.cpcl.co.in . The candidate must possess a valid e-mail ID. The site will
be functional from 10:00 hours of 13.11.2019 to midnight of 03.12.2019. Once the
candidates submit their data Online, system will display a unique Application Number and
a link for Payment of Application Fee. Candidates have to click on that link and make the
payment of Application fee. Only after payment of Application Fee, the Application will be
treated as complete and candidate can generate final Application print out using the
unique Application Number.
b) After downloading the Application Form, the candidates are required to enclose selfattested photocopies of all relevant documents in support of their age, educational
qualification, experience, community certificate (if any), disability certificate (if any) and
send them by ORDINARY POST / SPEED POST, superscribing on the envelope
"Application for the post of Deputy Company Secretary" to Chief Manager (HR Recruitment), Chennai Petroleum Corporation Limited (CPCL) Post Box No.1, Manali, Chennai 600 068 so as to reach latest by 03.12.2019.
c) In case the above documents (hard copy) are not received within the due date, the
applications will not be entertained and will be rejected. CPCL takes no responsibility for
any delay in receipt of application and documents or less thereof in postal transit.
d) CPCL does not assume any responsibility for the candidates not being able to submit their
applications within the last date on account of any reason beyond the control of the CPCL.
e) PHOTOGRAPH: One recent coloured passport size photograph not more than three
months old is to be scanned and uploaded in the space earmarked in the on-line
application. The photograph should be minimum 200 dpi (dots per inch) and in .JPG
Format. The size of the photograph should be between 10KB to 50KB.
f) SIGNATURE: Scanned signature (in Black ink) against white background is to be
scanned and uploaded in the space earmarked in the on-line application. Candidates must
ensure the signature uploaded shall be maintained as same at all places viz. signature uploaded, Attendance Sheet of written examination, etc. If any variation is found between the
signatures, the candidature is liable to be cancelled. Candidate is advised to confirm
that his / her uploaded signature is clearly visible / identifiable at the appropriate
place. The signature should be minimum 200 dpi (dots per inch) and in .JPG Format. The
size of the signature should be between 2KB to 20KB.
Page 4 of 6
g) While making the Payment, system will again ask the details of Name, Mobile No. etc. and
the Applicaton Number, which were generated at the time of applying online.
h) METHOD OF APPLICATION FEE PAYMENT: Methodology for making the payment
though Online mode (SBI e-Collect) is detailed as below:
* Login to www.onlinesbi.com
* Select State Bank Collect available on the top (pre login page ) and then New Version
under the dropdown menu.
* Accept the terms and conditions and click "PROCEED"
* Select State "TAMILNADU "and Institution type "RECRUITMENT".
* Select "Chennai Petroleum Corporation Ltd." Under "RECRUITMENT".
* Select "Appropriate Category" & input required data correctly. Click "SUBMIT".
* If all details entered are correctly populated, click "CONFIRM" to proceed.
* Make payment as per your convenience. (Options available are payment through SBI
Net Banking, Other Bank's Net Banking, UPI).
* Save the copy of the ONLINE FEE RECIEPT generated.
i) Candidates who wish to make the payment later on should login in again using the
Application Number and Password on main page to: Reprint Application Form / To submit
the Bank details and generate final Application Form / To make the Payment of Application
Fee if provisionally Registered. This information will be asked only at ONE time for
completing the Application, and after that a candidate can generate and take the print of
Application Form again (if required).
j) It is mandatory to submit the details of SBI Collect Reference Number printed on ereceipt and deposit dates again in online portal by login through Unique Registration
Number after making the payment. If a candidate fails to submit these details within due
date after making the payment, his / her application shall be treated as incomplete and
summarily be rejected.
k) Bank commission charges shall be borne by the candidate. In case the candidate deposits
the fee in a wrong account, CPCL will not be responsible. Registration fee deposited after
the close of online application submission will not be valid.
9. Last Date for Applying through Online: 03.12.2019.
10. General Information:
i) All the educational qualifications mentioned should be from a University/ Institution/ Board
recognised by Govt. of India/ approved by Govt. Regulatory Bodies.
ii) PwBD candidates having the relevant functional disability as under the disability category
identified applying for the post shall be eligible for the benefit of relaxation, if they are
suffering from not less than 40 % of the relevant disability. The candidates are required to
submit a Disability Certificate issued by competent authority as per the Rights of Persons
with Disabilities Rules, 2017, failing which their candidature as PwBD candidates will not
be considered. The certificate format is made available in our website.
iii) Ex-Servicemen (ExSM) applying for the post shall be eligible for the benefit of age
relaxation subject to their submission of the relevant certificate as made available in our
website.
Page 5 of 6
iv) The date of passing eligibility will be the date appearing on the mark sheet or provisional /
degree certificate issued by the University/ Institute. In case the result of a particular
examination is posted on the website of the University/ Institute, a certificate issued by the
appropriate authority of the University/ Institute indicating the date on which the result was
posted on the website will be taken as the date of passing.
v) Candidate should indicate the percentage obtained calculated to the nearest two decimals
in the application. Where CGPA/OGPA is awarded, the same should be converted into
percentage and indicated in application. If called for interview, the candidate will have to
produce a certificate issued by the appropriate authority inter alia stating the norms of the
University regarding conversion of grade into percentage and the percentage of marks by
the candidates in terms of norms.
vi) Calculation of Percentage: The percentage marks shall be arrived at by dividing the total
marks obtained by the candidate in all the subjects by aggregating maximum marks in all
the subjects irrespective of honors / optional / additional optional subject, if any. The
fraction of percentage so arrived will be ignored i.e. 49.99% will be treated as less than
50%.
vii) Candidates employed in Government organizations / Public sector undertakings /
Autonomous Bodies owned by the Government, should forward their applications through
proper channel. However, they may also produce the NO OBJECTION CERTIFICATE at
the time of interview if their applications were not routed through proper channel. If not
possible, the candidate if selected must bring clear cut release order from his previous
employer.
viii) Any legal proceedings in respect of any matter of claim or dispute arising out of this
advertisement and / or an application in response thereto can be instituted only in
Chennai and courts/ tribunals/ forums at Chennai only shall have sole and exclusive
jurisdiction to try any cause / dispute.
ix) Instances for providing incorrect information and /or process violation by a candidate
detected at any stage of the selection process will lead to disqualification of the candidate
from the selection process. If such instances go undetected during the current selection
process but are detected subsequently, such disqualification will take place with
retrospective effect.
x) Canvassing in any form will be a disqualification.
xi) Management reserves the right to fill or not to fill the post and mere fulfillment of
qualification, experience and other eligibility requirements laid down, does not entitle a
candidate to be called for the Personal Interview.
xii) Candidates seeking age relaxation / fee exemption are required to submit copies of
necessary certificate(s) along with the application.
xiii) Decisions of CPCL in all matters regarding eligibility, selection etc. would be final and
binding on the candidates. No representation or correspondence will be entertained by the
CPCL in this regard.
xiv) Candidates, called for interview will be paid Busfare / AC-II tier railway fare from the
nearest railway station of the mailing address to the place of interview and back by the
shortest route on production of original rail ticket / receipt or photocopy thereof or original
bus ticket(s).
Page 6 of 6
xv) Candidates are hereby informed that any Corrigendum/ Addendum etc. with regard to this
advertisement will be made available on www.cpcl.co.in only. Candidates are advised to
refer to the above website periodically for updates. All future correspondence with respect
to the advertised posts will be made only through www.cpcl.co.in.
xvi) The candidates will be finally selected subject to their being found medically fit.
Candidates are advised to ensure that they are Medically Fit as per CPCL's PreEmployment Medical Standards. Candidates are advised to go through the "PreEmployment Medical Examination Guidelines' before they commence the application
process. The guidelines are available on our website www.cpcl.co.in.
xvi) Applications complete in all respects in the prescribed manner, should be sent by
ORDINARY POST / SPEED POST, superscribing on the envelope "Application for the
post of Deputy Company Secretary" to Chief Manager (HR-Recruitment), Chennai
Petroleum Corporation Limited (CPCL) Post Box No.1, Manali, Chennai 600 068 so as to
reach latest by 03.12.2019. Please note that the applications sent through registered post
or couriers are not accepted on Post Box Number. The applications received after due
date shall not be considered on any account.
(xvii) For any clarifications, please email at recruitment@cpcl.co.in
DEPUTY GENERAL MANAGER (PERSONNEL)
Important Dates:
a. Opening of online application : 13.11.2019
b. Closing of online application : 03.12.2019
c. Last date for deposit of ONLINE payment : 03.12.2019
FULL PDF of CPCL Jobs Advertisement - https://www.cpcl.co.in/People&Careers/RecruitmentDrive/2019/Advertisment...
Get Latest Business News, Stock Market Updates and Videos; Check your tax outgo through Income Tax Calculator and save money through our Personal Finance coverage. Check Business Breaking News Live on Zee Business Twitter and Facebook. Subscribe on YouTube.